Rise Up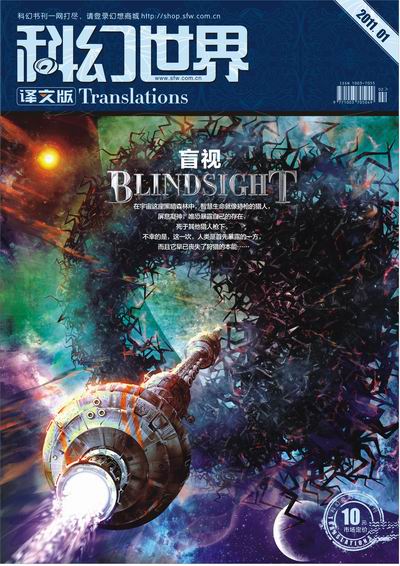 Gonna see the month out with a bit of a grab-bag.
Here's an illo from the Chinese edition of Blindsight: a bit lurid chromatically, perhaps, but it's the first cover art I've seen that presents broadly accurate renderings of both Theseus and Rorschach. There are other graphics I'd like to share with you at some point (got a nifty Stargate-Universey illustration of "The Island" from a Russian mag the other day), but I'm saving the bulk of them for the point at which I upgrade the Gallery — and that's going to be about the same time I upgrade the whole damn website. (Yes, it's past time. Might even hire a professional to do it right this time around.)
But while that's a vast and important job, it's not an urgent one; I still have State of Grace to finish up, so all else has to take a back seat for the next few months.  Still, while I haven't been looking, a fair amount of riftersesque artwork has piled up from around the world.  I'm in a dozen languages now — even my short stories are starting to show up in other countries, with fresh foreign illustrations attached — and that's not even counting fan art (some of which easily ranks with or beyond the professional work I've seen). There will come a day when the Gallery itself must splinter into separate wings.
But it is not this day. This day, we gawk:

This leg is growing back so fast it must be on drugs. For the first time, the meat inside has risen above the level of the skin outside (as you can see from the side-on shot on the right).  I just hope they can scam enough skin to cover it all when the graft happens three weeks from now.   Today, following official medical advice, I ripped off the dressing, climbed into the shower, and washed the wound out with Irish Spring, Bedhead shampoo, some kind of no-name conditioner, stubble-flecked shaving cream, and an indeterminate number of pubes. (Apparently soap lather has some kind of beneficial pH or something.  The pubes, maybe not so much.) After which I walked around for half an hour with the damn thing gaping to the world at large, a gym sock tied around my ankle to catch the steady trickle of lymph oozing from its surface. It felt good.
Something else that feels good is that the fourth and final installment of The Crysis Legionaire's Online Backstage Nanosuit Grand Tour is now online over at Suvudu. (For those of you whose personal integrity has kept you away from Facebook, the other installments are here, here, and here. With that fifty-page excerpt from Legion I mentioned a while back thrown in for good measure here.) I think this last essay is my favorite of the four; it backgrounds the superficial superpowers of the nanosuit in favor of the whole neural-interface-as-double-edged sword issue. Both the neuroethical facets and the excerpts I use to illustrate them are purely novelistic entities; you won't find them either in the game or in the usual slam-bang action trailer that Del Rey stuck at the end of the piece. What you will find in that trailer, though, is Nine Inch Nails on soundtrack — and I for one can't think of a better band to play me offstage.
I'm outta here. See you in April.
P.S.  Oh, yeah:  I'm also one of several skiffy writers pontificating on SF Signal's latest "Mind Meld":  "How Important is Plausible Science In Science Fiction?"