Ad Astra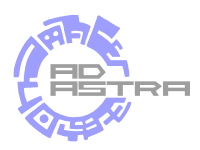 So. Ad Astra '11, this very weekend:  their 30th anniversary, and they're pulling out the stops. In addition to this year's Guests of Honor (Mercedes Lackey and Larry Dixon), they've recruited a bunch of past GoHs for return engagements.
So I'd be one of those. I will be there. First public event since the Killer Strep.
More specifically, I will be on the following panels:
Fri 6pm : Understanding the Alien. It can be difficult to get into the mindspace of beings who are far different than human beings. What works have done this the best? How can creators make their aliens interesting and unique but still have them work for their audience? Panelists: Eric Flint, James Alan Gardner (m), Peter Watts.
Fri 8pm: Bad science, dubious science and handwaving. How important is it to get the science right? How often do authors fudge things? How much can you get away with? Is it different for SF than for other genres? How about between SF subgenres? Panelists: Tim Liebe, Shirley Meier, Glenn Norman, Howard Tayler, Peter Watts.
Sun 11am: Anachronism in SF. Science fiction is full of anachronism: empires that span the galaxy but can't invent paint that doesn't peel; starships that use cathode-ray tubes for computer monitors. And yet SF that takes a stab at a plausible portrayal of the far future can tend to look hokey and cartoonish. Is anachronism in SF a sign of lazy world-building and lack of imagination? Might such breaches be essential to getting contemporary audiences to believe in these futures, on a gut level? Panelists: Matthew Johnson, Tim Liebe, Derwin Mak (m), Moira Scott, Peter Watts.
Sun 2pm: Environmental Themes in SF. Why are ecological themes so popular and important in SF? What are some of the most interesting examples of SF based around environmental issues? Panelists: Sarah Jane Elliott, James Alan Gardner, Peter Watts.
Sun 3pm: "Hard-Character SF". "Hard-character SF" ("neuropunk" and "neurogunk" have also been proposed) takes its lead from cutting-edge brain research, treating human behaviour and personality in reductionist, neurological terms. How does hard-character SF work, exactly — and is it really a legitimate movement within the genre, or just wish-fulfillment on the part of fans still looking for The Next Big Thing 20 years after cyberpunk died? Panelists: Kathryn Cramer, Karl Schroeder, Peter Watts.
I'm especially pleased with the Anachronism and Hard-Character panels, since I suggested them.  A little less pleased that they don't seem to be running "Mundane SF: Dumb Idea, or the Dumbest Idea?", which I did not suggest but which I would very much like to have attended.
I'm also doing a reading. Saturday 10pm, I think, although I don't see that officially posted—
Oh shit. I just checked their (admittedly draft) "Pocket Program"; it lists me reading all by myself for a solid hour at 10am Saturday. There's gotta be some mistake there; listening to one guy drone on for a solid hour would be an ordeal for all involved. Maybe they're going to add some other voices. I better check.
I also better figure out what to read. I've been working on State of Grace but I don't know if any of it's going to be ready for prime time by the weekend. I'll probably just read from Legion, some bit that hasn't already been posted online.
Maybe I'll do the scene with the octopus and the clitoris.
This entry was posted on Wednesday, April 6th, 2011 at 6:18 am and is filed under
On the Road
,
public interface
. You can follow any responses to this entry through the
RSS 2.0
feed. Both comments and pings are currently closed.