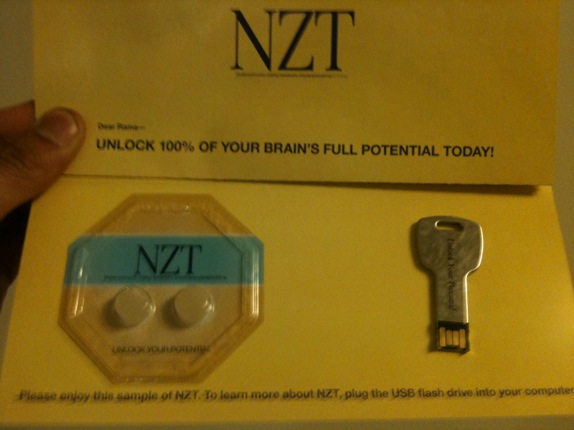 Saw Limitless the other day, the first evening I've been out on the town since Fleshfest laid me low. I liked it. It's one of those interstitial movies like Eternal Sunshine of the Spotless Mind: an exploration of the ramifications of new technology (hence Sfnal by definition), but close enough to reality to pose as mainstream (in fact, given the number of academics already using brain-boosters of one sort or another, maybe it's not just posing). There are no visual effects beyond some mildly hallucinogenic sound and camera work used to convey a sense of heightened awareness, and a kick-ass opening title sequence that's worth about a third the price of admission on its own (think of a turbocharged trip up Broadway after nightfall, followed by a sudden left turn into the folds of a cerebral cortex and a freefall from low Earth orbit, all rendered a la the light trip at the end of 2001).
What there is, in place of FX, is a question: what happens when (not if) somebody cooks up a little clear pill that boosts your brainpower?
It's a modest miracle at best. It doesn't turn Mike Huckabee into Stephen Hawking, doesn't boost intelligence per sé at all. It just gives you instant, context-sensitive access to all the memories you thought you'd forgotten (by elevating receptivity and synaptic sharing between the hippocampus, the amygdale and the striatum, among other things; (the faux-website pushing this drug is a thing of beauty). What do you do you with that?
Well, it helps if you're smart to begin with. If you're a small-time loan shark who's a few nerves short of a nose, you may move up to silver suits and import-export hustles. If you're an aspiring novelist plagued by writer's block, you write a masterpiece in four days, find yourself getting as much sex as you ever dreamed about, and then — suddenly hyperaware that only losers sit around writing novels — you quit the whole fiction thing entirely and make a killing in the stock market.
It's as though the whole damn movie was mocking me. Except it was written by a writer. It's almost meta.
Limitless has its limits. I'm getting tired of shows that start in the middle and then jump back to the beginning — as if the screenwriter doesn't trust herself to keep us interested during the set-up, so she shoehorns a taste of the Upcoming Good Stuff to keep us from walking out — and in this case, she should have had more confidence in her own craft. I found the set-up plenty interesting without the Coming Attractions (although granted, I may be anomalously fond of stories about pathetic losers trying to write novels and failing miserably).
There are a few glitches in the plot. I've never taken so much as a single tab of NZT, and I can still tell you that the first task I'd be applying my augmented faculties to would be to figure out how to get more of the stuff; it's an insight that takes surprisingly long to dawn on Eddie Mora. And I'm dubious that the extremes to which our hero goes to get that one last boost during the climax would actually work; no spoilers, but the idea is sufficiently clever in an over-the-top kinda way that I'm willing to give it a pass for sheer audacity. Limitless is not a brilliant movie — Eternal Sunshine kicks its ass — but it's a smart one, and it plays capably with its ideas. On a landscape dominated by shapeshifting cars and blue cat people who talk like extras from The Lone Ranger, it's a breath of fresh air.
It hasn't been wowing the critics a whole lot. Some like it. Some say it could have been smarter, which is true. But I get the sense that the haters out there aren't reacting to the movie's moves so much as its message. Because we're still fighting a War on Drugs, don'tcha know; and dadburn it, Martha, all this synaptic mumbo-jumbo just ain't natural. A movie that actually comes down in favor of mind-altering drugs? A movie that suggests that such things could make the world a better place? Why, that would be like showing a teenage girl having sex and not ending up pregnant and diseased. It's not the kind of message everyone wants to hear.
As for me, I'm fine with it. I'm just worried that when the time comes, I won't be able to get a prescription for the Singularity.
32 Responses to "Rx for the Singularity."