Islands, Eclipses, and Sundry Other Things
I'm going to sneak in a few bits of self-aggrandizing tub-thumpery here, in the hopes that the last few postings have mitigated the 'crawl's tendency to list to all-about-me.  First, however, a bit of housekeeping:  I've just learned that anyone posting comments on this blog is forced to enter their name and e-mail up front.  This is a pain of which I was not aware, and I have now disabled those hoops (although first-time posters are still queued for moderation).
Turns out that "The Island" is available for free online (along with complete stories by Robert Charles Wilson, John Kessel, and half a story by Cory Doctorow— they basically just posted the first hundred pages of The New Space Opera 2, including the Introduction) over on Harper Collins' web site.  Anybody who wants to read any of this stuff without forking out bucks for the hard copy is welcome to.
Also, last week I showed up as a subject of discussion on episode 28 of the Sofanauts, a regular podcast from Starship Sofa (which recently celebrated its 100th installment by releasing a nifty little retro anthology featuring some of the stories they've presented in the past — the roster features such heavyweights as Gene Wolfe and Michael Moorcock as well as lesser lights such as myself, although personally I think my author photo is far and away the most endearing of the lot).  Anyway, Ep 28 is a discussion between Tony Smith (the man behind the entire Sofa brand), John DeNardo, and Neil Clarke.  It tootles along just fine for most of its 47 minutes, covering a range of topics from Octavia Butler to George R.R. Martin, until about the 38 minute mark.  Then, WHUMP:  someone says something about "dark" sf. And they spend the next six minutes on the subject of my nihilistic outlook and my quirky reading voice.  I bring it up now, though, because some of you may remember "The Things", that reinvention-of-the-Carpenter-movie story I was working on a while back, which stalled for fear of legal consequences.  And if you listen to that segment, you'll find out where that story's ended up.
Finally, anyone recognize this piece of art?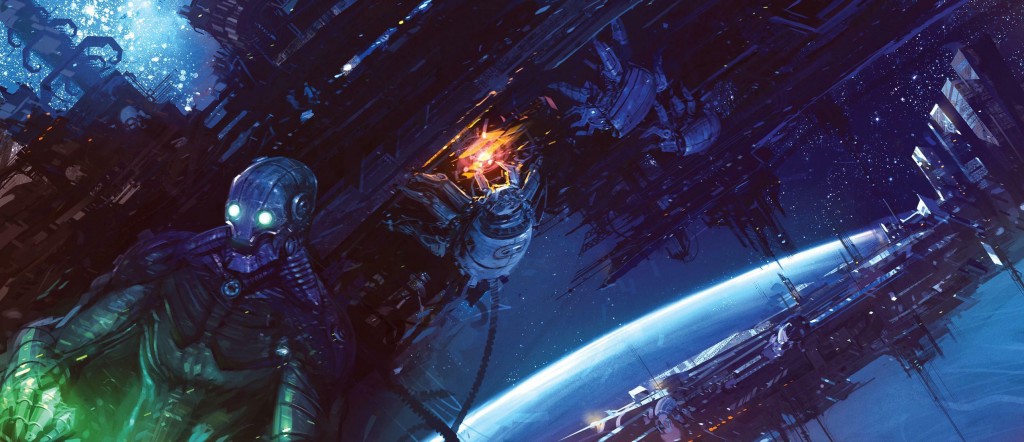 No?  How about this one?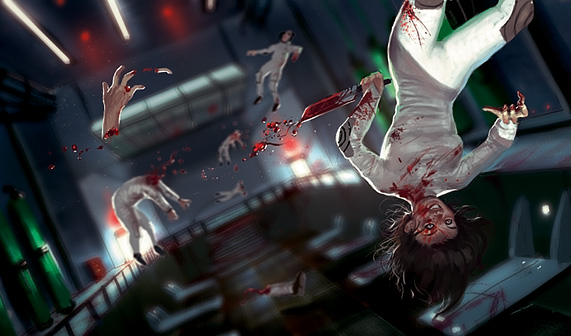 These are not illustrations for the latest Chucky In Space movie (although now that I've put it out there, it's probably only a matter of time).  These are lifted from the manual for Eclipse Phase, the brand-spanking new [update:  Creative Commons!] RPG from Catalyst.  I've had a chance to glance through said manual, and it looks like glorious post-human, post-singularity nihilism for those of you who think that Charlie Stross doesn't go into enough detail and that I'm too optimistic. I'm looking forward to delving deeper into this universe — not least because it contains a strain of Exsurgent virus called "Watts-MacLeod", which apparently gifts its infectees with psionic abilities. I've been told this is a deliberate homage, which I believe because I'm one of a dozen sf authors listed on EP's Resources page.
Now if they'd made it an STD, I would have felt truly honored…
This entry was posted on Sunday, October 18th, 2009 at 3:31 pm and is filed under
ink on art
,
writing news
. You can follow any responses to this entry through the
RSS 2.0
feed. Both comments and pings are currently closed.