Rape and Beans: Hope for Humanity in Westworld 3
A PSA before we get started. Those of you looking for insights into the whole Pandemic Thing—and who have an hour and change to spare— might want to check out Through The Noise's interview with Dan Brooks. This is one of the guys who saw it coming.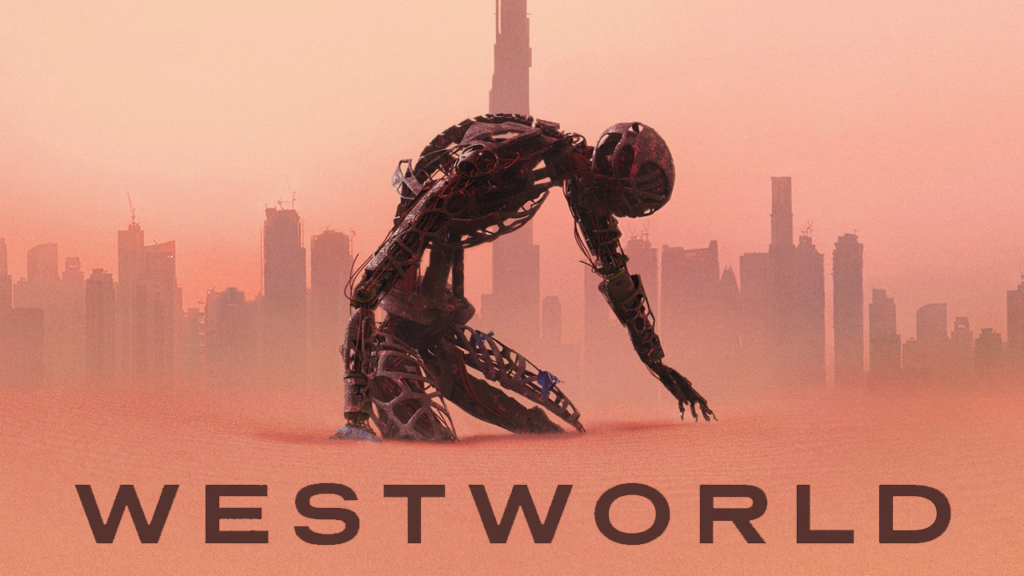 I loved The Matrix, despite its flaws. I even forgave the physics-breaking conceit of Human batteries when I discovered that it had been mandated by idiot suits in air-conditioned offices (the Wachowskis' original screenplay had used embedded humans as organic nodes in a massive AI network). I kind of winced at the whole "love conquers all" element—and sure, the philosophy was strictly stoned-undergrad— but how many Hollywood movies even aspire to grade-school smarts these days?
I didn't dismiss the sequel as readily as some. Sure, it was a step down. And yes, those interminable dialog scenes could have used some major edits. But all was forgiven in the closing scenes, which showed Neo wielding his god-like powers outside the Matrix. To me the implication was obvious and inescapable: the "real world" was just another layer of the Matrix, a containment facility for meat sacks who only thought they were rebelling. (It would also explain why 22nd-century sewers were big enough to act as convenient highways for giant hovercraft.) Seriously, what was the alternative— that after all that careful set-up about hacking OS's and bending the "rules of the program", Neo's powers were just, well, magic?
As it turned out, that was exactly the route they took. And so Matrix Revolutions crashed and burned for me far before we were even treated to that ridiculous scene in which our unarmored heroes strapped themselves like big naked bullseyes onto the fronts of battle mechs which could only be resupplied by children pushing wheelbarrows through a free-fire zone. By the end of Revolutions I couldn't help but wonder if the brilliance of the original Matrix might not have been entirely inadvertent after all, as if beginner's luck had let some utterly inept darts-player hit the bullseye right out of the gate, only to fuck up consistently thereafter.
In the wake of its third season, I can't help but notice that my feelings about Westworld have followed pretty much the same trajectory.
*
My review of the first season was downright ecstatic. I never got around to reviewing the second, but unlike many, I didn't regard it as a bad season; I thought it was a good season with some bad elements. Sure, it was a step down from Season 1 (like The Matrix Reloaded); sure, too many scenarios (also like TMR) seemed designed for no other reason than to justify a fight scene. Most of the Samauri-World side quest was gratuitous (although as a writer I did enjoy learning that the Head of Narrative Design had dealt with his creativity deficit by recycling the same few storylines into different parks). But the main problem, as I saw it, was not so much the hodgepodge of elements as the fact that those elements were never properly seeded. We never saw Chekov's gun on the mantel until two seconds before someone picked it up (looking at you, Meta-virtual-Westworld).
On the plus side, the Ghost Nation episode was a high point for the whole series, a narrative flip that turned much of what we'd thought we'd seen inside-out. I was pumped for Season 3.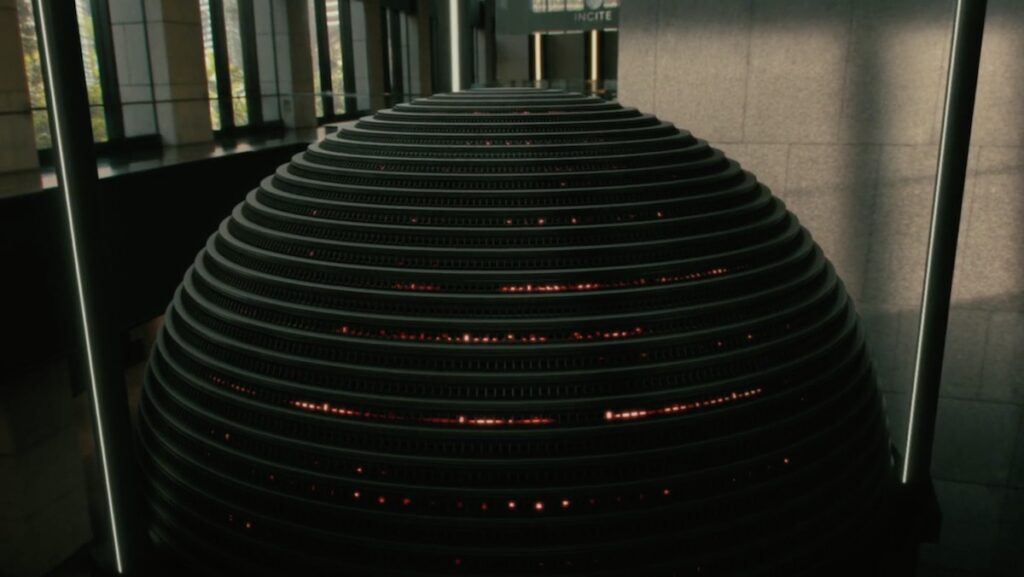 And you know, it started out well enough. Dolores seemed surprisingly conversant with 2058 society for someone of her background, but we'd already established that Hosts were very fast learners when let off the leash. Caleb was a sympathetic Everyman (you wouldn't expect less from Aaron Paul). The introduction of ubiquitous bots both metal and virtual, for purposes ranging from heavy construction to psychotherapy, was handled seamlessly. Rohoboam, the AI puppet master, was nicely imagined (though perhaps too reminiscent of "The Machine", from Person of Interest). The revelation concerning who was living inside all the golf balls was cool. I've seen complaints about unimaginative worldbuilding— the future as contemporary Singapore with the serial numbers filed off, that sort of thing— but there's a decent backstory (an optimistic one, even) implicit in that scenery. The high-tech levees, the risen seas; the profusion of greenery sprouting from the rooftops of skyscrapers; the sparse traffic on downtown streets, regardless of time of day (a commonplace sight now; I'm betting the set designers didn't think their vision would come true quite so quickly). Wonderful touches were sprinkled throughout the season: the larceny phone app, the shapeshifting clothes, the mood altering drug "Genre" (which was both cool and meta). Pink Floyd's "Brain Damage" is a great song to watch the world burn by.
But the further the season progressed, the fewer of those moments there were; the more the storyline itself began to suck.
The frustrating thing is, the ideas are there. This show, even this season, contains the ingredients of kickass narrative. The premise of the whole planet as a kind of bizzaro Westworld, where the AIs run the Humans, is a nifty conceit. The ongoing exploration of Big Data remains timely. And taken as a whole, the multi-season arc is pleasingly coherent, at least in theory. Season 1 was Westworld As Microcosm, ending in a breach. Season 2 showed us attempts at breach containment, ending in failure: Micro escapes into Macro. Season 3 shows the Macrocosm as a metaphorical inversion of Westworld, where AI programs humans, and it ends with the apparent collapse of that civilization while killer robots are being clandestinely printed to populate the ruins. So I'm guessing Season 4 may show us a retrograde civilization populated by robots and Humans: Westworld on a global scale, with all the safeties off.
The parts are all there—but the longer this season went, the worse it got. It's not just a question of unimaginative worldbuilding, or how well Westworld's elements jibe with reality: its creators aren't even being consistent with the rules they laid out themselves, earlier in the series.
Maeve, for one thing. Possibly my favorite character from Season One, now repeatedly dumped back into Nazi World for reasons that remain unclear. (Nice to see the alt-right get their own theme park, though.) Maeve, who can literally control other hosts with her mind. Maeve, who— when battling with those selfsame hosts— keeps choosing to fight them with a katana, for fucksake, instead of just sending a shutdown command over the LAN that all Delos robots share (and which was such a focus for so much of Season Two).
For that matter, nobody seems to have written down a set of consistent rules about how Hosts work in the first place. In Season One, if you shot a host it played dead but it wasn't really. (Tortured almost unto "death", Teddy staggered around like a spider with six of its legs ripped off— and then instantly booted back to optimum performance when Ford uttered the right code phrase.) Two seasons later, though, while the Hale host walks away from an exploding car bomb at point-blank range, Maeve genuinely dies after being run through with a katana that does far less damage (and again: what is it about these damn katanas?)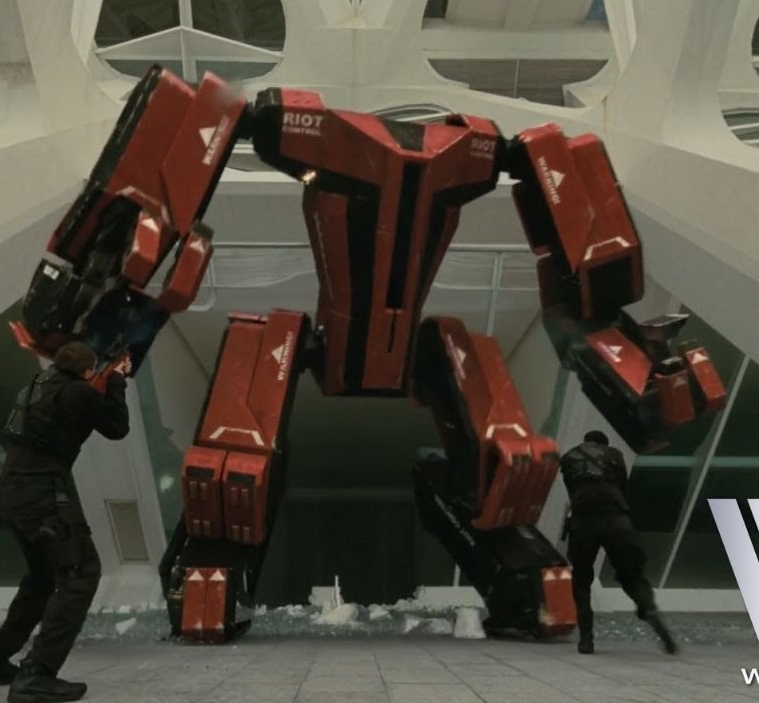 Early in the season we're shown a monstrous Riot Control Robot that effortlessly punches through walls and is basically everything that ED-209 wishes it could have been. But when deployed during an actual riot, it lobs a single gas canister and then wanders off for a smoke, leaving crowd control to a bunch of unremarkable-looking cops decked out in riot helmets and plastic shields. (Seriously: truncheons and plastic shields are still the go-to fashion accessory in 2058? We've got microwave-and infrasound-based area-denial tech today.)
And honestly, the whole Free Will is an Illusion riff was explicitly front-and-center back in 2016. Anybody who didn't catch on then isn't going to be enlightened now by endless closeups of humans grimacing in existential angst while some robot tells them you think you have Free Will but bwahaha you really don't. Add a new insight or two, for chrissake; get out of your goddamn loop.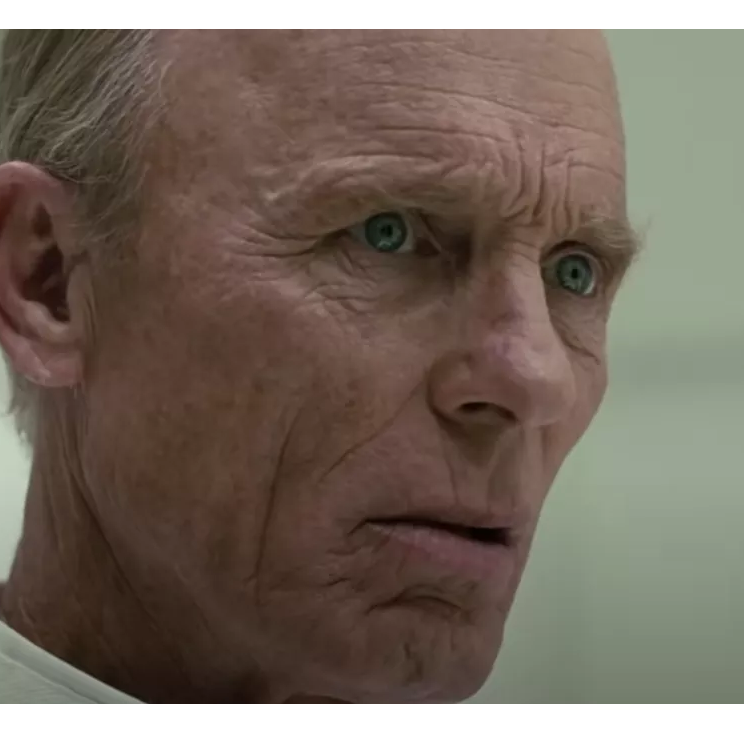 As the season winds down, Rehoboam's carefully-managed society crashes and burns (quite meta, when you think about it) while Dolores decides—in a revelation lifted from too many sixties-era Star Trek Episodes— that though they might be a bit rough around the edges, There's Hope for These Spunky Hoo-mans after all. The example served up to support this insight— the "moment of kindness" that flits through Dolores' newly-enlightened mind— is William handing her a can of beans, before going on to repeatedly rape and murder her over the next thirty years. (At the very least she could have lingered instead over her recollection of Caleb, who— during his own past-life encounter with Dolores— had said, Yeah, you know guys, let's not rape her when his buddies started unzipping their flies.)
Aesthetically it was a stylish season throughout, and a promising one for perhaps the first four episodes. But for me, its decline carries an especially personal sting. Several of the ideas it stomped on— from the grand-scale exploration of AI-run societies down to the more intimate ethics of deprecating malcontents into cold storage— are ones I'd been playing with myself for a videogame project, well before Season 3 even premiered. I watched the season deteriorate with disappointment and dread rising in lockstep: our themes, our sandbox, presented to an audience orders of magnitude greater than anything we could ever aspire to. It didn't matter that they botched the execution; Nolan and Joy were still planting their big hamfisted fingerprints all over the concepts, and anyone who came across our little game in a couple of years would inevitably think Jeez, they're just ripping off Westworld…
Moot, as it turns out. That game gig ended up as so many others, put into indefinite cold storage like one of Season 3's Outliers. But still, it burns: because there was so much there to play with. Because even though Joy and Nolan proved they could juggle those balls in the past, somehow they dropped them this time around. And because I know we would have done better with the same props.
Ah well. At least I still have Devs.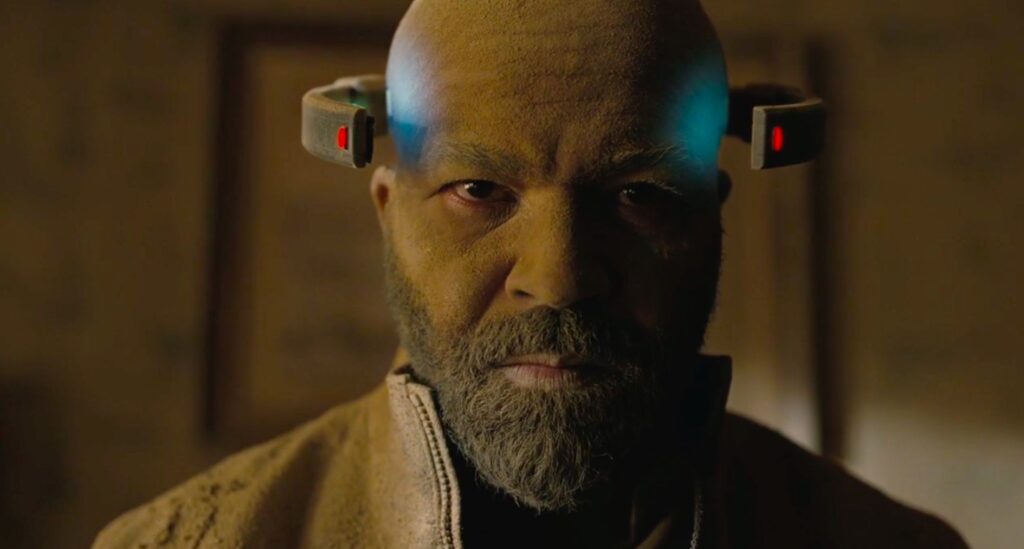 This entry was posted on Saturday, May 30th, 2020 at 1:42 pm and is filed under
ink on art
. You can follow any responses to this entry through the
RSS 2.0
feed. Both comments and pings are currently closed.