PSA Reprise: The Sound of Horsemen Riding.
This was supposed to be my review of Westworld, Season 3 (We're not angry, Mr. Nolan. Just very, very disappointed). But between various professional obligations and maybe a little, you know, borderline obsession with this Alyx character, time got away from me again and if I wait any longer to announce a couple of upcomings they'll be bygones. So here's a little more empty self-promotion for you all.
*
First up: in the shadow of Covid, the overachieving multiaward-winning unstoppable Jo Walton has been enlisting writers to contribute to a "New Decameron". The old Decameron, written in the 14th Century by an Italian dude named Giovanni Boccaccio, was a themed anthology framed around the concept of a group of people hiding in a villa, telling stories to each other while the Black Death rages outside. (I had not heard of this before. In my defense I had read Poe's "Masque of the Red Death", which uses the same basic premise to launch a somewhat more on-target depiction of the One Percent).
Anyway. Jo took inspiration from the fourteenth century to inform the twenty-first, wrote her own contemporary framing story and enlisted some seventy-odd writers (and counting) to contribute stories. They hail from all over the place: first-chapters of novels-in-progress, previously unpublished shorts, stories that might have been previously published but only in Hadzane—you get the idea. The project accretes in real-time over on Patreon, even as I type; proceeds are split between the authors and Cittadini del Mondo, a Roman charity running a clinic and library for refugees. As of last week New Decameron had raised over three grand for Cittadini del Mondo. Nothing to sneeze at.
Anyway, my contribution went up today: "The Last of the Redmond Billionaires", originally written for internal use by a multinational which shall remain nameless (at their own request), but who have permitted its wider release because the cause is so damn worthy. The stories in this New Decameron are not thematically linked, beyond the fact that they're all fantasy or SF; certainly there was no requirement that they be explicitly pandemic-related. But as anyone who knows my stuff will realize, pandemics have factored into pretty much every story I've written over the past decade— at least as background elements— because I haven't been able to foresee a plausible near-future without them. So it is with "Redmond": based loosely on an incident discussed briefly and incidentally by characters in another recent of story of mine, but given flesh and detail and placed center-stage. It's set in a disease-ravaged refugee camp in the Pacific Northwest. Basically, more of the same.
Or as Jo put it, "What a very you story!"
"Redmond" is number 64 in the sequence, which should make it obvious that I am far from the best reason to check the project out (and to chip in). Giants in the field have already contributed: people like Cory Doctorow from the latest generation, people like Robert Silverberg from earlier ones. Max Gladstone. Nalo Hopkinson. Lois McMaster Bujold and Naomi Novik and Walter John Williams. The list goes on. Even if you utterly loathe my writing, you're bound to find something in this anthology that turns your crank.
It's all free. You don't have to pay to read it, but it would be great if you did. The cause is just, and the prose is worthy. Win/win.
So check it out.
*
Here's something else to check out: those of you who inhabit Second Life (or Sansar, if you're into VR) might have heard of this "Drax" guy, aka Bernhard Draxtor: interviewer, book reviewer, overall AR/VR pixality inhabitant. He used to interview genre authors over to his virtual studio in Sansar (I have embarrassing pictures of Karl Schroeder doing unmentionable things to a pair of Vive controllers in our Trombonarium, back during his "Stealing Worlds" tour; I'll release them when the time is right). These days Drax is more well-known as the face of the Second Life Book Club: a weekly 90-minute panel discussion with various genre authors starting Wednesdays at 10am "SLT" (which out here means "Sri Lankan Time" but I'm gonna go out on a limb and say in this context it's actually "Second Life Time"). AKA "Pacific Time". (So SL Book club actually starts at 1300 here in Toronto.)
This week's guest is not me. This week's guest is Kelly Robson, who you can't not have heard of if you've been keeping an eye on genre award ballots over the past couple of years. But apparently I'll be dropping by too, as— well, I'm not sure exactly. Perhaps I'm there to heckle (the word "ambush" was used during initial negotiations, but I think we stuck a pin in that one). Or maybe I'm there to provide a counterweight to Kelly's chronic optimism. That's assuming I can even get in: The BUG's working from home during these lockdown days, so there's no guarantee some brushfire at the Ministry of the Attorney General won't flare up and demand a teleconference at exactly the right time to choke my bandwidth. We'll see.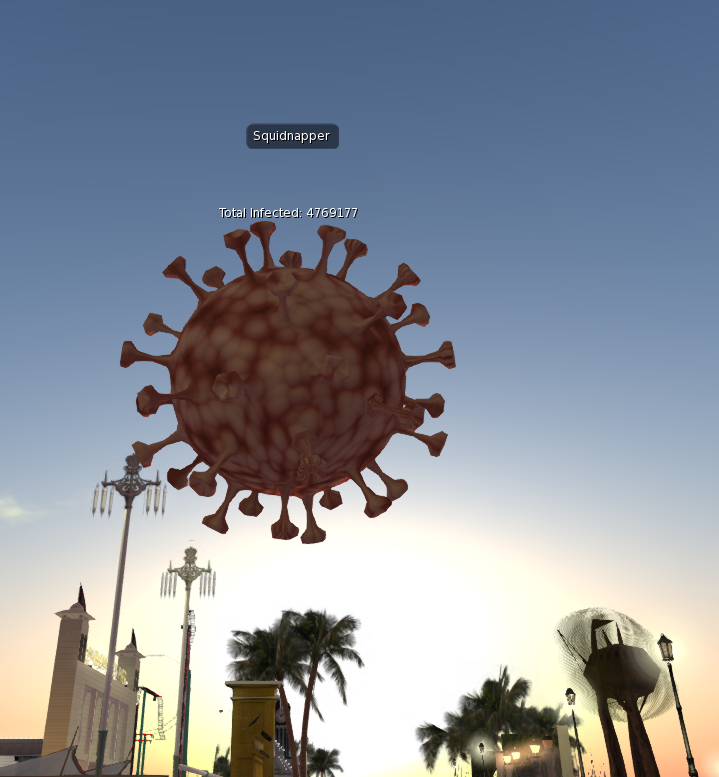 You will, too, if you're on Second Life. Drop by. I'm currently the guy dressed as a Coronavirus, but if Drax thinks that's Too Soon I might end up wearing something in a cephalopod.
*
And finally, in the so near and yet so far Department: looks like I won't be showing up at Geek Picnic in St Petersburg this summer, after all.
You can guess the reason. Covid spiking all over Russia. Medical professionals running desperately short of proper equipment in ol' St. Pete's. Official C19 death tolls surprisingly low, until you add in deaths attributed to "community-transmitted pneumonia", at which point they rise to, well, pretty much what you'd expect. Doesn't seem likely that they'll have things under control in the less-than-two-months remaining before the Picnic is scheduled. Put that together with the fact that we're still travel-restricted here in Canada— I have no great desire to get thrown into quarantine in Trenton for two weeks following my return— and it just doesn't seem like a wise move.
Also the BUG literally threatened to leave me if I went.
It sucks. I never saw much of St. Petersburg proper last time I was there; most of that trip was spent outside the city and my one day spent touring came after getting four hours of sleep per night for three straight nights; I was half comatose the whole time. But what I remember was beautiful (even if we never got inside the Hermitage to check out the cats). I was really looking forward to a return trip.
Maybe next year, if they still want me.
This entry was posted on Monday, May 18th, 2020 at 12:04 pm and is filed under
Uncategorized
. You can follow any responses to this entry through the
RSS 2.0
feed. Both comments and pings are currently closed.