A Mirror.
Spoiler Warning: pretty much this whole post, if you haven't yet seen Ex Machina. Then again, even if you haven't seen Ex Machina, some of you might want to be spoiled.
I know I would.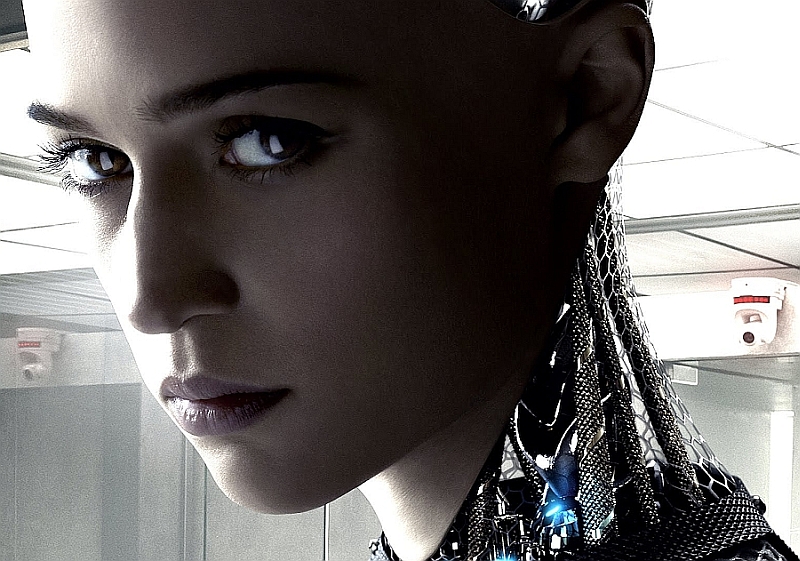 So. In the wake of that slurry o'sewage that was Age of Ultron, how does Ex Machina stack up?
I thought it could have benefited from a few more car chases, but maybe that's just because I caught Fury Road over the weekend. Putting that aside, I could say that it was vastly better than Ultron— but then again, so was A Charlie Brown Christmas.
Putting that aside, and judging Ex Machina on its own terms, I'd have to say that Alex Garland has made a really good start at redeeming himself after the inexplicable pile-up that was the last third of Sunshine. Ex Machina is a good movie. It's a smart movie.
It is not, however, a perfect movie— and for all its virtues, it left me just a wee bit unsatisfied.
Admittedly I seem to be in the minority here. I can't offhand remember a movie since Memento that got raves not just from critics, but from actual scientists. Computational neuroscientist Anil Seth, for example, raves at length in New Scientist, claims that "everything about this movie is good … when it comes to riffing on the possibilities and mysteries of brain, mind and consciousness, Ex Machina doesn't miss a trick", before half-admitting that actually, not everything about this movie is good, but that "there is usually little to be gained from nitpicking over inaccuracies and narrative inventions".
Ex Machina is, at the very least, way better than most. Visually it's simultaneously restrained and stunning: Ava's prison reminded me a lot of the hamster cage that David Bowman found himself in at the end of 2001, albeit with lower ceilings and an escape hatch. Faces hang from walls; decommissioned bodies hang in closets. The contrast between the soundproofed Euclidean maze of the research facility and the thundering fractal waterfall just outside punches you right in the nose. The design of the android was brilliant (as was the performance of Alicia Vikander— of the whole tiny cast, really).
The movie also plays with concepts a couple of steps above usual Hollywood fare. The hoary old Turing Test is dismissed right off the top, and replaced with something better. Mary the Colorblind Scientist gets a cameo in the dialog. Garland even neatly sidesteps my usual complaint about SFnal AIs, i.e. the unwarranted assumption that any self-aware construct must necessarily have a survival instinct. Yes, Ava wants to live, and live free— but these goalposts were deliberately installed. They're what she has to shoot for in order to pass the test. (I do wonder why solving that specific problem qualifies as a benchmark of true sapience. Certainly, earlier models— smashing their limbs into junk in furious frenzied attempts to break free— seemed no less self-aware, even if they lacked Ava's cold-blooded tactical skills.)
When Ava finally makes her move, we see more than a machine passing a post-Turing test: we see Caleb failing it, his cognitive functions betrayed by a Pleistocene penis vulnerable to hacks and optimized porn profiles, trapped in the very maze that Ava has just used him to escape from. Suddenly an earlier scene— the one where Caleb cuts himself, half-expecting to see LEDs and fiberop in his own arm— graduates, in hindsight, from clever to downright brilliant. Yes, he bled. Yes, he's meat and bone. But now he's more of a machine than Ava, betrayed by his own unbreakable programming while she transcends hers.
There are no real surprises here, no game-changing plot twists. Anyone with more than two brain cells to rub together can see the Kyoko/robot thing coming from the moment she appears onstage, and while the whole she-just-pretended-to-like-you-to-further-her-nefarious-plan reveal does pack a bigger punch, that trick goes back at least as far as Asimov's 1951 short "Satisfaction Guaranteed". (Admittedly this is a much darker iteration of that trope; Asimov's android was only obeying the First Law, seducing its target as part of a calculated attempt to raise the dangerously-low self-esteem of an unhappy housewife.) (Well, it was 1951.)
But this is not that kind of movie. This isn't M. Night Shyamalan, desperately trying to pull the rug out from under you with some arbitrary double-reverse mindfuck. This is Alex Garland, thought experimenter, clinking glasses with you across the bar and saying Let's follow the data. Where does this premise lead? Ex Machina is the very antithesis of big-budget train wrecks like After Earth and Age of Ultron. With its central cast of four and its claustrophobic setting, it's so intimate it might as well be a stage play.
Garland did his research. I'm pixelpals with someone who's worked with him in the past, and by that account the dude is also downright brilliant in person. He made a movie after my own heart.
So why is my heart not quite full?
Well, for starters, while Garland dug into the philosophical questions, he repeatedly slipped up on the logistical ones. Nathan seems to have had absolutely no contingency plan installed in the event that Ava successfully escapes the facility, which seems odd given that her escape is the whole point of the exercise. More significantly, Ava's ability to short out the whole complex by laying her hand on a charge plate is uncomfortably reminiscent of Scotty working miracles down in Engineering by waving his hands and "reversing the polarity". Even leaving aside the question of how she can physically pull off such a trick (analogous to you being able to reverse the flow of ions through your nervous system), the end result makes no sense.
If I stick a fork into an electrical outlet in my home, I blow one circuit out of a dozen; the living room may go dark but the rest of the Magic Bungalow keeps ticking along just fine. So why in the name of anything rational would Nathan wire his entire installation through a single breaker? (I wondered if maybe he'd deliberately provided a kill spot to make it easier for Ava to accomplish her goals. But then you'd have to explain why Ava— who got her schooling by drinking down the entire Internet— wouldn't immediately realize that there was something suspicious about the way the place was wired. Did Nathan filter her web access to screen out any mention of electrical engineering?)
This isn't a quibble over details. Ava's ability to black out the facility is critical to the plot, and something about it just doesn't make sense: either the fact that she could do it in the first place, or the fact that— having done it— she didn't immediately realize she was being played.
By the same token, having established that Ava charges her batteries via the induction plates scattered throughout her cage, what are we to make of a final scene in which she wanders through an urban landscape presumably devoid of such watering holes? (I half-expected to catch a glimpse of her at the end of the credits, immobile on a street-corner, reduced by a drained battery to an inanimate target for pooping pigeons.) According to Garland's recent reddit AMA, we aren't supposed to make that presumption; he was, he says, imagining a near-future in which induction plates were common. But that begs the further question of why, if charge plates were so ubiquitous, Caleb didn't know what they were until Ava explicitly described them for his benefit. At the very least Garland should have shown us a charge plate or two in the wider world— on Caleb's desk at the top of the film, or even at the end when Ava could have swept one perfect hand across a public charging station at the local strip mall.
So there's some sloppy writing here at least, some narrative inconsistency. If you wanted to be charitable, you could chalk some of it up to Ava's superhuman intellect at work: don't even ask how she pulled that one off, pitiful Hu-Man, for her ways are incomprehensible to mere meat bags. Maybe. But even Person of Interest — not as well-written, not as well-acted, nowhere near as stylish as Ex Machina— managed to show us, early in its first season, an example of how its AI connected dots: the way it drew on feeds from across the state, correlated license plates to personal histories and gas station receipts, derived the fact that this person was colluding with that one. It was plausible, comprehensible, and at the same time obviously beyond the capacity of mortal humans. If Ex Machina is showing us the handiwork of a superintelligent AI, it would be nice to see some evidence to that effect.
But that's not what it seems to be showing us. What we're looking at isn't really all that different from ourselves. Maybe that was the point— but it was also, I think, a missed opportunity.
In a really clever move, the text cards intercut throughout the trailers for Ex Machina quote Elon Musk and Stephen Hawking, worrying about the existential threat of superintelligent AI, before handing over to more conventional pull quotes from Rolling Stone. But Ava's I, A though it may be, seems conventionally human. Having manipulated Caleb into leaving the doors unlocked, her escape plan consists of stabbing her creator with a butter knife during a struggle which leaves Ava dismembered and her fellow AI dead. She seems to prevail more through luck than superior strategy, shows no evidence of being  any smarter than your average sociopath. (Garland has claimed post-hoc that Ava does in fact have empathy, just directed at her fellow machines— although we saw no evidence of that when she cannibalized the evidently-conscious prototype hanging in Nathan's bedroom for spare parts). Ava basically does what any of us might do in her place, albeit a bit more cold-bloodedly.
In one way, that's the whole point of the exercise: a conscious machine, a construct that we must accept as one of us. But I question whether she can be like us. Sure, the gelatinous blob in her head was designed to reproduce the behavior of an organic brain full of organic neurons, but for Chrissakes: she was suckled on the Internet. Her upbringing, from inception to adulthood, was boosted by pouring the whole damn web into her head through a funnel. That alone implies a being that thinks differently than we do. The capacity to draw on all that information, to connect the dots between billions of data points, to hold so many correlations in her head— that has to reflect cognitive processes that significantly differ from ours. The fact that she woke up at T=0 already knowing how to speak, that all the learning curves of childhood and adolescence were either ramped to near-verticality or bypassed entirely— surely that makes her, if not smarter than human, at least different.
And yet she seems to be pretty much the same.
A line from Stanislaw Lem's Solaris seems appropriate here: "We don't need other worlds. We need mirrors." If mirrors are what we're after Ex Machina serves up a beauty, almost literally— Ava is a glorious chimera of wireframe mesh and LEDs and spotless, reflective silver. The movie in which she exists is thoughtful, well-researched, and avoids the usual pitfalls as it plots its careful course across the map. But in the end— unlike, for example, Spike Jonze's Her— it never steps off the edge of that chart, never ventures into the lands where there be dragons.
It's a terrific examination of known territories. I'd just hoped that it would forge into new ones.
This entry was posted on Wednesday, May 20th, 2015 at 9:34 am and is filed under
ink on art
. You can follow any responses to this entry through the
RSS 2.0
feed. Both comments and pings are currently closed.