Collateral.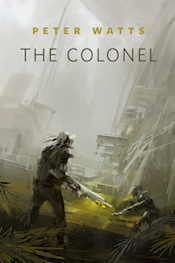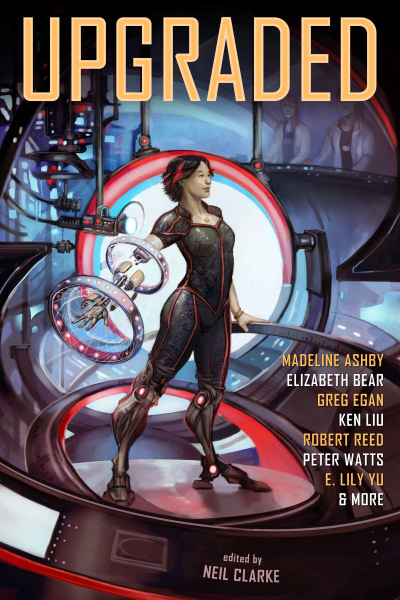 Daniel might like this. A couple of posts back (in a thread of comments I still haven't had time to answer), he asked if I'd be willing to write military SF unconstrained by the limits of  video games.  As it turns out, I already have: "The Colonel", upcoming from Tor.com, is sorta-military— although the only actual combat takes place at the top of the tale—  insofar as the protagonist is Siri Keeton's dad, the career soldier. A more pure-blooded example, however, might be "Collateral", from Neil Clarke's upcoming cyborg-themed anthology Upgraded.  As you can tell from the table of contents, Neil has lined up some pretty impressive names.
Anyhow, it's been a while since I posted a fiblet.  So here:
They got Becker out in eight minutes flat, left the bodies on the sand for whatever scavengers the Sixth Extinction hadn't yet managed to take out. Munsin hauled her into the Sikorsky and tried to yank the augments manually, right on the spot; Wingman swung and locked and went hot in the pants-pissing half-second before its threat-recognition macros, booted late to the party, calmed it down. Someone jammed the plug-in home between Becker's shoulders; wireless gates unlocked in her head and Blanch, way up in the cockpit, put her prosthetics to sleep from a safe distance. The miniguns sagged on her shoulders like anesthetized limbs, threads of smoke still wafting from the barrels.

"Corporal." Fingers snapped in her face. "Corporal, you with me?"

Becker blinked. "They— they were human…" She thought they were, anyway. All she'd been able to see were the heat signatures: bright primary colors against the darkness. They'd started out with arms and legs but then they'd spread like dimming rainbows, like iridescent oil slicks.

Munson said nothing.

Abemama receded to stern, a strip of baked coral suffused in a glow of infrared: yesterday's blackbodied sunshine bleeding back into the sky. Blanch hit a control and the halo vanished: night-eyes blinded, ears deafened to any wavelength past the range of human hearing, all senses crippled back down to flesh and blood.

The bearing, though. Before the darkness had closed in. It had seemed wrong.

"We're not going to Bonriki?"

"We are," the Sergeant said. "You're going home. We're getting you out before this thing explodes."

She could feel Blanch playing around in the back of her brain, draining the op logs from her head. She tried to access the stream but he'd locked her out. No telling what those machines were sucking out of her brain. No telling if any of it would still be there when he let her back in.

Not that it mattered. She wouldn't have been able to scrub those images from her head if she tried.

"They had to be hostiles," she muttered. "How could they have just been there, I mean—what else could they be?" And then, a moment later: "Did any of them…?"

"You wouldn't be much of a superhuman killing machine if they had," Okoro said from across the cabin. "They weren't even armed."

"Private Okoro," the Sergeant said mildly. "Shut your fucking mouth."

They were all sitting across the cabin from her, in defiance of optimal in-flight weight distribution: Okoro, Perry, Flannery, Cole. None of them augged yet. There weren't enough Beckers to go around, one every three or four companies if the budget was up for it and the politics were hot enough. Becker was used to the bitching whenever the subject came up, everyone playing the hard-ass, rolling their eyes at the cosmic injustice that out of all of them it was the farmer's daughter from fucking Red Deer who'd won the lottery. It had never really bothered her. For all their trash-talking bullshit, she'd never seen anything but good-natured envy in their eyes.

She wasn't sure what she saw there now.