But Not Without Shame
So, David Brin and I have been chatting behind the scenes; as you might expect, he disagrees with pretty much everything I had to say on the ol' Scorched-Earth front.  It's an important issue, one to which I'll be returning in the near future— but because it's an important issue, it deserves more time than I can afford to devote to it this week, especially after I lost most of Tuesday to getting my ass repeatedly blown up in a Body-Works Museum near the end of Deus Ex: Human Revolution. (I really regret falling for that biochip recall back in Hengsha.) So today's listing is pure self-promotional fluff; a potpourri of newsy bits from the past few weeks that I just never got around to mentioning before.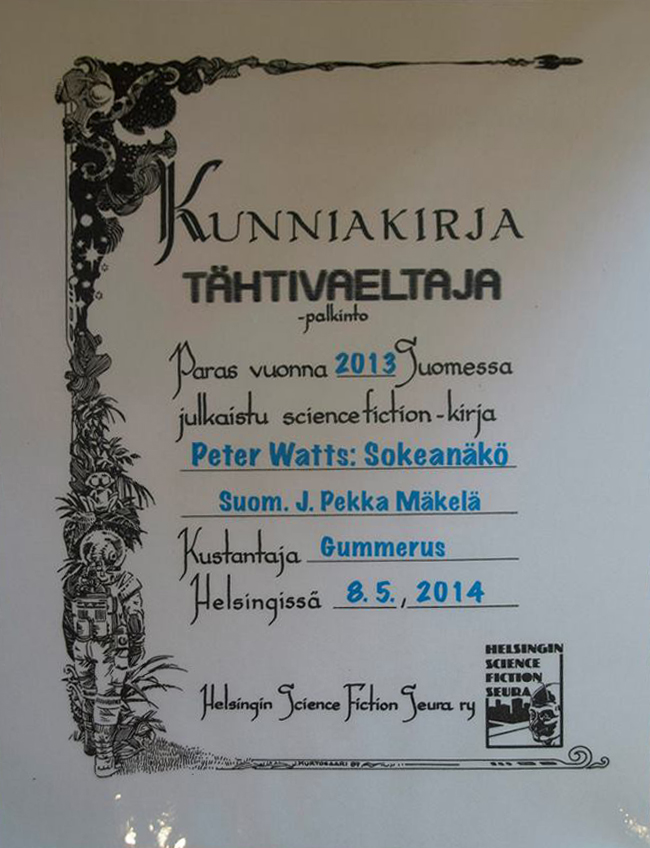 First off, I'm going to be GoH at something called "Peterburg's Fiction Assembly" in St. Peterburg, Russia, the weekend of August 15— or at least I will be, if I ever get through the Gilliamesque application process involved in getting a tourist visa for the fucking place. The bad news is, Worldcon is the same weekend, so I won't be seeing any of you there.  The good news is, Worldcon is the same weekend, so I can probably credit my invitation to the fact that everyone else is in London that weekend.
Another overseas accolade for Blindsight, this time under its Finnish alias Sokeanäkö: the Tähtivaeltaja award (which apparently translates as "Star Rover"), kind of a year's-best thing.  Juried.  No monetary value. And as is usual for any translation of this book, the lion's share of the credit has to go to the dude who translated it, J. Pekka Mäkelä. You all know how dense Blindsight is even in this language; just  imagine having to morph it into a different one.
Finally: first official review of Echopraxia, from Publisher's Weekly. I copy it in full, because it is short, and because it glows:
Hugo-winner Watts attempts "faith-based hard SF" in this dense, fast-moving companion to 2006's Blindsight set in a late-21st-century world of genetically resurrected vampires, weaponized zombies, and Nobel-winning monastic hive minds. Daniel Brüks, obsolete in every way—human in a posthuman world, a field biologist despite biology's merger with technology, an atheist despite religion's recent triumphs over science—is dragged onto a Rapture-guided ship, the Crown of Thorns, and taken on a mission to investigate possible transmissions from the lost spaceship Theseus. Brüks is soon trapped between a vampire and a physics-breaking "postbiological" organism. Watts displays his knack for meticulously researched, conventionally unsympathetic characters, and their complex manipulations give color to an environment in which it is difficult to distinguish bloody catastrophe from "plans within plans." The novel delivers an intricately inventive and coolly deterministic lesson in the futility of trying to outthink evolution, less a critique of human transcendence than an indictment of its basic assumptions.
I especially liked "difficult to distinguish bloody catastrophe from plans-within-plans".  Not a starred review, though, which I guess means they didn't like it as much as behemoth. (Here's the link: I include it not because it leads to any further information, but just to prove I'm not making this up.)
Some of you may be especially surprised at the glowiness of this review; I'm speaking, of course, of those who served as beta-readers, and who slogged through a much crappier version of the novel. I'm kind of retroactively embarrassed that I inflicted that on you (I've actually decided to dispense with beta-readers in future, save for one or two close confidantes), so I intend to pdfify a copy of the final copyedited version and send it to you all as a gesture of thanks and atonement.  Don't know exactly when that'll be, but it will be well in advance of the official release date.
It'll be better than the ARC. I saw the ARC for the first time last weekend.  It didn't even include the Crown of Thorns illustration. That better not be a harbinger.
This entry was posted on Thursday, June 5th, 2014 at 6:47 am and is filed under
On the Road
,
public interface
,
writing news
. You can follow any responses to this entry through the
RSS 2.0
feed. Both comments and pings are currently closed.