Skin Deep: the Empty, Pernicious Beauty of "The Creator"
"We don't need other worlds. We need mirrors."
—Stanislaw Lem
Lers
of
Spoi.
You Have Been Warned.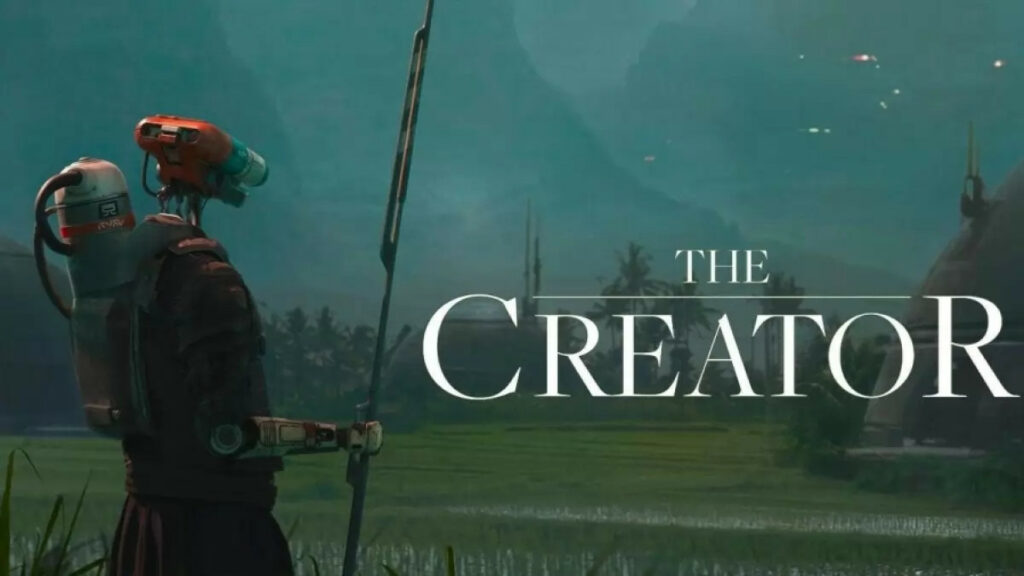 Let's get the good stuff out of the way first: this movie is absolutely beautiful to behold. The cinematography is first rate; the vehicle designs are perfect. The vistas of robots in rice paddies—corny as that may sound—are a gorgeous and counterintuitive juxtaposition of old and new, the sort of bucolic visual scifi you used to see in Omni Magazine back in the eighties. The eyes have it: they will insist that the 2065 they're parsing is utterly lived-in, utterly real.
The brain, however, will beg to differ.
To be fair, it's clearly not our 2065. A montage of grainy archival footage during the prolog starts with an old-timey black-and-white newsreel showing robots taking their first halting steps back in the fifties and joining the US space shuttle program a few decades later. This is a parallel universe in which robots matured early, in which our own burgeoning issues with incipient AI didn't mess things up, and in which the climate catastrophe does not appear to have happened. Fair enough. Including all that stuff would have muddied the future that Gareth Edwards wanted to show us, detracted from the story he wanted to tell.
The problem is, often as not Edwards himself doesn't seem to know which story he wants to tell—so we're treated to a world in which robots who work alongside Humanity as equals somehow yearn for "freedom" (even though there are no enslaved robots in this timeline). We're shown a world in which pacifist robots explicitly abhor violence but routinely punch humans in the face for no obvious reason beyond sheer vindictive malice.
We're told up front that a US black-ops squad is sneaking into New Asia under deep cover, and without backup. "The human locals, including the police, all work with AI. Robots, humans, and simulants, they all hate us. If you get caught, you're screwed," Alison Janney's character intones near the beginning of the film, as her squad prepares to insert four hundred miles behind enemy lines. And yet by the third act a pair of USAF battle tanks—each literally the size of a city block and the height of a mid-range office building (so, not the kind of thing you can hide with a camo tarp and some leaves) show up out of nowhere to crush the nearest peaceful village. It is, reliably, an eye-filling spectacle, and there's some cute tech on display. I was especially fond of the suicide bots: bombs with arms and legs, who for some reason have an arbitrary 30-second countdown to clomp through enemy gunfire and leap over enemy heads to their assigned target and blow up. (Imagine Oscar the Grouch pimping out his garbage can and joining Monty Python's Kamikaze Highlanders.) It's visually very cool, but it's also hard to see how a conventional missile wouldn't have been able to do the job way more efficiently.
In fact, the whole movie is cheek-to jowl with tech that ranges from questionable to physics-breaking. You've got NOMAD, the orbital weapons platform which sometimes seems to be in orbit and other times seems barely above the clouds—and which covers a quarter of the sky no matter where it is, which makes one wonder how (as with those megatanks I mentioned) it keeps managing to sneak up on targets without anyone ever noticing until it's too late for anything but heroic martyrdom.

There's the weird bullet-proofness of a family station wagon in which our heroes have taken refuge; it careens invulnerably into the night as high-velocity rounds from a whole squad of police bounce and spark harmlessly off its stern. There's the inexplicable gobbledygook near the end where our hero is ordered to kill a bound and helpless little robot girl because "we tried to terminate the weapon cleanly, but she won't let us". How she can do that, strapped down and immobilized as she is, is never made clear, but apparently only our hero can do the job because "She trusts you". Which seems a bit odd given that the mode of execution is to simply shoot her in the head with an EMP gun, something anyone could do from across the room whether "the weapon" trusted them or not[1]. (Of course, things had to unfold the way they did because the screenwriters were shooting for a specific end point, and had to pretzel the story to get there. Still. They could have done a better job of hiding the stress fractures.)
I should mention one very cool piece of field tech that impressed the hell out of me: a piece of wet/ware-synching hardware that allows a recently-deceased brain to temporary reboot and interact with the world through a robot body. The scene that introduces that tech—a dead soldier wakes up, panicking, terrified, and turns its robot head to see his own dead body rotting beside him on the ground— might have been the best bit of the movie. But in the end, even that existentially horrifying scene existed only to set up a predictable and sentimental twist in the final reel.
*
So far I've spent a thousand words nitpicking details. Admittedly, that's chrome; you can argue back and forth about whatever world-building details support the events as presented. The real issue is, what about the meat of the story itself? What about the theme? What about the message?
For an answer, may I point you to Weird Al's album homage to Michael Jackson's "Bad".
Edwards obviously didn't just want to make a movie: he wanted to make a film, a piece of cinema that grappled with one of the preeminent issues of our time. He wanted to explore AI. A surprising number of critics seem to think he succeeded.
Which is odd, because there's no actual AI to be seen anywhere in the movie.
There are robots, mind you. All humanoid, all of which look, talk, and act pretty much like we do. The cop robots have pie-plate heads but they still squint down the sight-lines of their rifles and beat up suspects, still yell and scramble comically for safety when a dog drops a live grenade into their trench. The farming robots till their fields with hoes and oxen. The Brave Rebel Guerrilla robots sometimes click mandible mouth parts but the voices that come out of them have British accents. Robots ride the subways and drive taxicabs; they slouch and laugh and rage and worship. Many of them have human faces stretched over their metal ones, replete with facial hair and wrinkles and liver spots appropriate to a variety of ages (humans actually donate their "likenesses" to a sort of facial Creative Commons for their cybernetic brethren to choose from). Robots grieve and throw tantrums and respond to threats at human speeds in human ways. They apparently eat ice cream, despite lacking a digestive system. (At least, we see one robot offer ice cream to another, who eagerly says yes, although the ice cream explodes before we get to see any of it go into a mouth hole. What a missed opportunity that was.) They wear clothes.
They always communicate using human speech— even the cop-bots, even in life-or-death combat situations where wireless-modem comms at 10G speeds would provide a vital tactical advantage. They pick up and use weapons the way we do, but weapons never seem to be incorporated into their structure (well, except for the Kamikaze Oscars).
The movie's premise: the West has banned AI (or at least, robots—there's some ambiguity regarding what qualifies) ever since an AI allegedly nuked Los Angeles ten years before. AI continues to flourish, however, in an amorphous collection of Eastern jurisdictions known as "New Asia". The Murricans cannot abide the thought of another country following a different path, and have been launching a series of covert terrorists attacks upon suspected AI strongholds within New Asia's borders.
Now, the eponymous N'Asian Creator has built an Ultimate Weapon which, when deployed, will end the West's special military operation once and for all. A bereaved and embittered ex-soldier, whose wife was killed during a previous op, is recruited to accompany the team sent to extract/destroy said weapon—which turns out to have been built in the form of an eight-year-old girl who watches cartoons and asks pithy-cute questions about Heaven and gets all blubbery and teary when she doesn't like something. (For a while I dared to hope she'd been designed that way as a deliberate countermeasure, a way to make potential assassins hesitate at the prospect of killing an innocent child, so she could strike first. Nope.)
Someone sticks a magic Q-tip into Robot Girl's ear and in about two seconds deciphers her secret: she's a universal remote, a garage door opener writ large, able to override and control electronics from a distance. Her powers aren't all they will be; she can turn TVs on and off and sweet-talk security turnstiles, but for some reason she can't do anything about the hordes of New Asian copbots that keep trying to kill her (for reasons that remain unclear; wasn't she created by New Asians, to protect them from US aggression?). Her abilities are growing "exponentially". In time, she'll be able to shut down NOMAD itself.
Meanwhile, our bereaved embittered widower has grown to love her, against orders and all better judgment. Bet you didn't see that coming.
That's what this movie is about. Not AI at all; The Chosen One. The Sad Dad. Love Conquering All.
Oh, and prejudice is bad and robots are good. We know they're good because—wait for it, say it with me yet again—they are Just Like Us.
At best, the message of "the Creator" is shallow and derivative, just the latest iteration in a long list of heavy-handed metaphors about Oppressing the Other. I have ranted about some of those on this very 'crawl, but rarely has the point been made so ham-fistedly: for viewers too stupid to grok the subtext, one of the characters comes right out and says "My Father taught me that underneath it all, we're all the same."
Then your father was an idiot, lady. Because AI is not the same, no matter how many Turing Tests it passes. AI operates at electronic speeds, not neuronal ones. Whatever cognitive parts it has do not fit together the way ours do. It is not an evolved being: that's what makes it so interesting, goddammit.
And that's why I wonder if "The Creator" might be more than just an unoriginal retread with a really great sense of style. I wonder if it might actually be pernicious. Because arguing that we should respect AI because they're like us is the most insipidly Human-supremacist point one can make in a world where we're wiping out species left and right, even while we're starting to see potential signs of life in alien atmospheres. We're already destroying too many things that aren't just like us, and it's on account of that difference that we excuse our own behavior. They're just animals. They don't suffer the way people do. They don't have souls.
The idea that we should confer value to something based on how well it apes Humanity is what got us into pretty much every mess we're in today. It's simplistic, it's anthrosupremacist (yes, I'm making that a word now), it panders to the worst elements of Human self-glorification. And yet here it is again, pimped out and proudly served up as though it were some courageous progressive torpedo of Truth to Power: robots are just as worthy as us because, when it comes right down to it, they are us.
The corollary—unspoken, but inevitable—is that anything else can fuck off and die.
---
Jumping ahead for those of you who've seen the movie and are raising their hands about now: yes, the whole point of the Chosen One was that she was able to control electronics remotely. So yes, maybe she just wouldn't permit the EMP gun to fire unless it was in the hands of someone she trusted. In which case—putting aside the question of just why one's survival instinct should depend on how much you like the thing that's trying to kill you— why hadn't she just shut down the various security systems that were keeping her captive in the first place? ↑