Raised by Wolves. Written by Idiots.
SPOILERS SPOILERS SPOILERS.
You have been warned.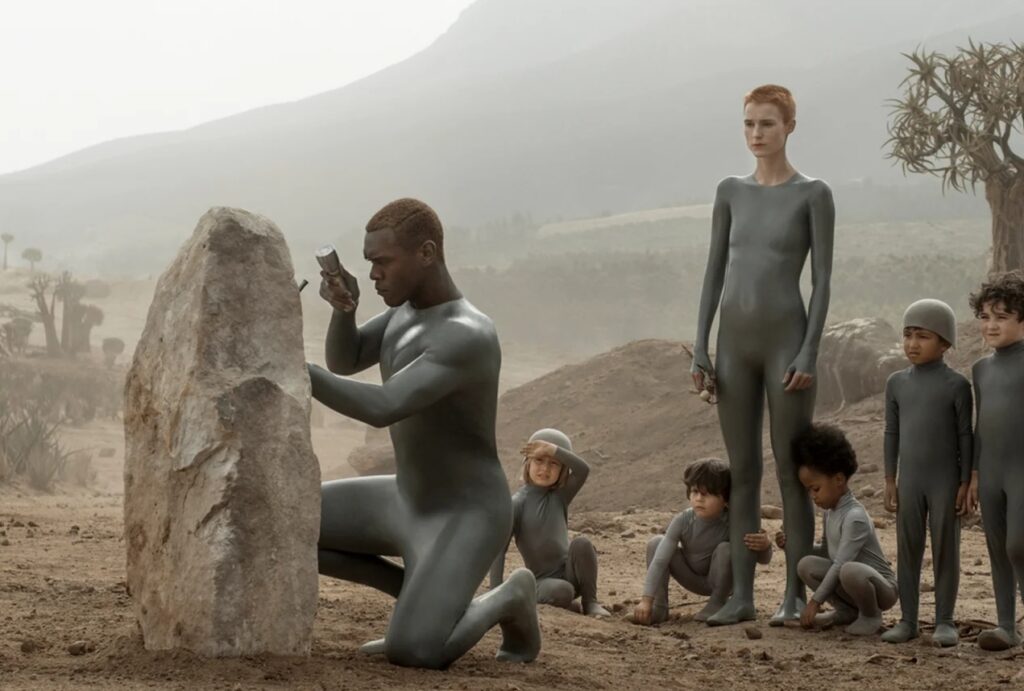 8.5 on IMDB. 77% from the critics aggregated on Rotten Tomatoes ("Bristling with imagination and otherworldly imagery, Raised by Wolves is a bloody exploration of artificial intelligence and religious belief that will stimulate the eye and mind"). An 81% audience rating at the same site. Even the traditionally grouchier Metacritic admits to "generally favorable reviews". Individual episode reviews over at The AV Club never drop below B- and commonly hit A territory. The Wall Street Journal favorably compares the female lead with Alien's Ripley. The New Yorker raves about the "virtuoso performances" of the leads.
Even my flesh-and-blood friends are jizzing themselves over on Facebook. "The best thing I've seen in a really long time", enthuses my token female-Nazi-punching friend.
All of these reactions have led me, doubtful and uncertain, to a question: Are there maybe two shows about androids out there, both called "Raised by Wolves"? Because the one I've just endured is unadulterated garbage.
It makes me feel bad for criticizing the latest season of Westworld. It makes me feel guilty for not having gotten around to reviewing "Devs" (it's just so much easier to review "Wolves", because there's so much less substance to unpack), and for putting my annual rant about identity politics on the back burner yet again. It even makes me wonder if I might have been unnecessarily harsh to the execrable "Humans" a few years back.
If a hallmark of Art is that it can change the Human Mind, cause us to question our own beliefs, then "Raised by Wolves" may be the most artistic work Ridley Scott has ever produced.
*
Let's start with the premise.
The Earth is a wasteland. Not because of climate change, or grey goo, or Skynet: because of a global war between atheists and religious fanatics. And not just any religious fanatics. Literally not any: the usual suspects are nowhere to be seen. Sometime between between now and 2145, Christianity just—went away. So did Islam. Judaism and all the Dharmic religions too, as far as we can tell. Sometime over the next century or so, Mithraism— a long-extinct sun-worshipping cult with its roots in the Roman Empire— somehow re-emerges on the scene, rises to global dominance, and goes to war with the atheists (who apparently have also grown exponentially in number from the insignificant minority they are today to a faction powerful enough to fight rearguard against the fundies in a fullscale war.)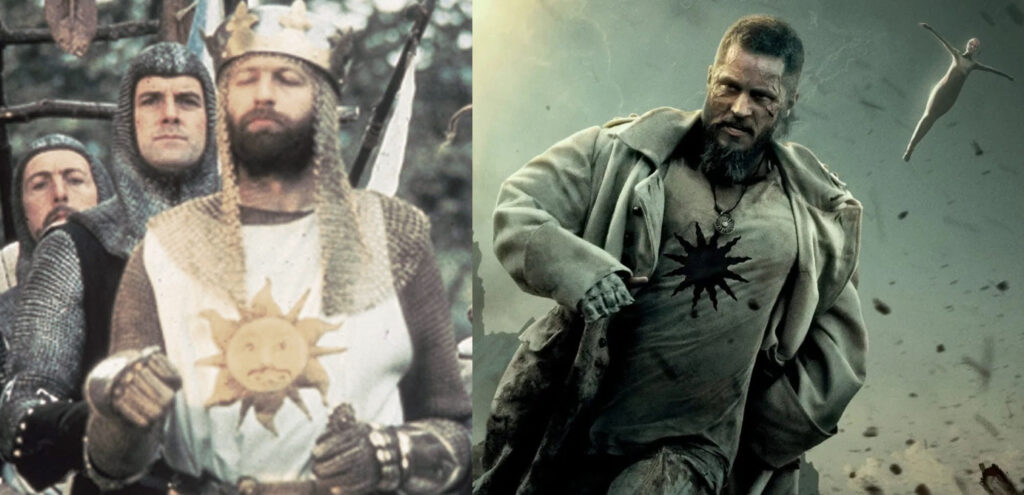 Granted, the Mithrainites seem a lot like Christians— their authority figures have a propensity for child rape, their chest insignia bear more than a passing resemblance to those on King Arthur's duds in Monty Python and the Holy Grail. It's tempting to speculate that the show's creators used them as a stand-in because they were afraid of pissing off the Bible Belt. But in a time where "The Handmaid's Tale" has been racking up accolades and ratings for going on four seasons now, that sort of cowardice seems needlessly craven.
Anyway, by 2145, the atheists are on the ropes. But all is not lost. One of them has a cunning plan that cannot fail: freeze six embryos, stick 'em in a spaceship, and launch 'em to a new world a la Kal El's parents from Krypton. Send along a couple of androids, "Mother" and "Father", to serve as parents—but better parents than the usual kind. Atheist parents, to guide the development of a whole new civilization founded on rigor and rationality. What could go wrong?
As it turns out, this isn't an especially cunning plan after all. It fails.
*
It's not a terrible premise, I'll grant you. I can see the elevator pitch in my head: It's a great vehicle for social commentary, man. We can show that rationality isn't all those pointy-headed elitists say it is, that atheist societies can be just as evil as Christian ones because—what? Oh, right. Well, um, let's use some other religion then, something just as stupid but with a different name so nobody comes after us on Twitter…
I mean, sure. SF has long been used as a platform for social commentary. I happen to think you're wasting the potential of the genre if that's all you use it for, but there's no denying that classics have emerged from that agenda. So while the premise of "Raised By Wolves" is nothing new or radical, I'm not gonna condemn it out of the gate on principle.
It's the execution that sucks.
The androids, for example. The titular Wolves, the central characters of the whole epic. You've seen androids before. Last century they were easy to spot: they had pasty complexions and an allergy to contractions (any form of casual speech, for that matter); they frequently expressed puzzlement over "this hu-man thing called Love." They got better over time; the T-101 wasn't a sparkling conversationalist, but at least it learned to say "Fuck off, asshole" in an appropriate context. The Hosts in "Westworld" ended up running program loops more complex than those of their Human creators.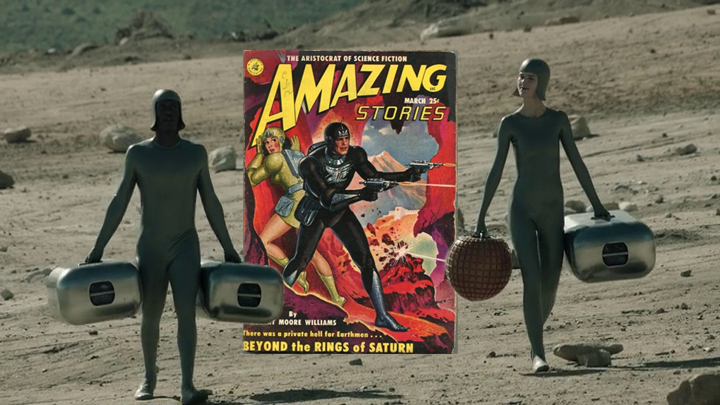 Only now—in 2020—have androids regressed back to a point that would have caused even pasty-faced Data to flush with embarrassment. They wear silver body suits stolen from the cover of a forties-era Hugo Gernsback magazine. Their cute little hat-helmets appear to have been scavenged from the set of a low-budget fifties epic about Atlantis. Their body language is stiff and jerky. Their dialog is, too: "My programming is telling me that your well-being is a priority for me", Father exposits to Mother shortly after their spaceship crash-lands onto the edge of a bottomless pit. Shortly thereafter, when one of the six fetuses appears to be stillborn: "Our programming dictates that we need to break it down and feed him to the others." (Mother, of course—being a female android—insists on cuddling the fetus first, and crying over it; her tears magically bring it back to life.)
These are crudely-hewn woodcuts straight from the fifties, served up by writers who— while poor at writing human characters— are utterly inept at writing any other kind. They have no clue how a truly nonhuman intelligence might behave, so they have their androids spout clumsy dialog to hammer home that We Are Not Humans. We're really, really not. See how we keep making lame jokes to show that we really don't get this Hoo-Man thing called 'humor'? See how we keep talking about 'Our Programming'?
The sad irony of all this is that everything about Mother and Father is profoundly, if ham-fistedly, human. Mother cries over her dead baby and flies into fits of rage. Father gets jealous and insecure. They have typical Hoo-Man reactions and Hoo-man behaviors—albeit with the token caveat that they feel these things "for reasons I do not understand" pasted into the script like a piece of toilet paper stuck to a rhetorical butt crack. "Raised by Wolves" is not unique in this regard: productions from "Humans" to AI to Blade Runner 2049 have all gone down the lazy path of Just Like Us, turned what could have been fascinating explorations of machine intelligence into yet another tired parable about slavery. But it's been decades since I've seen such extreme laziness and such extreme clumsiness packed so efficiently into the same package.
(The BUG, as usual, distils all my rambling ragey observations into two words. After listening to me rant about how Mother and Father are just repressed humans with stiff dialog and rigor-mortis body language, she shook her head: "They're not androids," she said. "They're British." God I love that woman.)
You could reasonably argue that our androids have to be emotional, because raising emotionally healthy children involves exposing them to healthy emotions. I'm going to tactfully ignore the whole question of whether the "emotions" on display can in any way be construed as a template for healthy development, because there's a larger point I want to address: and it is, Yes. Mother and Father should show emotions, proper emotions, in the proper context.
You want a nifty portrayal of machine-as-parent? Mother and Father never talk to each other, not in words, not when they're alone. They communicate with each other wirelessly, digitally, instantaneously: building the camp, gestating the kids, functioning essentially as a two-node hive mind. They move fast, with no wasted motion, no body language at all. Only when in the presence of humans do they slow down and become "Human"; the verbal speech, the lame jokes, the facial expressions and body language. It's like flipping a switch. One moment they are machines; the next, warm and loving parents, indistinguishable from flesh and blood. The spookiness is in the contrast.
I'm telling you, this Guzikowski dude should have hired me as a consultant.
*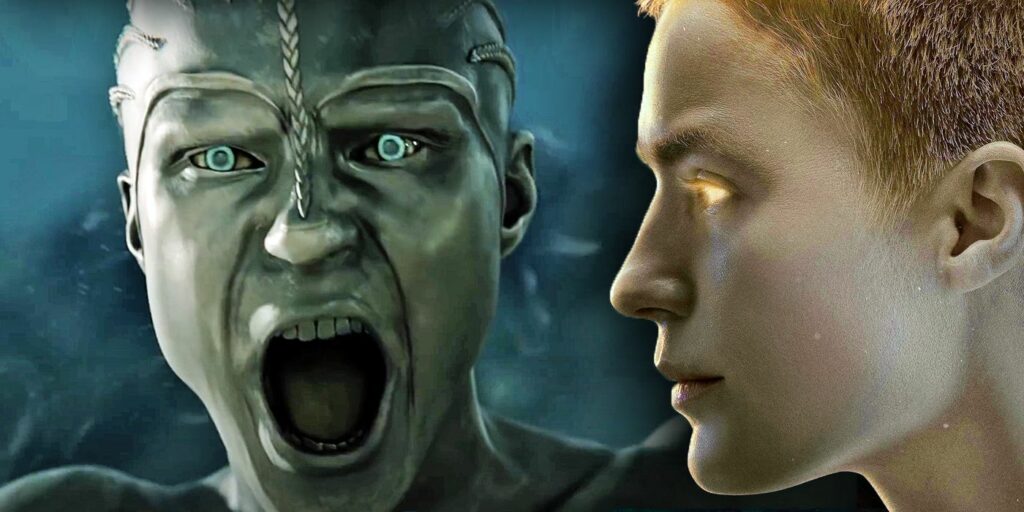 Mother isn't just an android, mind you. She's a "Necromancer": a flying Mithraic cornrow-sporting killbot who has been reprogrammed for good instead of evil. (Add Terminator 2 to the list of predecessors RbW "borrows" from). Back on Earth, Necromancers floated vertically through the air with their arms outstretched cruciform-style, incinerating unbelievers with their laser-beam eyes. Here on Kepler-22b (an actual planet in an actual habitable zone—treasure this isolated moment of real science, folks), Mother stalks through the corridors of a Mithraic spaceship and literally explodes the heads of anyone who gets in her way. She is one fierce, unstoppable Mama Bear when it comes to protecting her children.
A shame, then, that she can only use those devastating powers when she's wearing a specific set of eyeballs. Also, once those eyeballs are installed she apparently can't not kill things unless they're not looking at her—at least, this is what I gleaned from her instructions to the children to look away because she was "weaponized". (In this way, she shares much with the Ravenous Bugblatter Beast of Traal from "Hitchhiker's Guide to the Galaxy": a creature so incredibly stupid that it believes if you can't see it, it can't see you.)
At any rate, these Achilles' Eyeballs— the secret source of the Necromancer's devastating powers, without which she's just another mannequin in a plastic skin— can be popped from her head as easily as squeezing a couple of zits. And since no unstoppable killing machine is complete without a big obvious DISARM switch on its face (or, when not in use, stored in a little cloth sack like a bag of marbles)—well, suffice to say we get treated to a series of vignettes in which children and adults alike play enjoyable rounds of "the Eyes Have It", while Mother flails eyelessly in their wake.
I suppose, given the ham-fisted religious elements of the series, this might have been intended as some kind of metaphor for Blind Faith. Admittedly it's no more ridiculous than presenting a killer android who can wipe out a heavily-armed regiment and crash a giant starship without breaking a sweat, but who somehow weakens and needs to "recharge" after a hard day of weeding.
*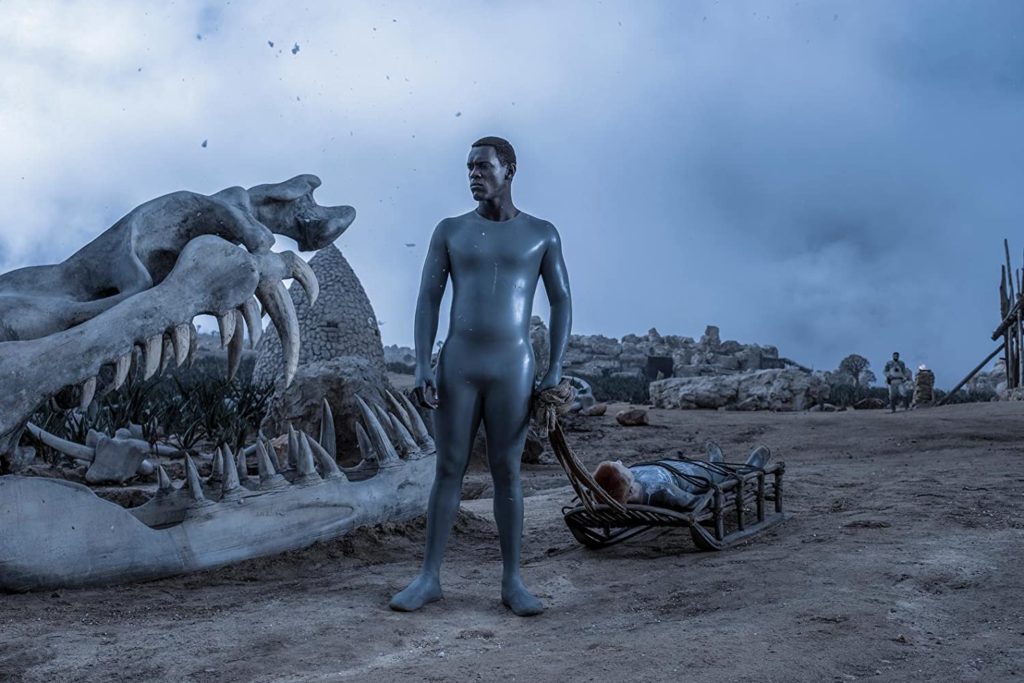 Kepler-22b is a stark and unforgiving place. Everything from sand to sky is painted in shades of gray and brown. The ground is littered with the bleached bones of giant predators. (We haven't seen any live ones so far, although a bunch of smaller Gollumesque creatures do inexplicably appear— twelve years after Mother and Father first set up shop— to scuttle and bite and otherwise harass the colonists.) Virtually all the indigenous life is poisonous; the crop the androids cultivate to feed the children turns out to be lethally radioactive, which is really odd given that the one good thing you can say about the rest of 22b is that it isn't. Giant bottomless pits scar the landscape, always threatening to swallow the unwary.
But we're well into the story before we learn that not all of Kepler-22b is so inhospitable. There's a "tropical zone". It's much nicer than wherever they are now, so much nicer that they all plan to move there as soon as they can. One obvious question that springs to mind is: if the Tropical Zone is so much better than this poisonous boneyard, why the fuck didn't you land there in the first place? One obvious explanation—that the lander experienced some kind of malfunction and came down off-target—doesn't really hold up. Nobody mentions even the possibility of a navigation error throughout the entire season. There's not so much as a hint that this wasn't the intended landing site.
The only other explanation that comes to mind is that—despite knowing about the "tropical zone"— apparently our colonists never bothered to do an orbital survey prior to planetfall. How else to explain the fact that they chose to land in a neighborhood full of bottomless pits, one of which—sure enough— swallows the landing craft thirty seconds after touchdown, leaving just enough time for our heroes to make it to safety?
As explanations go, I admit that sounds pretty stupid. But this is not the first Ridley Scott production in which this sort of thing happens. Prometheus—another monochromatic train wreck of a move—also features a spaceship that discovers its Alien Artefact by entering atmosphere at some random location and just, well, looking out the window.
*
There's so much more. Atheists posing as Chr—as Mithraics, one of whom— driven mad with power— becomes a religious zealot for real. Mother interfacing with a piece of tech "not intended for android use", which nonetheless works well enough to get in touch with her inner child. Voices and visions and mysterious artefacts; a flying space lamprey; an indestructible white mouse. A Messiah prophecy. An irritating android doctor who channels C-3P0 so brazenly that Disney could sue for trademark infringement. A rapist gussied up like the result of a one-night stand between the Statue of Liberty and Monty Python's Black Knight.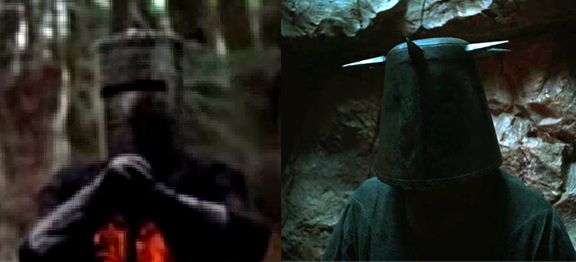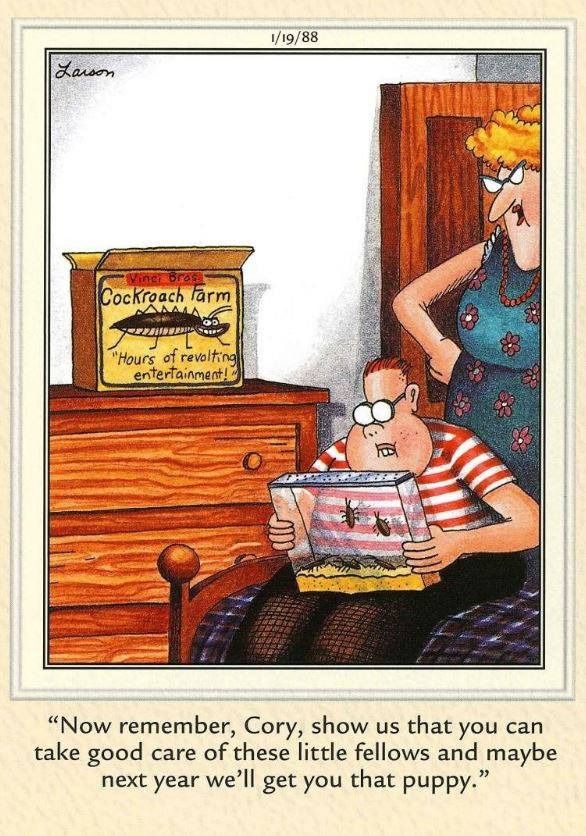 The surprising revelation that the children the androids thought they were raising to be the founders of a Brave New World were really just practice runs, to get them warmed up for the real baby that Mother has somehow begun gestating in her own chassis. (Given that all but one of those kids were dead halfway through the first episode, Mom and Dad admittedly needed the practice). The anticlimactic follow-up revelation that Never mind, that first revelation was wrong after all. All wrapped up in storytelling so incoherent that the plot actually makes more sense if you zone in and out while watching, allowing your own half-waking dreams to fill in the gaps.
By the time the final episode aired we were so punch-drunk on inanity that we actually started to enjoy the show for its unrepentant batshittedness. The finale was visually striking, at least: a kind of masterpiece of free-associative visual choreography. It made no fucking sense, of course, but we'd long since stopped hoping for any. We just hung around for the pretty colors. It was almost as though "Raised by Wolves" had somehow regressed us, as if those ten interminable episodes had smoothed down the grooves in our brains like water polishing a stone, leaving us as pliable and vacuous as newborn infants. You could call it a triumph of meta.
*
The obvious rejoinder to all this is that I should just lighten up— that "Raised by Wolves" isn't intended as science fiction but as Allegory with SF trappings. And yeah, I can see the thematic tension between the characters and their arcs. Marcus is a former warrior trying to become a parent; so is his archnemesis Mother. Whoa. The Mithraists tell myths about Gods to guide the behavior of their flock; Atheist Mother tells stories about The Three Little Pigs to guide the behavior of hers. Deep, man. Both Atheists and Religious Nutbars can be evil; bet you never thought of that, huh? These kind of parallels and yin-yangisms permeate the whole series, as though some undergrad Humanities student had paid a little too much attention to Prof. McLaughlin's insistence that Everything Shakespeare Ever Wrote Was A Metaphor And So Can You.
Maybe it wouldn't bother me so much if these ideas hadn't been explored so much better by the very sources that RbW rips off. Facebook friends marvel at the novel brilliance of a killer robot with maternal instincts— as if Thandie Newton hadn't handled the exact same premise with infinitely greater subtlety and nuance in "Westworld". The endless in-your-face comparisons between humans and robots—"I have human empathy; you are just a machine!" one of the meat sacks opines with characteristic subtlety— obviously works for Arielle Bernstein ("Asks Big Questions About Identity", she gushes over at The AV Club. "Explores whether People (or Androids) Can Change."). Personally, I was far more impressed back on Judgment Day, when Sarah Conner grew more Terminator-like while the Terminator grew more Human: opposite transformations converging in pursuit of the same goal.
Those other shows had their own flaws, of course. I shat upon the latest season of "Westworld", felt betrayed by the finale of BSG, expressed doubts about Bladerunner 2049. But "Raised by Wolves" is in a sad, sorry league of its own. Watching the way it handles Deep Existential Questions in the wake of those other, superior shows is a bit like starting off with the memory of Ron Moore's Galactica reboot fresh in my mind, only to come face-to-face with the Disco-Planet tawdriness of the Glen Larsen seventies original.
Of course, it's already been renewed for a second season. You may be surprised to learn that this gives me hope.
From this point forward, there's nowhere to go but up.
This entry was posted on Tuesday, October 6th, 2020 at 4:19 pm and is filed under
ink on art
. You can follow any responses to this entry through the
RSS 2.0
feed. Both comments and pings are currently closed.