Jewels and Cataracts: the Echopraxia Postmortem
Why yes, since you ask; I expect there will be a concluding volume to the Consciousnundrum series. I know how it begins: father and son (what's left of them) finally reunite, decades after the fall of Icarus hit the world's reset button. I know how it ends too, although I don't want to spoil it for you. (I will admit that it won't be quite as upbeat as my other endings.) I have only the vaguest idea what happens in between, but I can tell you that it involves whatever's operating the undead carcass of Daniel Brüks, and the Bicamerals' use of tweaked enzymes as a medium for prayer.
I'm calling it Omniscience. I don't know exactly what the delivery platform might be: maybe traditional publishing, maybe crowdsourcing, maybe self-pubbing beyond the bounds of the pernicious Amazonian ecosystem and hoping for the best. I haven't even bothered pitching it yet. But I do expect to write it, one way or another. There's more to this story; elements of the first two books dovetail in a way that points towards a conclusion I never consciously planned—didn't even see— until after Echopraxia was already out the door. It's kind of meta if you think about it, which is at least one reason to go ahead with it.
Another reason is to try and get and get it right this time.
*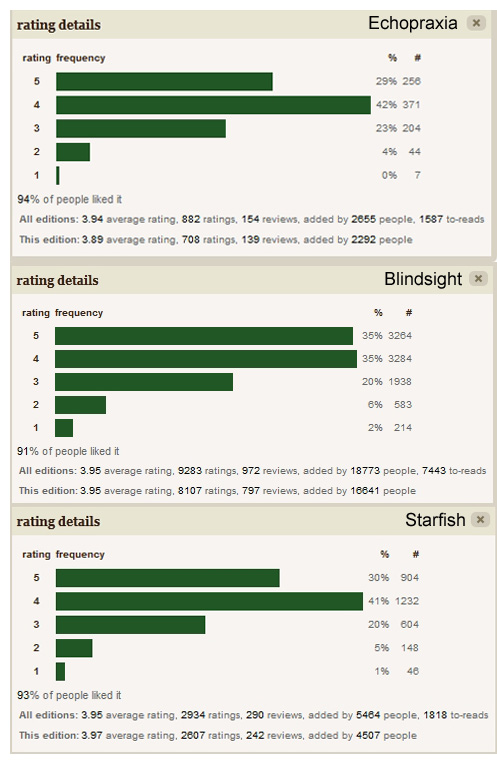 It's not that the last outing went wrong, exactly. In terms of reviews—both reader and traditional— I actually got off easier than I expected. I knew it would be pretty much impossible to deliver a focused thematic Blindsight-scale gut-punch twice in a row, I knew that playing with multiple cool ideas wouldn't match the impact of a single mind-blowing one. Echopraxia wasn't ever going to escape the shadow of its predecessor. So I downsized my hopes. I'd settle for people thinking this was a good or (preferably) a very good book, even if it didn't shatter anyone's worldview. Echopraxia could be 2010 to Clarke's 2001, Count Zero to Gibson's Neuromancer[1].
By that measure, I should be happy. I should be downright ecstatic; a lot of people are actually saying that Echopraxia is as good as Blindsight (or even better). Traditional reviews from the usual suspects are, if anything, better than for the first book (Kirkus, whose praise for my work has generally been leavened with grumbles, just pulled out all the stops and raved this time around). The Goodreads graph is more in line with expectation, showing a strong preference for 4- over 5-star reviews (compared to the slight 4-over-5 preference in Blindsight's case), but the mean score is statistically identical (technically 0.01 star less, but P>0.6). It wasn't loved as much or reviled as much, but it was "liked" by a greater proportion of the overall audience. (Actually, the spread is almost identical to that for Starfish, which was hardly a flop.)
And over on Amazon— against all expectation— Echopraxia is kicking Blindsight's ass by almost half a star, 4.4 to 4.0. Even given the fact that Blindsight has over three times as many ratings, that's highly significant (P<0.002). Echopraxia pulls in twice as many 5-star ratings on Amazon as all its other scores combined: 84% of readers gave it 4 or 5 stars.

There's a general pattern to reader reviews that I've mentioned before. Normally you expect initial scores to be really high as hardcore fans, favorably disposed, snatch up the first copies and comment early. Mean score thereafter declines as the wider audience, with less of a positive bias, weigh in at their leisure. For Echopraxia that happened at Goodreads— but not at Amazon. It's been four months and Echopraxia's mean Amazon rating remains pretty much where it was at the outset. Maybe that means that people who write Amazon reviews really do prefer Echopraxia. Maybe it means the wider audience never even got to Echopraxia, and that stellar score only suggests that nobody read the book except hardcore fans. (I was warned this would happen, back when I insisted on "Echopraxia" for a title. The sales people won't know what it means, my then-editor told me. They won't know how to pronounce it. Rather than risk embarrassment during a pitch call to distributers, they'll just ignore it entirely in favor of books with simpler titles.  Maybe this is the price I pay for sticking to my guns.)
Anyway. There's no shortage of readers on either site who think that Echopraxia is the best thing I've ever written. In fact, in some ways it's received too much critical adulation; when a book starts getting raves from men's rights groups and climate change deniers, you begin to wonder what went so horribly right.
And yet I am bummed.
I am bummed because other readers aren't just meh, but deeply disappointed. Some people waited eight long years for a follow-up, only to get something that fell short in every way: less characterization, less plot, less depth, less focus. Less point.
Of course, Blindsight was bound to have had an easier time if for no other reason than that there was no other book to compare it to. Even if the two books were of empirically identical quality, human variability dictates that some will prefer one and some the other. So why worry about those inevitable naysayers when the overall response is actually better than I'd hoped?
Basically, because I'm afraid they may be right. I was afraid of that before I even started writing the damn thing.
They're not right about everything, mind you. Some hold, for example, that Echopraxia is plotless next to Blindsight. But when I put Echopraxia next to Blindsight, I see one book that spends its first half in conversation and setup, basically "My Dinner with André" in a tin can— while the other hits the ground with a vampire uprising, a desert war with zombies and a weaponized tornado, a bioengineered plague and an close escape into space, followed by an immediate jump-cut to an attack on a spaceship from without and a vampire playing cat-and-mouse within. I see one book with a single team and a single purpose up against a single antagonist— and another where everybody and their dog has their own agenda, each exploiting the others in a weird game of posthuman chess. If I had to pick one of those books to call plotless, it sure as shit wouldn't be Echopraxia.
The problem, I think, is not lack of plot; it's lack of clarity. You can see it in some of the complaints: oh, lots of stuff happens, people admit. Shit blows up real good. But it never seems to converge on anything with a point. Sound and fury, signifying nothing.
It does signify stuff, of course. There is a point, but these readers aren't seeing it. And I can only assume they're not seeing it because I fucked up the delivery.
Too many people never got a good sense of what was going on. Even many of those who absolutely adore Echopraxia admit that it is a "difficult" book, that they frequently had to reread certain passages, that they'll probably need to read the whole book again— perhaps after revisiting Blindsight— to really understand what happened.
This should not be necessary.
It's true that I deliberately constructed Echopraxia to reward multiple passes. It's also true that a certain level of reader confusion was built into its DNA, for the simple reason that posthuman motives are going to be at least partially opaque to baselines by definition. But no one was supposed to leave the party confused. My goal was to have various motives and agendas gradually resolve through the haze, and then— as we joined Daniel Brüks back in the desert— to be able to say Hmmm, the Bicams could be doing thus or they could be doing so. Valerie's actions are consistent with either Scenario A or B. Don't really know which at this stage, but it could work either way…
In other words, you weren't supposed to wonder what was going on. You were supposed to know what was going on, and wonder what it meant.
I think there are two problems here. The first is that I don't like fiction that talks down to me, that assumes a reader/viewer so damn dumb that every plot point has to be hammered home repeatedly. (Looking at you, "Interstellar". Also "Extant". And especially SyFy's recent "Ascension", which took expository dead-horse-beating to a level I never thought possible.) I have taken a solemn oath never to insult my own readers that way. With Echopraxia, I think I may have overcompensated.
The other problem is related, but distinct. I think it was Asimov who once compared prose to windows. Some authors, he said— like Asimov himself— wrote in a style devoid of flourishes or lyricism, telling the story in a just the facts, ma'am kinda way. This is your standard clear-window prose; you don't appreciate it, you don't even notice it, but at least you've got a clear view of what's going down on the other side. Others (Samuel Delany and China Miéville come to mind) write "stained-glass-window" prose: the words contain a kind of beauty in the way they're put together, they draw attention to their own construction and invite whistles of admiration. The only problem with stained-glass windows is, the more ornate the pane, the tougher it is to see what's on the other side.
I like stained-glass writing. In hindsight, maybe I like it too much. Basically I need a more ruthless editor (which is unlikely to happen, given that this particular project had three different editors attached to it over the years, none of whom had anything to say about the first three-hundred-and-some pages of a 400-page manuscript.) Failing that, I really need to dial back the narrative bling.
I hope to make progress on both fronts with my next novel. Maybe the themes will be simpler. Maybe I'll just be more condescending in my exploration of them. Either way, I've decided to stop being smart for a while, and try to be popular instead. Then— once I've learned the difference between jeweled prose and cataracts— I can take a run at Omniscience. With a little discipline it could be the best of the three.
Wish me luck. See you next year.
---
[1] I actually liked Count Zero better than Neuromancer. But you know what I mean.
This entry was posted on Tuesday, December 23rd, 2014 at 1:29 pm and is filed under
ink on art
. You can follow any responses to this entry through the
RSS 2.0
feed. Both comments and pings are currently closed.