Circling the Bowl
From "The Island" (2009), by me:
"Because you can never predict the behavior of a system more complex than you. And if you want a project to stay on track after you're gone, you don't hand the reins to anything that's guaranteed to develop its own agenda."
From Bowl of Heaven (2012), By Gregory Benford and Larry Niven, p302:
"I suppose the message here is, just remember that you can never predict the behavior of a system more complex than you. And if you want a project to stay on track after you're gone, you don't hand the reins to anything that's guaranteed to develop its own agenda."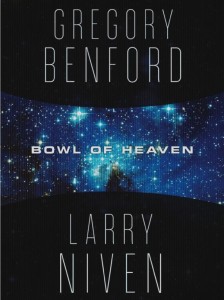 They say it's the sincerest form of flattery, but I'd regard this as homage rather than imitation; you don't cut'n'paste something word-for-word  if you're trying to obscure the source material. I've chatted with these guys at cons; my wife even went on a date with Larry over in Nantes. So, yeah. I'm going with homage.
Either way, I'm more than a little invested in this title, and not just because it's a collaboration between genre giants. Bowl of Heaven resonates with me, not so much as a work of fiction but as an artefact of the publishing industry. If you look at the jacket copy you'll see a blurb from me (I'm described as the "Author of Starfish" — perhaps Blindsight is still a bit of a sore spot with Tor's publicity department) — and it is, in fact, the only blurb I have ever negotiated, on conditions.
It didn't start out that way. When I was first approached to blurb the Bowl my reaction was nothing short of ecstatic:
For this I'll make time. I seriously doubt that those two need my stamp of approval to sell — kind of like getting some small-town southern preacher to blurb a collaboration between Jesus and Mohammed — but if it gets me an advance peek at the damn thing, sign me up.
Having actually read the ARC, though, my reaction was a little more muted.
My misgiving is embedded in the second-last line— because the subtitle notwithstanding, this isn't a complete novel. There's no dramatic resolution of any of the plot lines. It doesn't end; it just stops.

I've had a bit of a bumpy history with you guys over this exact same thing: Tor split my book Behemoth into two volumes. We reached an accord insofar as I was allowed to put an author's note at the beginning of each volume, clearly explaining that the reader was only getting part of the story and they'd have to buy another volume to get the complete tale. But barring such a PSA, readers could have easily felt cheated after buying what they thought was a complete story, only to find out they'd have to pay all over again to find out how it concluded. Tor had made a habit of doing that, and I had to fight for those author notes. I think I burned a bridge or three in the process.

I grew up on Benford and Niven. I'm happy to praise The Bowl of Heaven (even though the title is dangerously vulnerable to a certain scatological typo, especially with that "knothole" thing at the back end). And of course, it's not my place to dictate (or even suggest) what Tor's marketing strategy should be. But the cover of this book does say "a novel", and I'd look like quite the hypocrite if I jumped on a bandwagon that did the same thing I raised such a fuss over in the past. So you're more than welcome to use that quote, and even to edit it for greater punchiness if you like — but if you do, I'd ask that the line about waiting to see how it turns out remains intact. I've phrased it in a positive can't-wait-for-the-next-book kinda way, while at the same time conveying that the story continues. I hope this works for you.

Also, I hope I'm not coming across as a complete dick. Nobody expects the Spanish Inquisition over a stupid blurb, and in all honesty I feel kind of stupid even bringing this up. I'd much rather not. But, you know. It's kind of a matter of principle to me.
As you might have noted, Tor accommodated; my blurb, while effusive about alien biology and alien technology (and strangely mute on the subject of character development), appeared with caveat intact. But I kept an eye on Amazon, curious as to how this half-novel would go over following its October release.
The results have been telling.
Bowl of Heaven seems to have done just fine with the advance reviewers. Associated Press, the Wall Street Journal, Analog, Locus, Library Journal, Publisher's Weekly — they all rave. And I'm not the only author (or the most prominent, by a long shot) to pimp the product: David Brin, my (intermittent) buddy Karl Schroeder, and old-wave maestro Rob Sawyer all weigh in on the jacket.
Everyone seems to love it except the actual readers.
As of this writing, Bowl of Heaven nets a mean score of 2.5 stars from 109 customer reviews. That's a pretty dismal return for something written by not one but two genre giants. Almost two thirds of the reviews listed within the first month of release gave the book 1 or 2 stars. Of those, almost half complained explicitly about the fact that Bowl of Heaven was, well …
"…a trick to get people hooked on a series"

"…witten[sic] or[sic] one purpose, to sell the sequel."

"Publisher and/or Amazon should have had the decency to tell us…"

"One half of one real book."

"Nothing about the book description, nothing in the dust jacket flaps, nothing on other book selling sites … suggests that this is anything but a complete story except the last page which proudly announces that volume two will appear soon."

"For crying out loud, let people know what they're buying ahead of time."

"A novel without a climax…This Bowl should be flushed."

"I wanted to like this calibration between Niven and Benford. If this had been had been release as one volume instead of two I would have. As it stands, I feel ripped off by either the authors or the publisher or maybe it was a joint decision to shaft their fans."

"It suddenly dawns upon the reader that this is intended as book one of some series, but the publisher decided to withhold that tidbit from us buyers. There's not even a cliffhanger."

"…perhaps you could warn us during the purchasing procedure that this is not a complete novel…"

"…if we are going to spend money on your products, you need to tell us when A BOOK IN [sic] UNFINISHED"

"This book rips people off by not telling them up front that it is volume one of who knows how many sequels."
You get the idea.
It's not the only complaint folks express about the book. Thirty percent of Bowl's Amazon reviewers complain about poor character development, which is hardly surprising — Niven was hardly hailed as a master of subtle characterization even at the top of his game — but by that very token, the fans should have known what to expect. (You don't go to a vegan restaurant and then complain about the lack of bacon-wrapped sirloin on the menu.) More seriously, in terms of reader expectation — in terms of what readers have a right to expect — 27% of the reviews complain about sloppy editing and continuity errors. I noticed this myself when reading the ARC — it was rife with typos, and there's at least one spot where a character appears to be in two places at once — but I chalked it all up to the inevitable rough edges in any prerelease manuscript. It never occurred to me that those errors would end up in the final product.
That practice of stealth-splitting, though — that's a piss-off, with me as well as all those Amazon readers. I suspect the antipathy is even stronger than the raw numbers would suggest. A number of folks reported themselves unable to finish Bowl of Heaven, for various reasons; if they had, I'm betting that the number complaining about the fact that the novel itself didn't finish would be even higher.
Tor has defended their policy — to me at least, and to the New York Times — as an unavoidable necessity of hardcover publishing in the current economic climate. There's a certain balance between price tag and page count; it just isn't profitable to sell a big hardcover novel by a small author. (The "small author" in this case was me. Obviously, neither Niven nor Benford are small authors — which to my mind, makes the decision to split even less defensible.) Back when βehemoth was on the table I suggested releasing it as a trade paperback — after all, other publishers weren't feeling compelled to split their books, so maybe it all came down to Tor's pricey everything-in-hardcover policy. My suggestion didn't fly. βehemoth came out in two hardcover volumes, and it tanked. Maybe it was just a crappy book; certainly a lot of folks regard it as the weakest of the trilogy. I did, however, note that critics who treated the novel as a single work tended to return more favorable reviews than those who reviewed each volume separately. I think it made a difference then; I think it might be doing that now.
I consider myself a long-time fan of Niven and Benford. I obviously liked Bowl of Heaven well enough to blurb it, and the thing I primarily liked was the artefact at its heart. Half a Dyson sphere beedling through space using a tame star as its engine? A literal stardrive? Don't tell me that's not cool. They got my blurb just on the strength of the thought experiment.
At the same time, though, I came to the Bowl from a different perspective than the average fan. I could brush off the "terrible to nonexistent" editing as an ephemeral production artefact. I'd mentioned the whole to-be-continued thing in my blurb, so I didn't feel like I was misleading the readers — and besides, I didn't shell out a penny to read the damn thing, so there was no reason to feel ripped off.
I'm pretty obviously in the minority on that score, and you can see it in more than pull quotes from the reader reviews. There's something odd about Bowl of Heaven's rankings over time.
The standard pattern I've come to expect for online reader ratings is that they start high and then decline. This makes sense; the earliest sales are predominantly to fans who know your stuff and are jazzed for your next title. There's a favorable bias in those early returns as a result.
Eventually the book starts getting read by people who aren't fans, but who were lured in by all those glowing early reviews. They may not know who Peter Watts is, but they're willing to take a chance based on how much everyone else seems to like him. And of course a higher percentage of those people won't like the product, may in fact be repelled by the very meat-hooks and chrome that draw in hardcore fans like moths to a bug-zapper. So these later reviews tend to be less flattering; the mean rating goes down.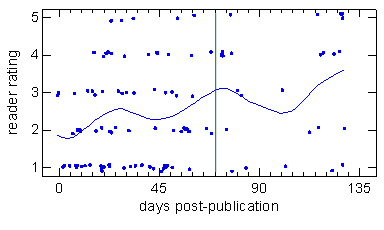 The exact opposite happened to Bowl of Heaven. It started out with largely shitty reviews, which gradually improved over time. (The line represents a distance-weighted least-squares nonlinear fit whose confidence limits tend to wobble depending on where you are along the axis — but a quick-and-dirty linear regression confirms that the overall slope is significant at P=0.05.)1 There's a bump in positive reviews about 25 days post-pub, and another around Christmas (the green line). A few Amazonian cynics, commenting on some of the more effusive reviews, have suggested that these represent Tor plants bent on damage control, but the numbers don't really support that. The total number of 4- and 5-star ratings actually goes down over time; it just doesn't decline as fast as the number of 1- and 2-star reviews.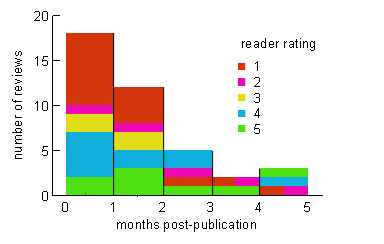 Basically, the haters really piled on for the first couple of months and then just — went away. The likers, in contrast, plodded steadily along near the X-axis, also posting less frequently over time but without that precipitous decline after the second month. Of the 48 ratings that appeared in the first month of release, bad outweighed good by more than 3:1 (ignoring 9 tepid 3-star reviews). Four months later overall activity had plummeted and a measly seven people weighed in either way — but five of them waxed positive. (The bars to the right are overlayed, by the way, not stacked: meaning that, for example, 18 people wrote 1-star reviews in the first month, not 18-minus-ten.)
How to explain this inversion of the usual trend? At first I thought that maybe Tor's zealous promotion — contests, a book tour, a payoff that saw BoH squeak briefly onto the NYT Bestsellers list — might have backfired, drawn in early (and less forgiving) readers from beyond the usual fan base. But rifling through reviews from those first two months I see that 49 out of 81 — 60% — make explicit mention of their familiarity with the authors's previous work, frequently describing Niven and/or Benford as personal favorites.
Maybe the field has moved on. Maybe in this post-punk New-Weird YA slipstream age there just isn't the interest in yesterday's classic old-wave science fiction. But no, these reviews weren't tendered by fans of the Dresden Files who'd wandered onto the wrong page; these are folks who like the old ways, who long for them. Some of the most excoriating reviews hailed from self-declared longtime fans.
So the usual bias seems to have manifested after all. The early reviewers were largely fans who sought this title out, who were wetting themselves at the prospect of collaboration between two of their favorite authors. But something happened when they got there. It wasn't just disappointment. Disappointment is one thing; even giants underperform sometimes, and both these guys are in their seventies. But reading the comments you can tell these fans aren't just disappointed. They're feeling angry, they're feeling used.
They're feeling betrayed: by a trusted publisher who couldn't be bothered to ensure that its product was ready for prime time before foisting it on an unsuspecting world at $25.99; by bean-counters who tricked them into shelling out for a complete meal, only to give them half of one. It wasn't cool back in 2004, it isn't cool now, and I guess people are just pissed.
I can't say I blame them.
---
1 I've jittered the data points to give a sense of density; otherwise a single datapoint at a given X/Y would be visually indistinguishable from a dozen points at the same coordinates, since they'd all line up behind one another.
This entry was posted on Friday, March 1st, 2013 at 4:31 pm and is filed under
ink on art
. You can follow any responses to this entry through the
RSS 2.0
feed. Both comments and pings are currently closed.