Sleepwalk to Enlightenment
Judging by the number of links I've received, a lot of you are already familiar with this paper on consciousness and the claustrum. Or at least you're familiar with the tsunami of popsci coverage it's received.
For the rest of you, the tale goes something like this:  54-year old female epileptic, seizure-free for four years at the cost of her left hippocampus. Now that reprieve has expired; the seizures have returned, and a team of neurologists led by Mohamad Z. Koubeissi have sown electrodes throughout her head to get the lay of the land and figure out what to do next. One of those electrodes edges up against the claustrum, a filamentous tangle of neurons thought to play a role in coordinating crosstalk between different parts of the brain.
When Koubeissi et al juice that particular electrode with 14mA of current, consciousness stops.
At least, that's the way a thousand newsfeeds put it. More precisely, the body stops moving. The voice, which has been repeating the word "house" as a kind of baseline metric of awareness, trails off after a few seconds. The fingers, which have been snapping rhythmically, grow motionless. The patient sits glassy-eyed, to all appearances unaware and insensate. Inside her skull, the frontal and parietal lobes fall into mindless synchrony; not the synchronized call-and response of the consciousness state, but a mirrored lockstep incompatible with the operation of the global workspace.
Kill the current and everything return to normal. The patient reanimates, with no recollection of what happened during the down time.
The press is calling it a breakthrough.  An off-switch for consciousness, never before discovered. The Daily Mail, CBS, a myriad others have weighed in on the findings (although most of them seem to have mainly siphoned the bullet points off the New Scientist article that got there first). "…only a matter of time when we can create computers and machines that also contain a form of consciousness," opines the Washington Post. "Their accidental discovery could lead to a deeper understanding of … how conscious awareness arises," Discovery.com chimes in.
They keep using that word. I don't think it means what they think it means.
If I wanted to be glib I'd point out that a rock to the head serves as a perfectly effective off-switch for consciousness, and I'm pretty sure we stumbled across that result long before the latest issue of Epilepsy & Behavior hit the stands. It would admittedly be a cheap shot; after all, the claustrum effect is somewhat subtler. The victim didn't keel over like a puppet with severed strings; she remained upright, eyes open, "awake but not conscious".  That's kind of cool.  And the claustrum's involvement is nicely consistent with the whole Global Workspace model, the idea that consciousness somehow emerges from the integration of different brain processes talking to one another. It's a good paper. The stats are solid, even conservative (although it would have been nice if they'd told us what those asterisks were supposed to represent in Fig. 1).
But closer to understanding "how conscious awareness arises"? I don't think so.
What we have here is another neural correlate. Those are useful things to have, but all they tell us is that consciousness doesn't manifest unless the machinery is ticking a certain way. They don't get us any closer at all to the Hard Problem, which is: why does that particular flavor of ticking machinery wake up? When all those subcortical structures— the brain stem, the thalamus and hypothalamus, the ACG— start talking to the frontal lobes just so, why does it feel like this? It's just computation, after all. Circuits in meat. Why does it feel like anything?
I don't know if we'll ever figure that one out.
I have other reservations. Prior to flipping the switch, Koubeissi et al got their patient to start repeating the word "house", and to snap her fingers. They did this, we are told, to ensure that it really was consciousness that was being interrupted— that those milliamps hadn't just induced some kind of motor paralysis that stilled the body even though the mind was active. K et al's reasoning was that paralysis would kick in instantly when the current hit; the fact that the speech and the finger-snaps trailed off gradually is supposed to take the paralysis confound off the table.
Yet there's nothing in the paper to explain why this "off switch" couldn't also activate instantaneously (once again, I cite my rock to the head). It seems a significant omission in the rationale, especially given that this "switch" has never been documented before. Besides, if the results had hailed from a conscious-but-paralyzed individual, wouldn't she have been able to report as much after the fact?
Speaking of confounds, here's another one. It wasn't just "conscious awareness" that went down for the count; it was cognition.  The patient showed no response to stimuli during the vacant intervals; Koubessi's team may not have induced unconsciousness so much as catatonia. (Interestingly, they also reported a "slowing of spontaneous respiratory movements" during the tereatment. This would seem to suggest that autonomic— i.e., nonconscious— processes were also affected. Unless the procedure itself was so stressful that the patient was breathing hard to begin with.)
Koubeissi et al unleashed a shotgun blast, insufficiently precise for high-resolution insights. This is no criticism; they weren't performing a controlled experiment, just a routine diagnostic procedure that happened to yield valuable and unexpected results. But by that same token we should be careful about the conclusions we draw. (The fact that the patient's brain was atypical— having lost half its hippocampus to a previous operation— has been dutifully noted in most of the coverage I've seen.)
What I'd really like to see would be a stimulus which shut down consciousness but left the cognitive and reactive circuits intact: a scenario in which the patient continued to repeat "house" while the current flowed,  until— still unconscious— she processed and accommodated a new request to start saying "yoga" instead. I'd like to see her wake up when the current stopped, look around, and ask in a puzzled voice, "Why am I saying yoga? I thought I was saying house." Now that would tell us something.
What, you don't think that's realistic? You think consciousness and volition go hand in hand, that the body can't parse the house-to-yoga transition without some little guy behind the eyes to make sense of it all?
I've got one word for you: sleepwalkers.
It's possible to sleepwalk your way though a repeated series of sexual encounters with complete strangers (note to philanderers: don't try this at home). It's possible to drive across town and stab your  mother-in-law to death, unconscious the whole time.  "Homicidal somnabulism" is enough of a thing to warrant its own Wikipedia page.
So forget epileptics with pieces cut out of their brains. You want to find an off-switch for consciousness? Reserve the departmental MRI for the graveyard shift and put out ads for sleeping automatons. Some of them, short of spare cash, might just see the flyer some 3 a.m. and call you up.
Even if they don't know they're doing it.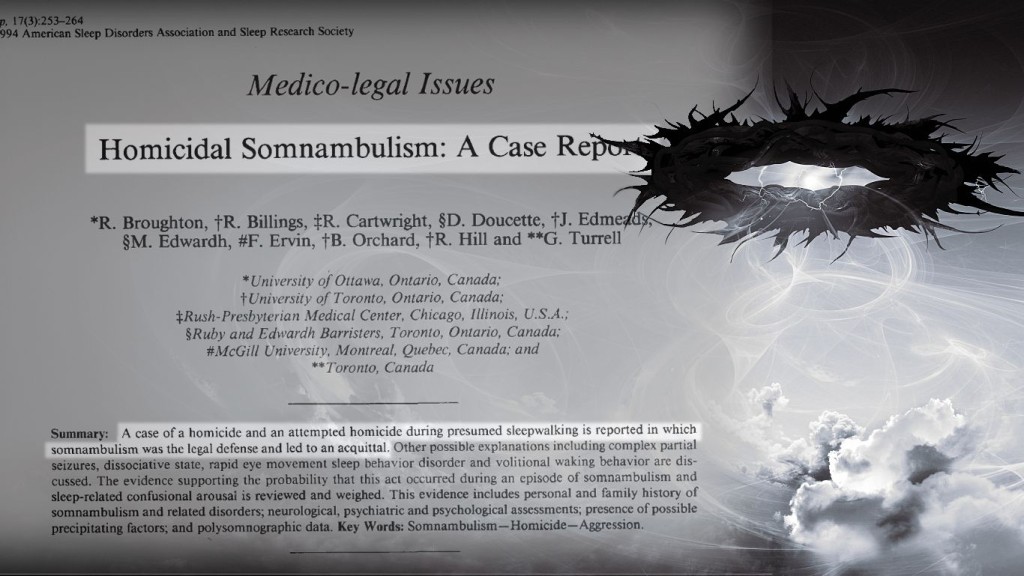 This entry was posted on Tuesday, July 15th, 2014 at 2:10 pm and is filed under
neuro
,
sentience/cognition
. You can follow any responses to this entry through the
RSS 2.0
feed. Both comments and pings are currently closed.