This insane Ferris wheel stretched a hundred meters from side to side.
But it was an ephemeral contraption of twigs and straws next to the wall of metal looming behind it. Seen from dead-on the Drive would be a disk: a landscape turned on edge, a hard-edged topography of ridges and trenches and right angles. But out here on the wounded rim Brüks could see the mass piled up behind that leading edge: not so much a disk as a core sample extracted from some artificial moon. The striated faces of sedimentary cliffs, carved in metal; monstrous gnarled arteries twisting along the patchwork hull, carrying rivers of fuel or coolant. The arc of a distant engine nozzle, peeking past that metal horizon like a dull sunrise.

A cylindrical silo squatted dead-center atop the drive section. Cargo hold, perhaps. The Crown's backbone emerged from its apex like a sapling sprouting from the stump of a great redwood. All this forward superstructure— the Hub and its habs, the flywheel, a hemispherical nose assembly bristling with antennae— none of it mattered in the shadow of those engines. Just a few fragile twigs in which meat might huddle and breathe. Fleas clinging to the back of a captive sun.
Fellow mammals, the Crown of Thorns: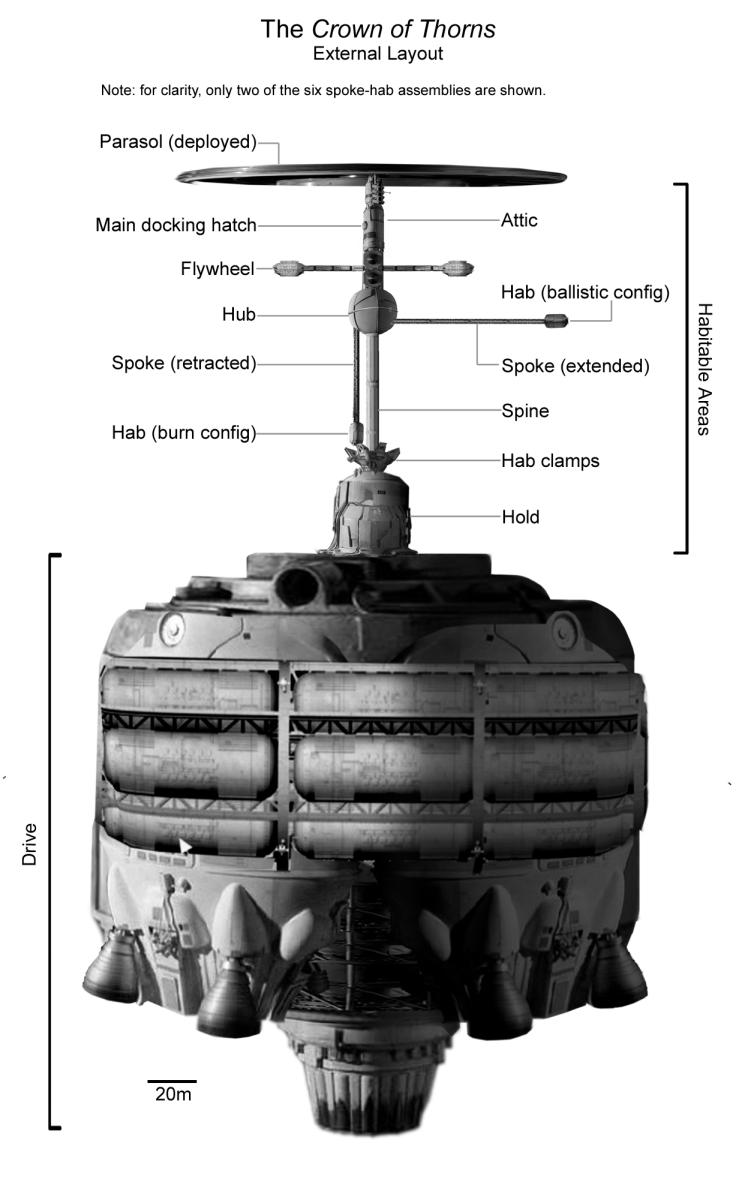 This entry was posted on Friday, November 15th, 2013 at 7:50 am and is filed under
Dumbspeech
,
fiblet
. You can follow any responses to this entry through the
RSS 2.0
feed. Both comments and pings are currently closed.