The Ultimate Star Trek Reboot.
So it turns out that the University of Toronto is launching something called the Toronto Science Festival — a "three-day, public celebration of science–with keynote speakers, panel discussions, as well as a variety of performances, activities, film screenings, exhibitions and events" at the tail-end of September. This year's theme (for indeed, the intention is to make it an annual event) is "Life in the Universe". And apparently I'll be contributing in a small way; I'm told I'm slotted into a panel discussion on the subject of First Contact as explored by Star Trek, following a "half-marathon" of episodes from various iterations of that franchise. Not sure exactly what episodes we'll be looking at; I've seen a tentative list, but apparently it's still open to discussion.
It has got me thinking, though.
Genre "reboots" have been all the rage for so long that by now even the backlash is suffering a backlash. The success of Ron Moore's Battlestar Galactica reboot (well, except for that last part) was little short of miraculous given the derivative dreck it was based on. The success of JJ Abrams' Star Trek is decidedly mixed (whatever you may think of the storylines, there's no denying the movies are box-office gold). The cinematic Spiderman reboot itself got rebooted while the derision over that third Raimi outing was still echoing in our ears. And the less said about that 2011 The Thing reboot, the better.
You may remember that I wrote — well, not exactly a "reboot", but at least an alternative take on that whole Thing riff a few years back. And I was a major Star Trek fanatic, pretty much from sixties-era classic right up to grad school. I read every one of those atrocious little novelizations (Joe Haldeman wrote one of those, did you know that?). I got the Constitution-class blueprints and the concordance and the medical reference manual, the galactic maps and all the tech manuals. I reread Gerrold and Whitfield's behind-the-scenes books endlessly. Alan Dean Foster's fleshing-out of the animated series. I even got, I shit you not, the Star Trek Cooking Manual by Nurse Christine Chapel. I still have most of them around, somewhere.
I hung on with grim loyalty through the first two seasons of Next Gen, hoping that it might someday get good — and sighed in ecstatic relief when, finally, it did. I gave up on DS9 a few seasons in — before it found its feet and, according to many, turned into the best Star Trek iteration in recorded history. (I suppose I should go back and revisit that series some time).
Voyager is what killed it for me. I didn't even last through a single season of that travesty. And, thus inoculated, I had little patience and no residual loyalty at all when Enterprise came down the pike. I had standards, is what I'm trying to say. I may have been a fan but I was by no means a mindless fan; even back in the sixties, still suffused with whatever glimmers of innocent wonder survived in my ten-year-old-brain after a decade of Baptist family dysfunction, I knew that "Plato's Stepchildren" was absolute shit.
So when I tell you that all this Toronto Science Festival and Reboot and Thing fan-fic stuff got me thinking about what classic Trek episode I might choose to reboot if given the chance, the answer that occurred to me almost instantly may surprise you a bit.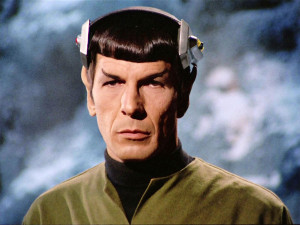 "Spock's Brain".
No, really.
Bear with me here. Yes, I 'm talking about an episode widely regarded as the worst hour of Star Trek — possibly the worst hour of television — in recorded history. But if the quality of the original had any relevance, Moore's Galactica reboot would be utter shite and that 2011 Thing prequel would have cleaned up at the Oscars. If template and reboot did show any significant correlation it would probably be negative, insofar as the better the original is, the less reason there'd be to reboot it in the first place. So the issue here is not past legacy, but future potential— and man, here at the dawn of the Neurological Renaissance, "Spock's Brain" is brimming with the stuff.
Consider the premise: a humanoid brain interfaced with the control infrastructure of an underground city, performing many of the same functions it always has, but for a vastly different "body". What happens to the sense of self when the cognitive circuitry remains intact, but the body it's connected to changes utterly? Presumably the medulla oblongata doesn't care whether it's maintaining blood or water pressure, doesn't care whether those pipes are metal or tissue. What about the neocortex? "Spock's Brain Rebooted" could give the whole embodied-cognition paradigm the sweatiest workout it's ever had in public. Not to mention the subtler issues raised by that magic salon hair-dryer that the Eymorgs used to boost intellect and expertise; remember the bit where McCoy went under the helmet himself, to learn how to stick Spock's brain back into his body? Remember what happened when that expertise faded, halfway through the operation? Star Trek anticipated Neuromancer's "microsofts" by over a decade— but think about how much more it could have been. Daniel Keyes' "Flowers for Algernon" is a classic example of the intimate dramatic potential to be wrung from the premise of lost enlightenment, of an enhanced intellect degrading by degrees. (Robert Silverberg's Dying Inside doesn't do a half-bad job either, although its focus is on telepathy rather than sheer brainpower) "Spock's Brain" could have stretched the mind and wrenched the heart, if only it had been done right.
For all the ground it broke back in its day — for all the impact it's had on cultures both genre and pop — Star Trek was, and continues to be, about people who push buttons for a living. The switches may have migrated to iPads sometime between TOS and NG, the ship's chronometer may have gone from analog to digital, but the essence of a ship piloted through control panels, commanded by the movement of fingers on surfaces, persists to this day. (Compare that with Delany's Nova, written during the original Star Trek's tenure; people in that tale piloted starships in their sleep, via direct neural interface.) Poor ol' Captain Pike ended up locked into a chair he could barely move with his brainwaves, his fully-functional mind unable to communicate beyond one beep yes two beeps no. We had better brain-interface tech than that back in the last century. We're already using mind-reading machines to play games, for Chrissakes.
In a very weird, utterly accidental way that should imply no credit at all to screenwriter Gene Coon, "Spock's Brain" might be the only vintage ep to retain any kind of technological relevance— because alone among all those 79 episodes it showed us a kind of command interface that isn't already obsolete and isn't about to be. It showed us the kind of mind-machine integration that remains science fiction, if only for a little while longer. And it provided a vessel — left tragically unfilled — through which one could have explored the profound and essential question not merely of what it means to be human, but what it means to be conscious and intelligent. It could have explored the impact of the corpus on the soul. It could have been better than trash.
Maybe next time.
This entry was posted on Wednesday, July 31st, 2013 at 7:16 am and is filed under
ink on art
,
public interface
. You can follow any responses to this entry through the
RSS 2.0
feed. Both comments and pings are currently closed.