The Darwinian Dead
So I'm spending all this time dealing with the legacy of the stationary dead, only to come up for air and notice that the walking ones are back on the march.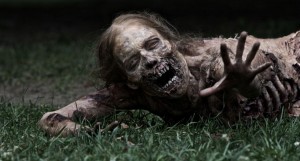 I've never read the Walking Dead graphic novels (unlike, apparently, every thirteen-year-old at Bowmore Public School), but I'm a big fan of the AMC series.  I've been a fan from the first episode. I even liked the second season, experiencing it not as the wheels of plot spinning ever-deeper into the mud, but as the kind of slow burn necessary to set up an explosive and devastating payoff.  (There are other views, I know. After the second season, one person of my acquaintance described the show as an abusive spouse who promised to never do it again if you'd just give it another chance. Which implies either an unhealthy degree of emotional investment in a TV show, or a curiously lighthearted perspective on domestic violence.)
What I truly admire about this series is a sense of verisimilitude uncommon in any genre show, much less one about zombies. Of course, the Walking Dead isn't really about zombies; it's basically a grown-up Lord of the Flies, an exploration of how 'civilized' people react when the rug gets yanked out from under them. It's got more in common with McCarthy than with Romero. Many of the series' set-pieces— the napalming of the cities, the tense hair-trigger negotiations between groups of survivors encountering each other in the aftermath, the grim gritty recognition that this ain't a democracy any more—  would be just as suited to the aftermath of a meteor strike or a Mitt Romney presidency.  The issues explored here carry more than a whiff of Ron Moore's Galactica before it went down the New-Age toilet on us.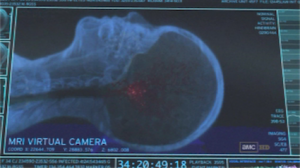 And yet, there are zombies. Pretty convincing ones, too, at least on a visceral level. There are even hints, here and there, of a quasi-biological basis for their existence: occasional glimpses of walkers just standing there, immobile, conserving energy until kickstarted by some external stimulus. The Governor's tame scientist, observing that Michonne's armless jawless pack zombies (and decapitated zombie heads, for that matter) were starving to death very slowly. The revelation of some kind of viral involvement during that ill-fated sleepover at the CDC — not to mention the localization of neural reactivation in the brain stem (although this begs the question of why, if the cerebral hemispheres are suddenly so irrelevant, all those forehead shots are so damn effective).
But only hints. There's never been any kind of explicit explanation for the zombie apocalypse that kicked off the AMC edition of The Walking Dead, and my understanding is that the graphic canon hasn't dealt with it either.
This will not stand. And since the series has pretty explicitly described the apocalypse as biological in nature, who better to handle the retcon than the fallen biologist who singlehandedly redeemed the crucifix glitch?
Let's start with evolution. Why do walkers attack the living in the first place? How does the consumption of living flesh promote the fitness of dead flesh? Doesn't the fact that the flesh is dead mean that it's pretty much out of the whole Darwinian race by definition?
Obviously it's not the agenda of the flesh — living or dead — that's at issue here. The flesh is simply a delivery platform for something still subject to natural selection— and in terms of real-world biology, it's almost too easy. Readers of my rifters books (or of Carl Zimmer's more plausible nonfiction ones) may remember fireside tales of Sacculina, the parasitic barnacle that rewires the behavior of infected crabs so that they stop worrying about their own welfare and instead spend their time aerating the larvae growing inside them, even helping them disperse once they hatch. Or you may be reminded instead of Ophiocordyceps, the mind-controlling fungus that leaves its host's motor nerves intact while it devours everything else — and which finally, when its victim is little more than an exoskeletal husk stuffed with fungus, takes the reins and forces that poor hollowed-out insect to assume a perch oriented at the optimum angle for spore dispersal just before it dies.
My own personal favorite is Dicrocoelium, a fluke that uses ants as a stepping-stone into the ruminant it targets as its definitive host. Each night Dicro forces its ant to climb to the top of the nearest convenient blade of grass and lock itself in place with its mandibles, leaving it vulnerable to the grazing habits of any nearby cow or sheep. It's also smart enough to release its ride when the sun comes up, to  let it resume its usual anthill duties (remaining locked to that blade of grass during daylight would toast the host beneath the noonday sun, which would benefit neither rider nor ridden).  Recent studies have shown that the reins tugged by Dicro are neurological: it actually hacks into the central nervous system to work its magic.
And I'm not even going to bother to link to our old friend Toxoplasma gondii.
The take-home message is that any number of real-world parasites conscript unwilling flesh in the service of their own dissemination, even to the point of hijacking the motor control systems. It doesn't matter whether the agents who walk the dead are viral, bacterial, or helminth: natural selection will promote any behavior that spreads the infection. Jumpstart the most basic locomotory responses; reboot the ancient reptile drives; shock  the carcass into motion. What does it matter that those ancient predatory reflexes no longer serve to nourish the corpus, that meat instinctively bitten chewed and swallowed won't ever be digested in the service of mammalian metabolism? The biting and chewing itself is enough to spread the infection. The swallowing is mere collateral: an irrelevant side-effect of some macro evolved for one function, then  repurposed to another.
Starting from those ground rules, the serial sieve of natural selection will tweak the specs towards some caricature of optimality.  Variants which always run their engines hot will burn out sooner, lose ground to those who idle on neutral until triggered by sound or motion. Lineages which waste effort biting flesh that's already infected will lose out to those who ignore their fellow walkers in favor of live game.  Perhaps some extremely lucky mutation partially reboots necrotic host systems, the way a dead frog's leg kicks in galvanic response to an electric shock: a diaphragm that still clenches now and then, pumps air in and out of rotting lungs like some half-assed bellows. Just enough to keep a few RBCs swapping O­­­2 for CO2 way past their best-before date, residual room-temperature metabolism ticking over just enough to keep limbs in motion longer than Nature might consider normal.  Microbes can cram a thousand generations of evolution into the space of a single prime-time episode; from a standing start, they won't take long to converge on the walkers we know and love.  It's basically drug-resistant syphilis, writ large.
The only question is whether Nature did this herself, or whether some Human agent gave her a boot in the ass. I don't know whether either television or graphic canon will ever give us an answer to that one.
Happy Valentine's Day. Hang on to your hearts.
This entry was posted on Thursday, February 14th, 2013 at 6:41 pm and is filed under
evolution
,
ink on art
. You can follow any responses to this entry through the
RSS 2.0
feed. Both comments and pings are currently closed.