Going Viral.
When you're a first-time lecturer in a department full of senior faculty, odds are you'll get crap time slots when it comes to your teaching load. When you're a first-time lecturer whose supervisor is the most-detested rival of the department head, you're pretty much guaranteed as much. Which is how I ended up teaching Advanced Animal Ecology at 8:30 on Monday mornings back in 1992.
Necessity forced me to come up with a strategy for rebooting hung-over twentysomethings under those circumstances. It was this: lead with a statement so off-the-wall that even a bunch of comatose undergrads can't help leaping to their feet and calling Bullshit! Then you just spend the next fifty minutes arguing with them.  As an added bonus, you barely even have to prepare any actual lecture notes.
Perhaps my most successful iteration of this strategy occurred on the morning I walked into class whistling Donny Osmond's "Puppy Love", then turned to the class and claimed that that song was — quite literally — a life-form.  That, in fact, any earworm was.  They reproduced, after all: spread from person-to-person like a disease, taking root in the brain of each new victim until that person in turn whistled or screamed or played it on to other brains in turn. They mutated (Mondegreens). They competed for resources; successful variants proliferated ("Stairway to Heaven"), unsuccessful ones died without issue ("Golden" — no, of course you haven't). They can even go into a kind of metabolic dormancy, encyst and hibernate for uncounted years until their seeds take root once again in some fertile habitat.  And if they can't do any of this unassisted — if they need ink and quills, mp3 players, human brains to take on the heavy lifting of actual reproduction — well, how is that any different from viruses built of protein and RNA? Can any of us perform the tasks of life independent of our environment? Remember, Richard Dawkins defines life as "information shaped by natural selection". Doesn't say anywhere in there that the information has to manifest through organic chemistry.
It woke up them up, and made for some decent debate. A decade later it also informed my novel Maelstrom, which posits literal ecosystems seething throughout the Internet: life-forms coded in electrons instead of carbon. Maelstrom also describes a coevolutionary process between those life-forms and the "Meltdown Madonna" meme that gave Lenie Clarke so much cover as she bled death and destruction across half of North America.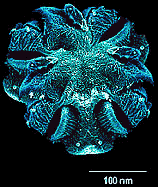 Now, right here in realityland, the line between electronic and biological viruses is blurring; so say researchers from a company called Fortinet, at a recent Black Hat conference in Europe. (Techworld report here; slightly sensationalized Scientific American rehash here).
At this conference, the Fortinet folks used the same e-life/o-life comparisons — right up to bemoaning the "mutability" of polymorphic worms like Conficker — that I used so long ago to wake up my students.  Their main concern, though, was not with the bugs themselves but with the hackers who built them. "Computer virus" is still a metaphor, you see. Those things aren't truly alive just yet, and they never will be if the hackers themselves have anything to say about it.  In order to meet Dawkins' definition, real life must be free to evolve; and while it would be trivial to outfit a computer virus with genes and a couple of random-number generators to seed variation, why would anyone choose to let their own creation off the leash that that? As long as people want their code to break centrifuges or steal credit-card numbers, life will never evolve down there in the wires; it will always be a product of special creation.
If you're not interested in anything so focused, though — if your goal is chaos and collapse, if you're some Joker who just wants to watch the world burn — why, setting your creations free would be a dream come true. That's the backstory of the rifters saga, ancient history when Lenie Clarke's story begins, but maybe a decade or so away from where we are now. Could be any time, really.
Maelstrom is over ten years old. I've done that already. What really piques my interest about this Techworld story is the alarms it raises over wet bugs getting cozy with sparkly ones. Because we can synthesize microbes now, bake them from scratch: and where do we store the recipes for polio and gasalgae and the latest Venter synthetics?
We store them online. Which means it's probably only a matter of time before someone writes a computer virus to hack the specs of an organic one. At which point, electrons will be building meat.
I'm both excited and dismayed at this news.  Excited because, well, it means that one of the underpinnings of Intelligent Design is coming along right on schedule. But dismayed for the same reason, because now it's out there. The surprise is gone.
And in Chapter Three, when my protagonist confronts the mystery of where exactly these gengineered oil-rig-attacking giant squid came from, a bunch of you will have already figured it out.
Damn.
Maybe I can distract you down the road with some homely cat photos.
---
A few shamefaced postscripts of pimpage and whoreistry:
The Pattern Scars seems to be doing pretty damn well in the running for the CBC Bookies, thanks in large part to you all; but there's still a full day before voting closes, and judging solely by sales figures I know that the competition has armies of fans. It's not to late for them to weigh in and slaughter TPS beneath a tsunami of come-from-behind votes. It's quiet ­— too quiet. So if you haven't voted yet today, y'know, it'd be nice.  Also tomorrow. And then the polls close, so I'll quit bugging you.
I myself seem to be in a bit of a knock-down drag-out with George R.R. Martin in an ongoing plebiscite over at Katedra: last time I checked the Polish edition of Starfish was a measly two votes ahead of A Dance With Dragons in the "Best Foreign Book". Of course, I wouldn't expect anyone to vote for a novel in an unfamiliar language, against other novels they may not have even read (ahem) — but I get the sense that a disproportionate number of you actually happen to be Polish. So if you haven't voted, well…
Finally, last-call for tickets to Starship Sofa's online writing workshop being held tomorrow, at which Nancy Kress, Ann Vandermeer, and myself will hold forth on a variety of topics while hiding behind our respective PowerPoint slides. I'm told that sign-ups have been surprisingly brisk; notwithstanding, there are still spots available.
This entry was posted on Friday, March 30th, 2012 at 12:54 pm and is filed under
a-life
,
evolution
,
writing news
. You can follow any responses to this entry through the
RSS 2.0
feed. Both comments and pings are currently closed.