Hopefully Not An April Fool's Joke.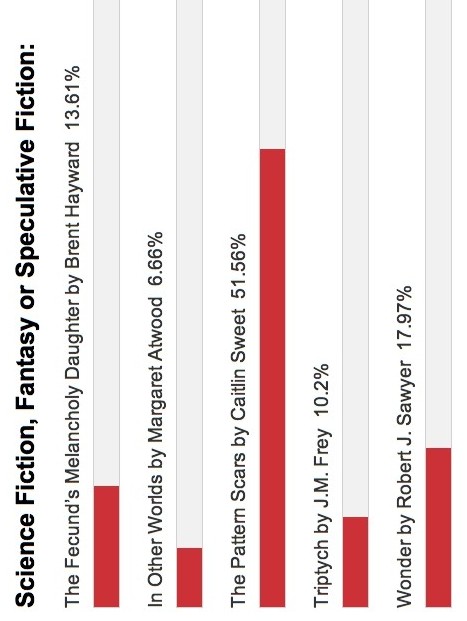 I mean, you gotta wonder when Margaret Atwood's final specs settle in at 666.  Even if she has scarcely varied from that beastly number for the past two weeks.
There were a couple of weird hiccoughs along the way — a sudden 2.5% jump for The Pattern Scars back on the 21st, in addition to those oddities that inspired some of you to start grabbing time-series (thanks in particular to David Held, whose  Google-fu has proven invaluable).  Also the voting option remained active for over an hour after the poll had supposedly closed. But in the end, the results were so astonishingly clear-cut that none of that mattered:  Pattern Scars won with more votes than all the other candidates combined.
Given that kind of a margin, I feel justified in squeeing on the BUG's behalf even if she hasn't yet posted it on her own blog [late-breaking edit: yes, she has], even if the results won't be officially posted until Thursday. And the poll itself, while a joke in terms of rigorous statistics, does present an interesting measure of something beyond the usual simple popularity-contest metric. It wasn't  just a measure of the number of people who were willing to click a button for the home team, but also of the number who came back and did it again and again, day in day out.  It was not just a measure of breadth but of depth, not of number so much as some function of number and dedication. The Pattern Scars may not be any kind of bestseller, but by Ceiling Cat its fans are dedicated.
In the meantime, I'm sure Caitlin will forgive you all if you're a bit careless with your pronunciation of the word "Bookie" when spreading the word.  Maybe put a bit of a "r" sound on that last syllable.
*   *   *
In related news, I myself seem to have done okay over in Katedra's plebiscite, which also finished up at midnight local time: Rozgwiazda eked out a modest win over GRRM's Taniec ze smokami in the Best Foreign Book category, and "Wyspa" (aka "The Island") slaughtered the competition for Best Foreign Short.  I got my ass handed to me under Best Resume, though, which I really can't complain about; I haven't updated that thing in years.

 
 
This entry was posted on Sunday, April 1st, 2012 at 8:59 am and is filed under
writing news
. You can follow any responses to this entry through the
RSS 2.0
feed. Both comments and pings are currently closed.