Or described.  Or empictured, or hinted at, or invoked in any way:  except for this brief and unenlightening announcement, which has been approved from upstairs.
I'm working on a project with Capcom Vancouver.
It's currently a Schröedinger's Cat:  not alive, not dead, or maybe both.  The important thing right now is to not pop the lid and look inside, since the waveform isn't quite ready to collapse just yet.  We're still in early development; there's no guarantee an actual game will emerge at the end of the process.  But I will say this much: of the three game gigs I've been involved with to date, this is the one that excites me the most.  These people are sharp,  we share a common perspective on the role of science in our fiction, and — based on certain entrails and auguries I am also not allowed to talk about — I am permitting myself the merest smidgen of hope.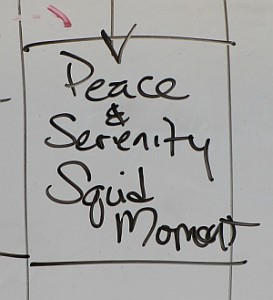 Also I control the weather.  How else can you explain the fact that the moment I go to Vancouver the temperatures there drop from their usual seasonal mid-twenties down to single-digits and goddamn snow flurries, while the city I left behind — which is normally locked in a deep-freeze this time of year — basks in 30-plus Humidex?  How else to explain the sudden return to seasonal west-coast warmth on the very day I leave Vancouver, coincident with Toronto dropping back down to subfreezing norms upon my return?
Well, maybe I don't exactly control the weather.  But if not, I've certainly pissed off something that does.
18 Responses to "That Which Is Not To Be Named."