I'm on my way to Vancouver for a week (no, I can't tell you why just yet — hopefully soon). And I gotta say, looking at the weather forecast I am not happy.  I lived in Vancouver for over a decade, and among its many pleasures was the torrent of cherry blossoms and the t-shirt weather you'd experience in late February while the rest of the country was locked into deep freeze.
Well, I'm in the rest of the country now; Toronto temperatures have been in the teens all week and are gearing up for mid-twenties next.  And while everyone here is basking on patios? It's gonna be rain and single-digit temperatures in Lotus Land the whole time I'm out there.
This is not the way it's supposed to be. I swear I'd phone ahead and get them to change the dates, but everyone's long since gone home for the weekend.
Anyway, posts over the next week will probably be sporadic and brief, and I won't be able to monitor the ongoing Bookies race as closely as I'd like to.  And I would like to; interesting things have been happening over the past day or so. The Pattern Scars had a strong 13-point lead at noon yesterday; suddenly votes started flying in for Wonder, and Scars' lead had all but vanished within the hour. PS spent the rest of the day clawing back her advantage, opening up another eight or nine-point gap by the end of the day. Then, whump: another furious torrent of Wonder votes starting at midnight, once again eating away all but two percent of Caitlin's lead. It's like some kinda BFG (or, I dunno, maybe a secret mailing list) opens fire every time The Pattern Scars closes in on 40% of the popular vote.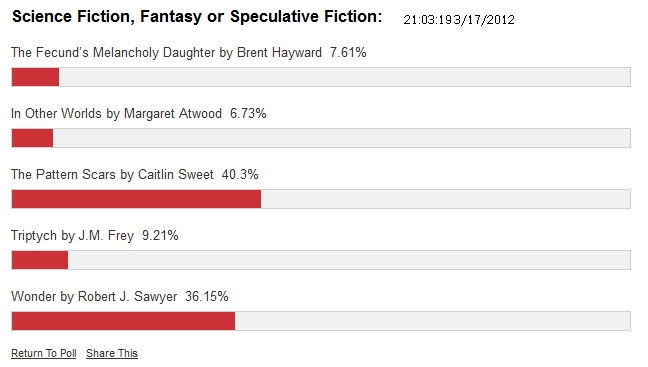 Anyhow, the statistician in me is stirring. I've started taking regular screen grabs of the voting results, just to see if any interesting patterns emerge. Of course, I won't be able to do that while I'm in the air. Or working. Or sleeping. So if any of you feel a strange compulsion to hit your screen-grab button and make note of the time and date, I certainly wouldn't turn down any jpegs you might send over the next week.  Alternatively, you could just keep on voting until the end of the month; that's way more important, in fact.  Keep the pressure on. Keep up that slow steady current of tortoise votes against the mad hareish dashes thrown against it. Two weeks and counting.
I'm off. See you on the other side.
63 Responses to "Cold Vancouver, Creeping Votes"