Falkon.
So. Poland again. Only this time, leaving the Warsaw Arrivals lounge I turned east instead of west to find myself confronted with two guys holding up a sign that reads Giant Squid.
Already I like the place.
They put me in — well, a monastery, maybe. At least it's attached to a church of some kind, and skeletal vampiric old men in dark robes with white collars glide along the halls, which are utterly dark if you get in after nine. There is a tiny bloody man hanging on a cross over my door, and a much larger bloody man hanging on another much-larger cross downstairs in this weird hall where people in vestments throw water on passers-by. If it's not a religious institution of some kind, it's the weirdest Motel Six I've ever been in.
I wasn't in there very much, though. When I wasn't sleeping, I was sight-seeing; when I wasn't sight-seeing, I was in one of a seemingly endless series of pubs.
(They have many pubs in Lublin: Irish, Czech, German and French — pretty much every variety of pub except for Polish. Apparently there are no Polish pubs.) When I wasn't in a pub, I was in a bookstore straight out of a David Lynch movie, and when I wasn't in Lublin I was in City 17. And when I wasn't in any of those places, I was—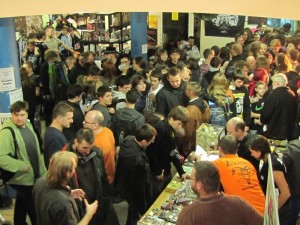 Oh, right. The con.
The thing is, despite the fact that Poland's surface area is small enough to hide under a cheese scone, it has a population comparable to Canada's and cons that are — well, this one was thousands strong, and I'm told that it's not the biggest one over there. The place was jammed. As in Zielona Góra, I didn't sit on any panels — that whole language thing, you know. I did do a Q&A that lasted a solid two hours, and fielded some surprisingly complex questions. (One soft-spoken lady in the back row wanted to know if Blindsight was fundamentally solipsistic; obviously solipsistic is one of those Polish words for which there is no English translation.) I signed books until my fingers fell off. I introduced a few worthy Poles to the Paws of Power chant, and to the concept of the Life Sausage.   I think there was another iteration of that Blindsight LARP I missed at Bachanalia Fantastyczne, and since I'd promised to catch it this time around I headed out to the high school where it was scheduled; but all the players had apparently slept in, and I had to leave to give my own talk before I could find out whether they'd ever roused themselves.  I presented an updated version of last month's SpecFic Colloquium speech, tarted up with some nifty new references to ventromedial cortical lesions and Anton-Babinsky syndrome. I fucked up the ending, though; lost track of time and had to blow through the last couple of pages in a panicked rush. I bought a couple of PedoBear t-shirts for the stepdaughters (and how come I had to travel all the way to Europe to find out about Pedo Bear in the first place? How can I have fallen so out of touch with my inner child?).
Of course, none of this conveys much of the actual experience, because none of it mentions the actual people involved; and the actual people were pretty awesome. There was Andrzej and Dominika, the forces behind ArsMachina and the publishers of the rifters books in Poland (Dominika has got to be one of the most insanely thorough translators I have ever encountered). There was Łukasz and Beata: graphics-designer-with-a-law-degree and disillusioned-insurrectionist-grad-student/teacher respectively, who showed me the sights and got me where I needed to be even after their car broke down. There was Natalie the American expat, who loves Thomas Pynchon so much she wanted to punch him in the fucking mouth after finishing The Crying of Lot 49; Piotr and Adam, who argued with me about free will vs. agency (Adam is still arguing, but I have to finish this blog post before I answer my e-mails); Daniel, who looks like Doogie Howser MD and speaks better English than I do (normally this would be a testament to his ESL teacher, except that teacher is Natalie and he also speaks better English than she does). There were at least a dozen others whose names I never learned, have since forgotten, or am simply unable to pronounce. (That last thing was a recurring problem. I realized after a couple of days that you pronounce "Łukas" like the first syllable of "Wookie" followed by the surname of the science officer from "Alien"; but I always mumbled "Andrzej" and "Beata" to avoid embarrassment). There were Andrzej's parents for Chrissakes, who had a bunch of us over for a 213-course dinner; an orange cat named Garfield, who all-too-obviously lived in a home where 213-course meals were the norm. Andrzej's folks didn't speak English but his dad was fluent in that lingua franca in which the Polish people are so very proficient: I'd sampled home-made wine and mead previously, but the moonshine was a new experience. You know how, when you have a head cold, you snort Otravin up your nostrils and can feel that hydrochloric acid eating away at the mucous in your head,  feel that ecstatic corrosion as your sinuses clear?
Now imagine that happening to your whole body.
Also there was beer, served in what was either a hollowed-out dragon claw or one of the boots those dwarfs danced around in during Spinal Tap's iconic performance of "Stonehenge". I participated in the traditional Polish Rite Of Manhood in which you chug a pint while a marmalade cat kneads your genitals.
So, yeah. All in all, another huge blast. About the only downer was having to leave; that, and forgetting my lens cap in the bar and twenty dollars worth of subway tokens behind in my cell.
Hopefully I can head back before too long and retrieve them.
This entry was posted on Wednesday, November 16th, 2011 at 8:57 pm and is filed under
On the Road
,
public interface
. You can follow any responses to this entry through the
RSS 2.0
feed. Both comments and pings are currently closed.
43 Responses to "Falkon."