Skin Deep
Time, rs and Ks, for another installment of Fleshfest '11. As you can see, the healing of my leg continues apace: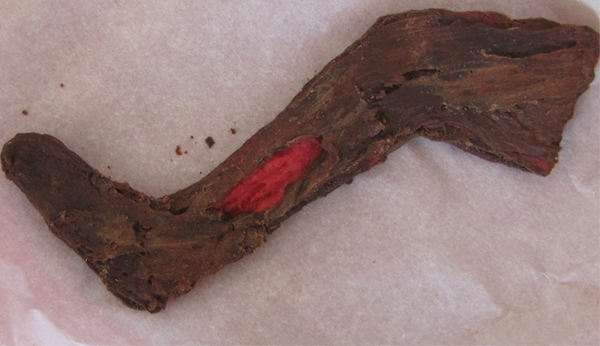 Actually, that's not really my leg (at least, not yet). It's actually an effigy created by one Duff McCourt, who — upon learning of my fondness for Baileys and marzipan — actually whipped up batches of both from scratch and had them hand-delivered to the Magic Bungalow. You may know Duff as the editor of the recently-launched AE: The Canadian Science Fiction Review. He interviewed me a while back for that 'zine, and I met him briefly at a con a few months back; but I wasn't expecting this kind of payout. The marzipan is great. So's the Irish cream; more of a bite than Bailey's, and a strong hint of gingerbread. Being home-made, and given my luck as of late, there's a part of me that hopes I don't go blind from chugging the stuff.   But if I do, it'll probably be worth it.
Duff is one of surprisingly many, btw: well-wishers have sent me everything from chocolates to stuffed animals to books to amazing home-made flesh-eating-themed get-well cards. I am hugely touched and blown away by all of this, and I fully intend to post a picture of all this booty at some point in the near future (so if you happen to have, you know, a Big Daddy costume or something sitting around that you don't have any use for, there's still time). But today's subject is, once again, The Leg, and so I guess I should probably insert another one of those Cut options before I show you how much better it's gotten over the past few weeks: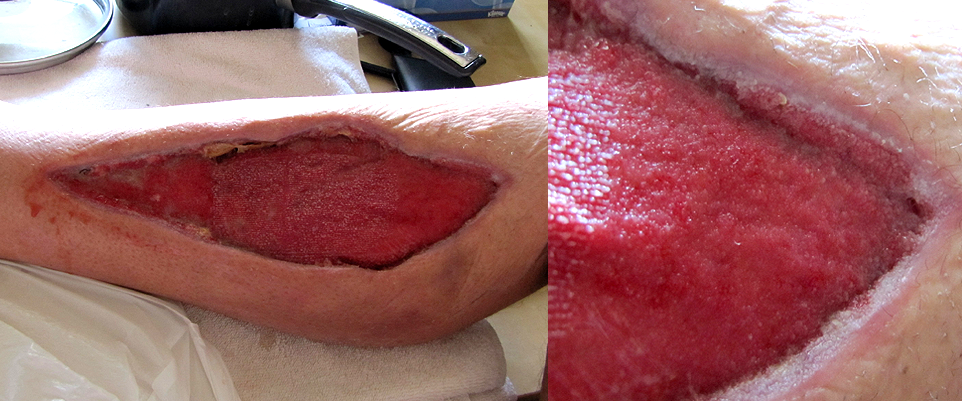 Really starting to fill in now, isn't it? The local experts seem to be quite impressed by my speed of healing, and not at all concerned by the fact that when we air out the wound it reeks faintly of rotten, maggoty fish in a toluene-stained barrel at the height of July in Lord's Cove, Deer Island circa 1982. So I guess I shouldn't be concerned.
Sadly, it isn't filling in fast enough; so a few weeks hence they're going to scrape a couple of Nazca landing strips off my thigh and staple them down onto the wound. This will have the side-effect of immobilizing me for another two goddamn weeks, just when I've started to run again. (That's a projection. At the moment I can merely manage a fast hobble, and then only when a car is bearing down on me as I try to cross against the lights.)
But that won't be happening until after Ad Astra, so for those of you who are wondering:  barring some other catastrophe I'll be in attendance there. In the meantime the VAC continues to work its wonders; by now I'm swapping out the dressings myself, thusly:
The VAC continues to suck the foam down into the crater…
and the gore out of my leg, into these little canisters…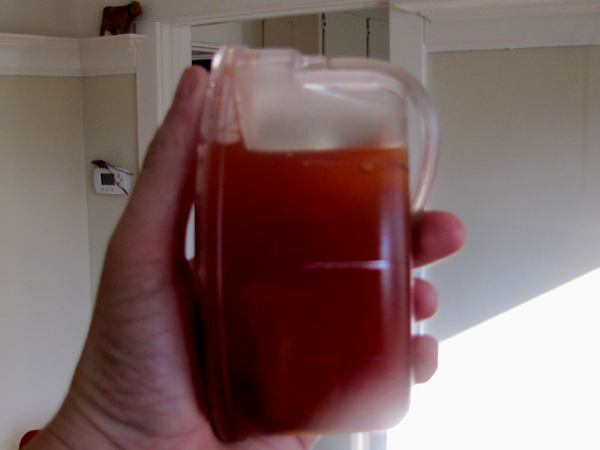 …but having now had substantial experience with this technology I have to say I still can't see why their promotional campaign seems centered around a "creepy old people abducting children into the woods" theme: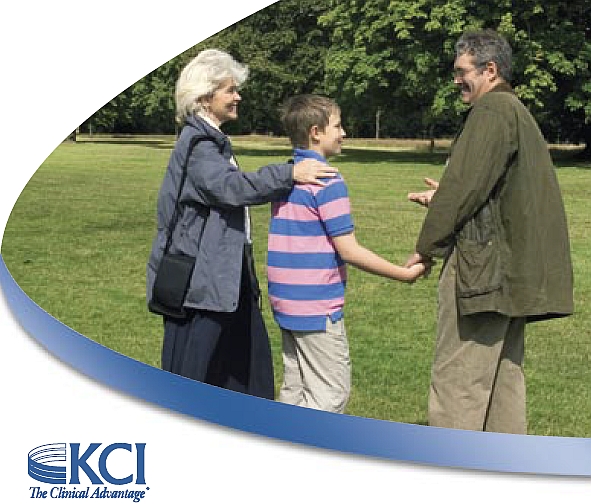 Perhaps it has to do with some optional accessory I haven't encountered yet.
This entry was posted on Friday, March 25th, 2011 at 3:57 pm and is filed under
Flesh-Eating Fest '11
,
public interface
. You can follow any responses to this entry through the
RSS 2.0
feed. Both comments and pings are currently closed.