Pimping Legion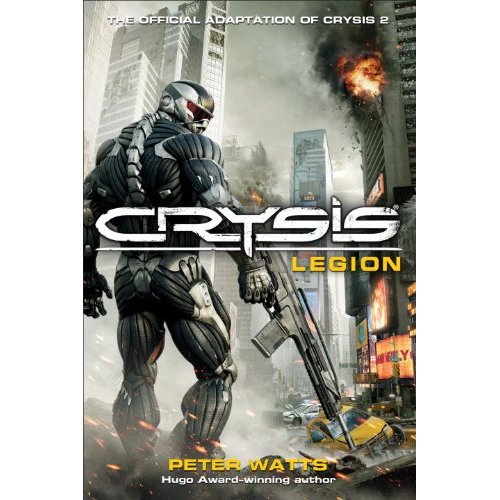 Oh man, this kinda snuck up on me:  Crysis: Legion is officially out today.  Del Rey is doing a bit of online promo, including posting the first fifty pages on their "Fifty Page Fridays" site.  Of course, they won't be posting them until Friday; in the meantime, though, I've written a series of four blog posts for their Suvudo pages; they focus mainly on the science behind the suit but they're liberally illustrated with excerpts from the novel.  The first one went live today; it's a bit short relative to the others on account of devoting a chunk of the word count to introducing the series as a whole.  (It's also a bit less bracing stylistically than the material you find here on the crawl, on account of corporate oversight.  The phrase "Homoerotic Iron Man", for example, definitely did not make the cut.)
I've also done a couple of e-mail interviews in between lying in bed and scouring out the inside of my leg.  The only one that's gone live so far (that I know of, anyway) appeared on a little gaming site known as 3mgr.com, which has since apparently vanished off the face of the web.  Adi Robertson, the interviewer, posted it over on her own site so it would not be lost to posterity.  (Sadly, one of the elements that will not be lost is the fact that I inadvertently used exactly the same sentence in my answers to two completely different questions.  Sometimes I think my body is rebuilding my wounded leg by cannibalizing brain cells for protein.)
So, check 'em out.  Browse the excerpts.  We're not talking Nobel-caliber by any means, but if you have the usual take on video-game adaptations, I think you'll be pleasantly surprised.
This entry was posted on Tuesday, March 22nd, 2011 at 1:15 pm and is filed under
Crytek/Crysis
,
public interface
,
writing news
. You can follow any responses to this entry through the
RSS 2.0
feed. Both comments and pings are currently closed.
74 Responses to "Pimping Legion"