Sarasti Lives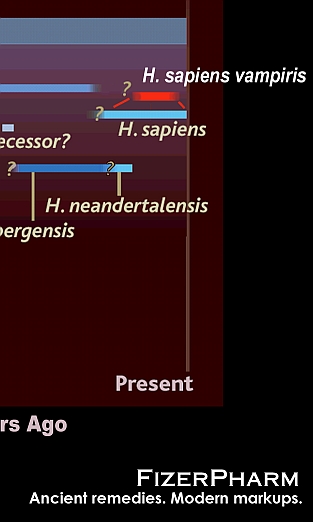 Or did, anyway. Or at least something did.
Those of you who've checked out the Vampire Domestication Talk might remember the slide from which this inset was taken: a timeline of hominid ancestry, showing the recent divergence of the vampire lineage and its subsequent extinction/reintegration into the human baseline. While the fusion of separate species is commonplace among microbes (the "tree" of life is actually more of a "mesh" that far down), H. sapiens vampiris (or whedonum — the specific taxonomy is still a matter of heated dispute) was by far the most dramatic case in point among the mammals. And when it came to sketching in the backstory for Blindsight, I had to do a fair bit of dancing to explain why a whole other humanoid species could have coexisted with us just a few tens of thousands of years ago, and yet not have appeared in the fossil record.
Turns out I needn't have bothered. This paper from Nature tentatively reports a newly-discovered hominin1 species coexisting with ours and the Neanderthals about 30,000 – 50,000 years ago; all three are thought to have split off from our common ancestor about a million years back. (A couple of popsci reports on the find here and here; shitloads of others lurk but a Google away.)
With a modest cough, I quote from Blindsight's endnotes: "Homo sapiens vampiris was a short-lived Human subspecies which diverged from the ancestral line between 800,000 and 500,000 year BP. " It was a lucky guess, admittedly; I'm no expert on hominid evolution. And the very existence of this new species remains controversial, based as it is entirely on mitochondrial sequences taken from a single finger bone in southern Siberia. All we know is that those sequences are too divergent from human norms to fit comfortably onto our own twig of the family tree; nobody's even guessed at how they might manifest phenotypically. Until they do, I can always hope for really good night vision, superhuman reflexes, and a deficiency in the protocadherin synthesis pathways.
In the meantime, though, it's a cool coincidence, and a take-home lesson: we never know as much as we think we do, so I probably shouldn't spend so many pages trying to reconcile my skiffy inventions with the real-world state-of-the-art at time of writing.
If nothing else, it might make my books more readable.
——————————————————————————————————————————————————
1"hominin". What we've started using instead of "hominid". Who knew.
This entry was posted on Tuesday, March 30th, 2010 at 1:30 pm and is filed under
blindsight
,
evolution
. You can follow any responses to this entry through the
RSS 2.0
feed. Both comments and pings are currently closed.