Screen Grabs, Blog Jabs
Okay, first up: the whole bench-warrant thing has been resolved. I am no longer a fugitive. I have a good lawyer (thanks, once again, to so many of you: speaking of which, gratitudinal e-mails now 52.8% completed!). Now all we have to worry about is a justice system that criminalizes the flinch response. Should be a cinch.
Even that eagle-eyed blogger who pounced on my no-show has backed off. In fact, he's done more than back off; he's scrubbed his blog to a squeaky Wattsless sheen. Within about fifteen minutes of my previous post he'd deleted not only the entry in which he'd called me out for standing up the court, but every other Watts-related post he'd made (and there've been a few, all of the smug-elitist-had-it-coming variety). All that remains is an echo on Icerocket…

and thirteen innocuous entries on subjects ranging from Haiti to solar power, stretching back to August 2008. The author describes himself as a lawyer from Indiana, which makes me wonder if he had some legal reason for scrubbing his journal so thoroughly and with such haste. The only time I've seen a faster response was when he first made the post that kicked all this off. I don't know whether he was compulsively refreshing the online docket records every five minutes or someone was feeding him intel; either way, the man has reflexes.
But enough of that. I still hope to publish my screed on Kamazawa's inoffensively-named "Why Liberals and Atheists are More Intelligent" 1 before too long, but since I'm currently backed up preparing for next week's trial I'm going to distract you, yet again, with pretty (and undemanding) pictures. First up, another very cool impression of Sunday Ahzmundin and "The Island", as imagined by Chris Butler for an upcoming audio presentation on Starship Sofa: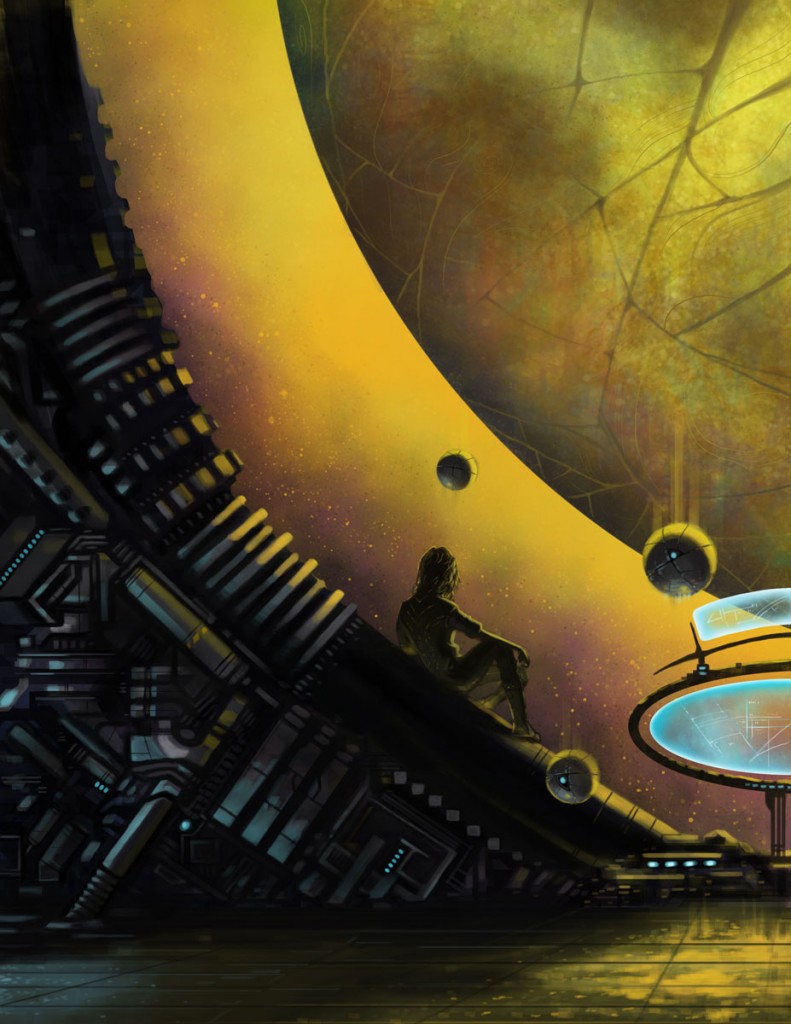 And here, the obvious Anglaisishness of the title notwithstanding, is the cover for the upcoming French edition of Starfish, which translates as "Starfish" because "Étoile de Mer" isn't as catchy: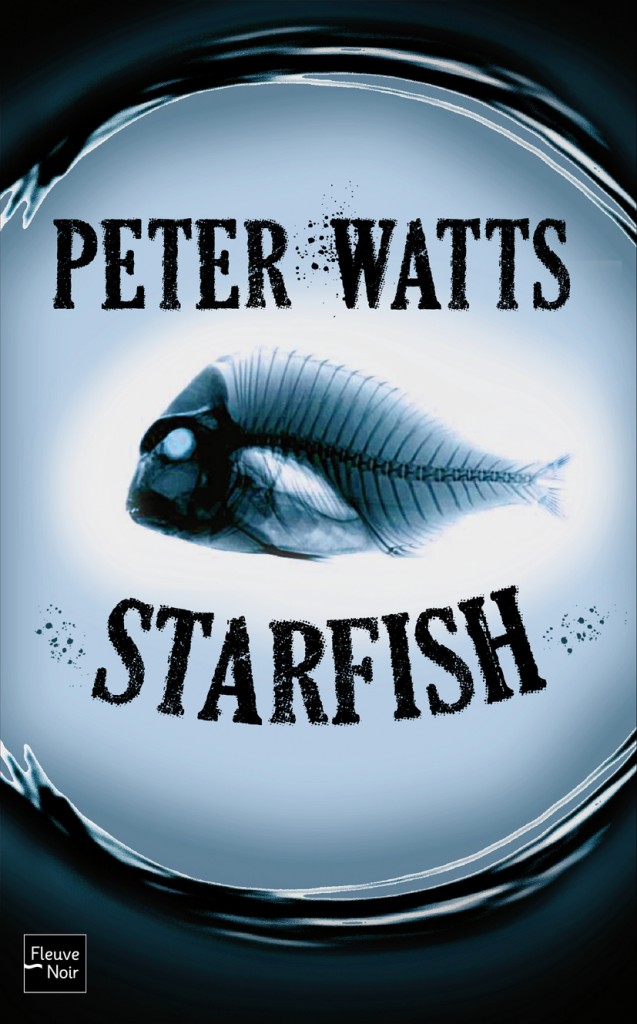 (The layout people might have to add a subtitle — "Maintenant, en Francais!" — to avoid confusion).
This cover resonates with me. Back in the days before my first novel ever came out — before I'd even sold the damn thing — I spent a fair bit of time fantasising about my ideal cover.  I imagined  a skeletally-enhanced, photophore-studded deep-sea fish on a featureless black background. Of course, I was delighted with the Jensen cover when I saw it (Tor did a really bang-up job with all the rifters covers), and put away my naïve fantasy in favor of the real thing.
Yet here it is again — arising this time from the imagination of Bénédicte Lombardo, my editor at Fleuve Noir (which I would link to here if only they didn't keep telling me I was Forbidden every time I tried).  Apparently, Benedicté's original vision was even closer to mine than what you see here — she, too, had imagined a highlit fish on a black background — but apparently a photographic negative looks better on the shelf.
So. Dreams come true.
——————————
1No, really! That's actually the title!
This entry was posted on Wednesday, March 10th, 2010 at 10:54 am and is filed under
art on ink
,
Squidgate
,
writing news
. You can follow any responses to this entry through the
RSS 2.0
feed. Both comments and pings are currently closed.