"… And an Almost Fanatical Devotion to the Pope": or, Truthiness Goes Technical
Okay, let's do this. The author is Satoshi Kanazawa. The Journal is the Social Psychology Quarterly. And the paper is "Why Liberals and Atheists are More Intelligent".
Ignore for the moment that first stirring of doubt (more intelligent than what? Isn't that kind of a glaring omission in a title?) because after all, it comes clear soon enough: smarter than conservatives. Smarter than religious types.
And doesn't that just feel right? I mean, forget Sarah Palin. Forget Death Panels. Forget the hysterical screams of the boneheaded creationists demanding that we "teach the controversy". Just last month the legislature of the staunchly right-wing South Dakota House of Representatives decreed that their schoolchildren must be taught that "astrological" forces affect global weather. Seriously. You can't make this stuff up.
Liberals and Atheists are more intelligent than these guys? Seems like a no-brainer. The real puzzler would be how anyone could possibly be dumber.
So you have to love Kanazawa, even if he's only put numbers to something we all knew anyway. You have to love him for his audacity in just coming right out and saying it, and saying it in a peer-reviewed journal at that. The tubes and the papers have already jumped on it, pro and con, given it the kind of profile that's bound to have the Limbaughs and the Becks of the world spluttering in delightful, inarticulate outrage. Yes.
There's just one problem. Kanawa's basic premise sucks. And his data don't support it—
Two problems. His premise sucks and his data don't support it. Also, he contradicts himself within the same—
Three problems: his premise sucks, the data don't support it, he contradicts himself, and his analysis—
You get the idea.
Start with Kanazawa's "Savanna Principle"1: "the human brain has difficulty comprehending and dealing with entities and situations that did not exist in the ancestral environment". Fair enough. We have in-built behavioral subroutines to deal with recurring issues — mating, predator-avoidance stuff, and so on — that we don't really have to think about. But then there are these other problems, novel challenges that our basic behavioral repertoire didn't evolve to deal with, and that's what we need general problem-solving intelligence for. So: enter the "Savannah-IQ Interaction Hypothesis", which predicts that smarter people will be better than dumber people only at the kind of novel problems that our ancestors didn't routinely encounter on the savanna: smart people will not have an edge when it comes to more familiar ancestral challenges like mating, interpersonal relationships, and "wayfinding".
Sounds plausible, even obvious, until you read the examples Kanazawa cites to bolster his premise. Dumbsters have more kids than smartsters because modern contraception is "evolutionarily novel" and the dumbsters therefore just can't get the hang of it. Smartsters "stay healthier and live longer than less intelligent individuals possibly because they are better able to recognize and deal with evolutionarily novel threats and dangers to health in modern society." And my favorite of the lot: criminals have low IQs; the violence they habitually practice is a tried-and-true Pleistocene strategy for acquiring mates and resources; Law Enforcement is "evolutionarily novel" and thus harder for the dumbsters to get their heads around, so that
"…it makes sense from the perspective of the Savanna-IQ Interaction Hypothesis that men with low intelligence may be more likely to resort to evolutionarily familiar means of competition for resources (theft rather than full-time employment) and mating opportunities (rape rather than computer dating) and not to comprehend fully the consequences …"
By now, we know at least one of the lecture slots that Kanazawa fell asleep in during his undergrad career: the first session of "Stats 101", the one where you learn that correlation is not causation.
Maybe, for example, dumbsters have more kids not because they don't understand birth control, but because their religion frowns upon its use. Maybe some people are smart because they're healthier and longer-lived, not the other way around — raised in a clean environment, unstunted by lead in the pipes or PCBs in the light fixtures, the workings of their minds uncompromised by malnutrition or disease. And maybe — just maybe — the "lower intelligence" of the criminals cited by Kanazawa is not what got them into a life of crime, but what got them caught so that a bunch of sociologists could cluck and worry over the stupidity of the criminal element in society. Such sociologists, trying their hand at fisheries science,  might drag a net through the water at a quarter-knot and then— confronted with a haul of creatures too slow-moving to amble out of the way — conclude that dolphins and sharks couldn't exist because everyone knows nothing swims that fast.
Just maybe, some of society's bad apples were smart enough to get into a job where violence was its own reward. Maybe some of them went into (oh, I dunno) law enforcement. Maybe some of them stayed on the wrong side of the law, but were smart enough to cover their tracks. Maybe the really smart criminals are the ones with the corner offices in much nicer digs than mere sociologists could ever afford.
Kanazawa does cite some interesting findings from previous research. I hadn't been aware, for example, that dumb people tend to respond to the characters in TV shows as if responding to real friends, but that " individuals with above-median intelligence do not become more satisfied with their friendships by watching more television." Still, I'd feel better about those findings if they hadn't come from two other papers by the same guy.
Continuing with his set-up (yes, dear reader, we're still doing introductions — we still haven't actually arrived at the study part of the study), Kanazawa makes a startling claim:
"The Savanna- IQ Interaction Hypothesis can potentially explain why more intelligent individuals are more open to new experiences and are therefore more prone to seek novelty."
In other words, smart people are not just able to deal with evolutionarily novel challenges, they will actively seek such challenges out. This is especially remarkable given that the examples of "novel" challenges he's cited to this point — droughts, brush fires, flash floods — are all things that would be actively avoided by anyone with more than two brain cells to rub together. But no. Smart people are open to new experiences. Smart people embrace novelty. Nobody's ever chugged Drano? Now there's a novel experience. Get Stephen Hawking over here. Anyone ever glue their penis to an acacia tree before? No? Where's Craig Venter when you need him?
You can see where this is going. Liberalism is "novel" since it involves reaching a helping hand out to people in far-off lands— in contrast to the me-and-mine kin-selection of Pleistocene-era conservatism. (Personally, I don't see why you couldn't turn that around: Liberals treat people in far-off lands as kin because they're locked into a primitive kin-selection subroutine they can't change in the face of vaster populations.) Religion is a primitive trait resulting from paranoid pattern-matching, the tendency to see active agency in inanimate forces as part of a conservatively-erring predator-avoidance strategy; to not be religious is therefore "evolutionarily novel". Vegetarianism and male pacifism are also singled out as smartster traits.
Oh, and the sex. "[T]hroughout human evolutionary history, men have mated with several women while women have mated with only one man", Kanazawa claims, suggesting that he is unaware of the evolutionary significance of the Giant Human Male Penis2. Male gorillas, for example — members of a truly polygynous species — have teensy little needle-dicks, because they don't need anything larger; the dominant males are the only game in town as far as the females are concerned, because other males are excluded via physical force.
So why would we human males need big dicks? Two words: sperm competition. The only reason our sperm needs the added push of a big gun is to get it past all the other sperm that could be swimming upstream through the same plumbing. Hell, most of our sperm isn't even designed for fertilization; most of those little guys just act as linebackers to block the competition.
The very existence of our proud and mighty male members is proof positive that human females are sluts. Kanazawa seems to kinda sorta acknowledge this in a footnote, but judging by the main text it doesn't really seem to have sunk in. His prediction: that smart/liberal males will be more open to monogamy than conservative/dumb males, but that females in both camps will be pretty much the same.
So having set up the model, having set up his predictions, Kanazawa describes his actual research. His data: the National Longitudinal Study of Adolescent Health (follow-up questionnaires delivered to young adults who were previously surveyed as adolescents) and the General Social Surveys, administered by the University of Chicago. In both cases we're talking about a series of 5-point scaled responses (agree strongly – disagree strongly) to questions about beliefs both religious and political, with the usual gamut of demographic data thrown in to give the X-axes something to do.
General Intelligence — the critical variable — was measured in two ways. For one part of the study Kanazawa used something called the Peabody Picture Vocabulary Test (PPVT), which is evidently a measure of "verbal intelligence" that doesn't correlate especially well with measures of "general intelligence". Check the actual paper for the ugly details; here, suffice to say that correlations of 0.22 for first graders, 0.52 among third graders, and 0.52 among fifth-graders are described as evidence that "the PPVT becomes a better measure of general intelligence as children get older" — even though none of those correlations are very strong, and two of the three points are identical.
For a different aspect of the study, intelligence was measured, I shit you not,"by asking [the subjects] to select a synonym for a word out of five candidates" ten times. And even this lame-ass index was only done for half the sample!
So, big surprise. Kanazawa's results bore out his predictions. Kind of. For example,
"Correlation between adolescent intelligence and the value on sexual exclusivity is r = .0572 among women, and r = 0.0849 among men. The correlation is statistically significantly larger among men than among women…"
And yeah, it is. But it's also really, really weak. A perfect correlation is r=1.0. An r of 0.6 or 0.7 would be pretty damn good in a field ecology study. r=0.057? Dude, that's a speck of dust on my binoculars. And when you consider how sloppy the measurement of "General Intelligence" was in this study, it's really impossible to take any of these results seriously, no matter how nicely they line up with my own cherished preconceptions: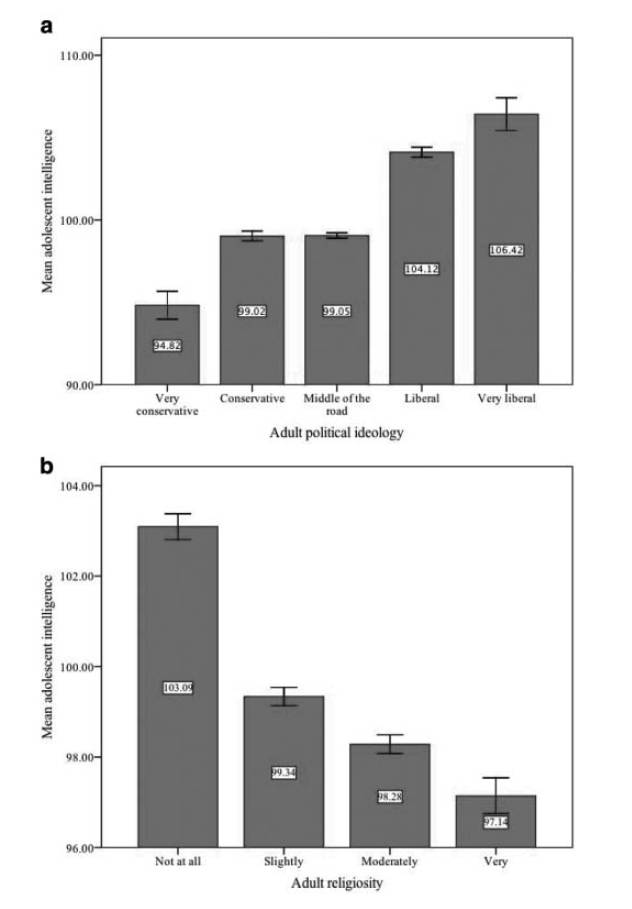 And then, sweet smoking Jesus, the discussion. I'll limit myself to one example. Look at the following two quotes:
"Despite the fact that past studies show that women are more liberal than men (…) and blacks are more liberal than whites (…), the results here show that …"
And
"…despite the fact that past studies show that women are much more religious than men (…), adolescent intelligence is twice as strong an influence on adult religiosity as sex…"
Did you catch that? If Kanazawa's conclusions are legit, then these two findings— that women are both more liberal and more religious than men — imply that women are both smarter and stupider than men (and that blacks are smarter than whites, but by this stage, who's counting?). Kanazawa does not explain this contradiction. He does not address it. He gives no indication of even being aware that it exists, even though he wrote these sentences less than a page apart.
I have wrung myself dry. There is more to criticize, but I have made my point. So let me conclude by reminding you all that Satoshi Kanazawa works at the London School of Economics and Political Science — and if his work is any indication of the field in general, I can certainly see why economics is referred to as "the dismal science". The science is, indeed, absolutely dismal.
It's a shame, though. I really wanted to buy into this.
*   *   *
You may not be hearing from me for a while. Trial next week, and all. Hopefully, I shall come out the other side unscathed. If I haven't posted by this time next week, release the hounds.
————————
1Or Hagen and Hammerstein's "mismatch hypothesis", or Burnham and Johnson's "evolutionary legacy hypothesis" — they all seem to be pissing on pretty much the same rock here.
2Or perhaps it is only suggestive of the possibility that he himself is unaware — for reasons I will not speculate upon — that human males even have relatively Giant Penises.
This entry was posted on Saturday, March 13th, 2010 at 7:27 pm and is filed under
ass-hamsters
,
evolution
,
scilitics
. You can follow any responses to this entry through the
RSS 2.0
feed. Both comments and pings are currently closed.