Red Team Blues
A number of years ago, while I was just beginning to figure out this whole Writing thing, I tried to classify what I saw as "successful authors". You may know the usual names I trot out in interviews, those I cite as inspiration in developing my own voice—Delany, Silverberg, Brunner Brunner Brunner—and I won't belabor those here. Right now I'm more interested in those authors at the other end of the scale, authors that—for one reason or another— I would never even try to emulate. Within that Phylum, I was able to identify three distinct taxa.
There were the authors whose writing made me cringe: clunky prose, wooden dialog, flat characters. There was often a very cool idea at the heart of their novels—something that would make me yelp in delight if expressed as an elevator pitch—but to my neophyte eyes, they'd pooched the execution. It didn't matter that so many of them essentially lived in the bestseller lists; I would rather have languished forever in the midlist than write like they did.
There were those whose writing I admired and whose moves, once observed, I might have copied well enough—but there would have been no point because I had nothing to add. Having read Gibson's hyperstylish Sprawl trilogy I probably could have written something similar, if I didn't mind coming across as a cheap wannabe knock-off of William Gibson. That territory had been stamped and marked.
But there was also this third type of writer, who could tell you exactly what they were going to do—let you watch them doing it— and you still had no clue how they'd pulled it off. They could say I'm gonna write a novel about a guy whose father is a mountain and his mother is a washing machine, and he has these four brothers but one of them is undead and the other three are Russian nesting dolls, but the inner doll has all the internal organs for the three of them so when he disappears the others starve. And there's gonna be community WiFi activism in Kensington Market. And you would say Dude, you're a fucking loon. No way does that make any kind of sense. And they would shrug and go off and write the damn thing, and reading the novel you had to admit they'd pulled it off, but even with all that data you still didn't have the first idea how to do something like that yourself.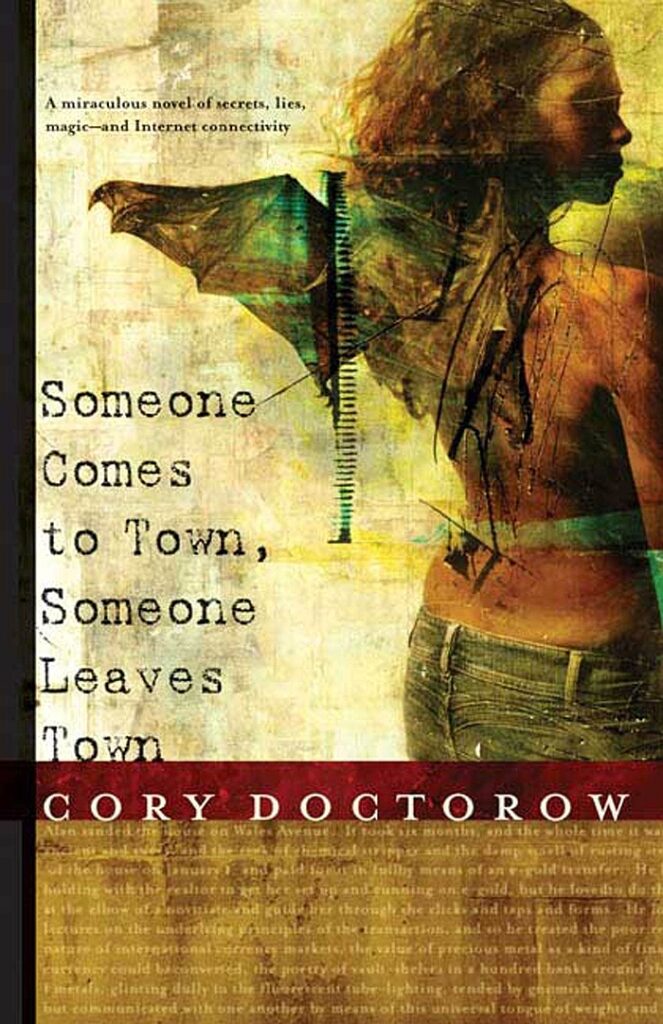 So far I've only encountered one author in that category, and his name is Cory Doctorow. He's got a new book out: Red Team Blues. It's not nearly so batshit as Someone Comes to Town, Someone Leaves Town, and it's not even borderline genre like his Little Brother / Homeland bestsellers. But it'll probably sell at least as many copies.
You already know about Cory; he's one of this century's brightest genre stars. He doesn't just complain about The System, he grapples with it in real life. He has a long history with the Electronic Frontier Foundation. He fights tirelessly against Digital Rights Management, he's a champion of Open Source and Right to Repair and the Creative Commons (my own modest participation in the CC arena merely followed in his footsteps and in his shadow.) He writes manifestos with titles like How to Destroy Surveillance Capitalism. He gives his writing away for free (or did, until Tor put its foot down). Hell, he did a Kickstarter for an indie audiobook edition of Red Team Blues because he reviles Amazon's take on DRM and refuses to play their game.[1]
That's Doctorow the activist. Today we're talking about Doctorow the novelist, who's—well, pretty much the same. His novels don't just tell kick-ass stories; they frequently moonlight as instruction manuals for revolution. That may make them a bit didactic in places, but it doesn't seem to have slowed his ascent any.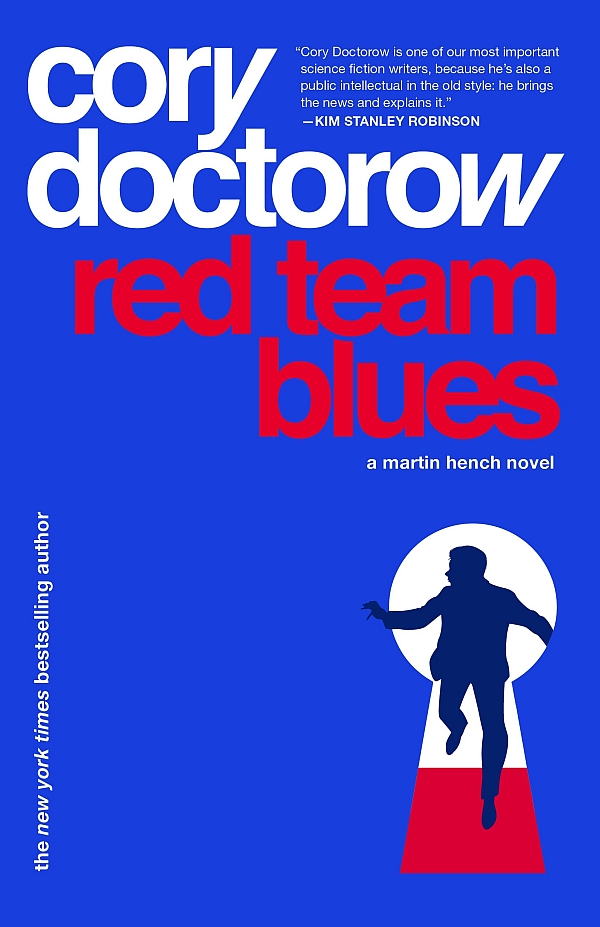 Red Team Blues—set firmly in the present day and containing no sfnal elements—is the first Doctorow novel that doesn't qualify as genre. (It won't be the last; he's already contracted for two others featuring the same protagonist). He seems to be following the same general trajectory that William Gibson did a few years back: science-fiction futures imagined ever-nearer, finally segueing into a Now that still feels like SF. (Although these days, you'd have to try really hard to write a story set in the present that doesn't feel like SF.) In this sense Red Team Blues is Cory's Pattern Recognition, and at least in terms of basic propulsive storytelling I think it's better. PR's Cayce Pollard spends significant chunks of her novel sitting in Moscow cafes, waiting for supporting characters to bring her pieces of the plot. RTB's Martin Hench—well, let's avoid explicit spoilers and just say he's somewhat more proactive, deliberately lighting the fuse for one hell of an explosion at the book's climax (even if it largely takes place offstage).
The villains of Cory's books aren't really people; they're systems. They wear punchable Human faces but those tend to be avatars, mere sock-puppets operated by the institutions that comprise the real baddies. In Little Brother the enemy was the Surveillance State, jacked up and hypertrophied on post-911 paranoia. "Unauthorized Bread" takes on ubiquitous DRM; For the Win ports sweat-shop economics and union busting into digital ecosystems. With Red Team Blues it's Crypto, the paramount tech-bro wet dream of recent years (which would probably still be the paramount tech-bro wet dream if they hadn't all got distracted by chatbots last month). It's your typical Doctorow novel; entertaining, educational, contemptuous of realpolitik and all the greater-good rationalizations our rulers invoke to protect the status quo. It doesn't come with Little Brother's appendix explicitly instructing readers on available countermeasures, but you're not going to finish this book without understanding at least the basics of crypto and its associated dark sides, from security holes to carbon footprints.
Here's the set-up: a new cryptocurrency is taking off in the Valley. An undisclosed back door has been discovered and seized by parties unknown. The whole house of cards is in danger of imminent collapse, taking with it the various little old ladies and mob interests who bought in. Criminals abound, many of them with government IDs. Blood is spilled. Shit gets real.
It's somehow fitting that the guy brought in to clean up the mess—Martin Hench, our protagonist— is a 67-year-old semi-retired forensic accountant who lives in a touring bus and puts out a definite get-off-my-lawn vibe when it comes to these newfangled bottles of snake oil.
If that scares you off—if you're envisioning spreadsheets and green visors and leaden voiceovers detailing Ten Things You Didn't Know About Pivot Tables— breathe easy. This story moves: the first blood-soaked crime scene shows up a mere fifth of the way in. There are a couple of spots, granted, where our humble narrator goes into so much detail about meal prep that you wonder whether he has some kind of sex/food kink. And the actual sex scenes are strictly fade-to-black, which seems a bit anachronistic for 2023 (although not, perhaps, for a 67-year-old semi-retired forensic accountant).
Those are nitpicks, though. If I had a real complaint about Red Team Blues it would be that its cast of characters is so, well— nice. I'm not just talking about our smart, affable hero and his friends, although Hench does crank the Virtue knob to eleven—I mean, what can you say about a guy who goes out of his way to pay as many taxes as he possibly can, just to make a point? (And what does he think the Feds are going to spend all that money on, hmmm?) I'm talking about the people on the opposing team. Sure, Hench's distaste for the Ellisons and Musks of the world is explicit, but the one tech bro we meet face-to-face is basically a good dude whose heart is in the right place; he just made a stupid mistake for benign reasons. The crooked lawyers who make their living laundering mob money take it all in good spirits when our hero makes their lives difficult, offering up grudging respect instead of backlash vendetta. Even the manipulative gummint spook who effectively kidnapped Hench, froze his assets, and held him incommunicado—even he shows up in the last scene to shake hands and mend fences. Certainly, there are irredeemably evil folks in the story—somebody killed all those people in cold blood—but we don't meet them.
I've never fully come to terms with the general decency of Cory's characters. Doctorow the activist lives in the trenches, fighting those who make their billions trading the details of our private lives, telling us that they own what we've bought, surveilling us for the greater good and even greater profits. He's spent more time facing off against the world's powerful assholes than I ever will. He knows how ruthless they are. He knows, first-hand, how much of the world is clenched in their fists. By rights, his stories should make mine look like Broadway musicals.
And yet, Doctorow the Author is—hopeful[2]. The little guys win against overwhelming odds. Dystopias are held at bay. Even the bad guys, in defeat, are less likely to scorch the earth than simply resign with a show of grudging respect for a worthy opponent.
Maybe it's a fundamental difference in outlook. I've always regarded humans as self-glorified mammals, fighting endless and ineffective rearguard against their own brain stems; Cory seems to see us as more influenced by the angels of our better natures. Or maybe—maybe it's not just his plots that are meant to be instructional. Maybe he's deliberately showing us how we could behave as a species, in the same way he shows us how to fuck with DRM or foil face-recognition tech. Maybe it's not that he subscribes to some Pollyanna vision of what we are; maybe he's showing us what we could be.
Even I find it hard to fault the man for that.
---
In the interest of full disclosure, he's also the Number-1 guy who had my back when I was up against the armed capuchins of the US Border Patrol back in 2009. ↑
I almost wrote "an optimist" there, but Cory himself eschews the term. ↑
This entry was posted on Thursday, May 11th, 2023 at 8:28 am and is filed under
ink on art
. You can follow any responses to this entry through the
RSS 2.0
feed. Both comments and pings are currently closed.