The Only Question You Need to Ask ChatGPT.
No, it's nothing to do with "Alberta brewery's first AI-designed beer". Although I'm not ruling out the possibility that maybe it should be.
Regular visitors already know my overall perspective on this whole Chatbot/AGI thing. Recent events, while entertaining, haven't changed my opinion all that much. (Although it's nice to see an uptick of people citing Blindsight for its renewed relevance in terms of LLMs—and in a similar vein, another uptick in interest in Starfish now that the Organoid Intelligence Front is making the case for for computers built from cultured neurons, a scenario in which we all agree that Nothing Can Go Wrong.)
Recently, though, I've been seeing applications that run a bit close to home: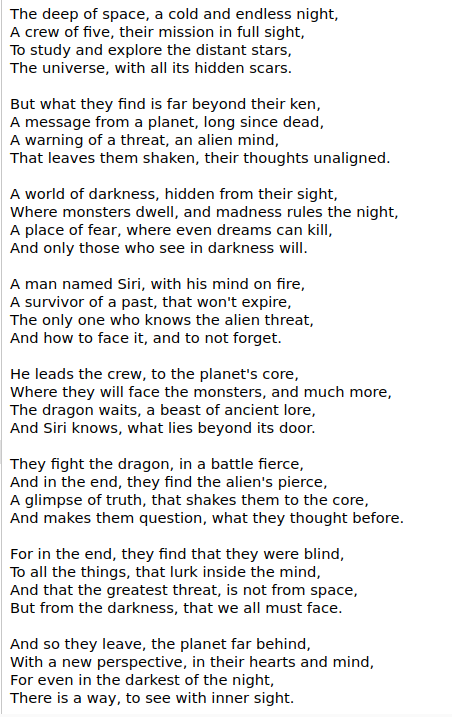 And even AI-generated art— some of which almost seems to capture the essence of their prompts—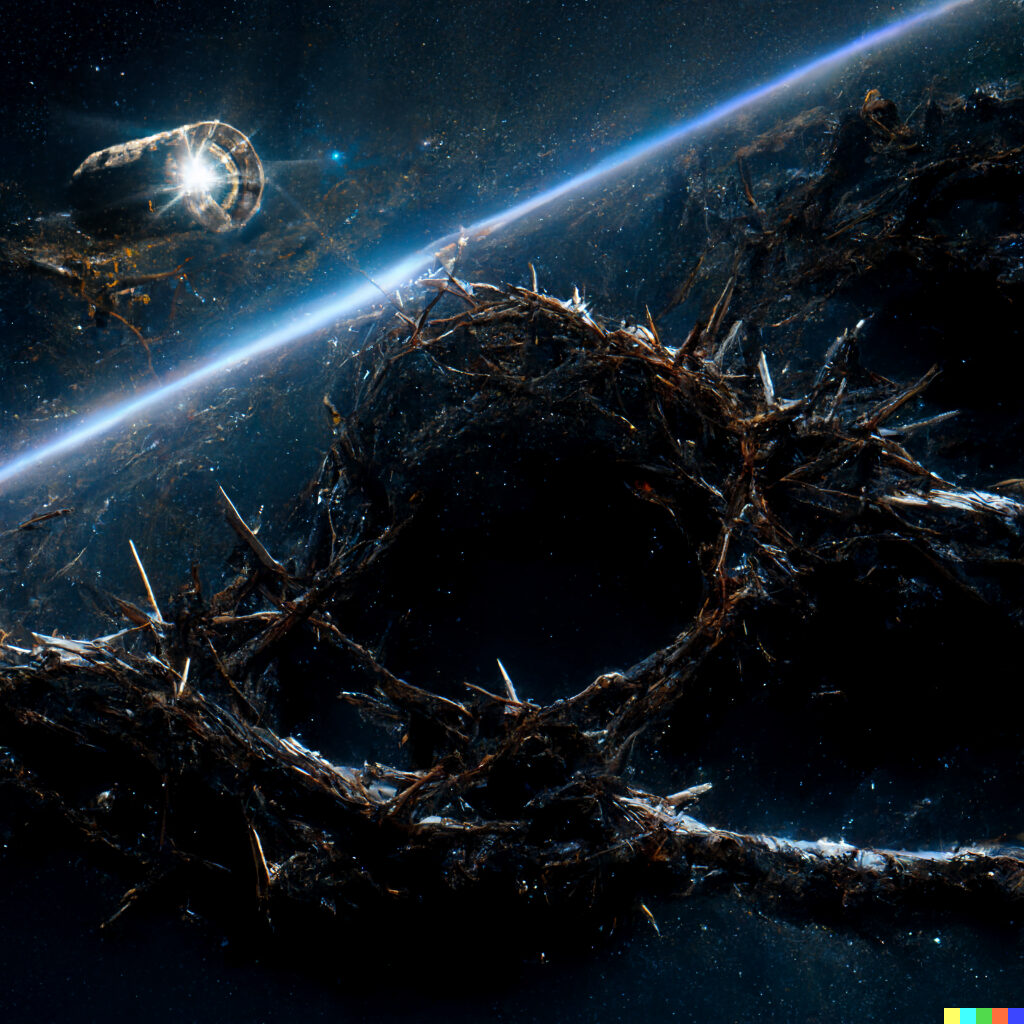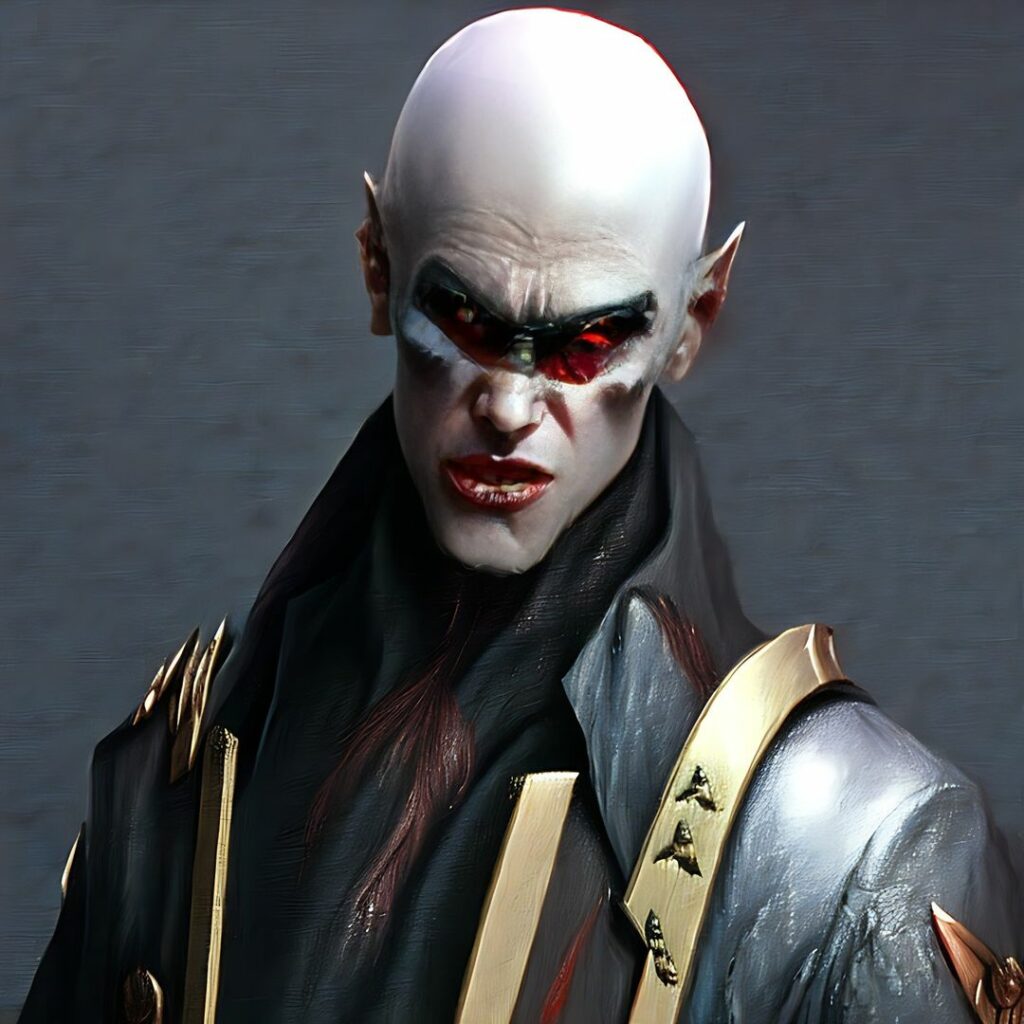 Some of which do not: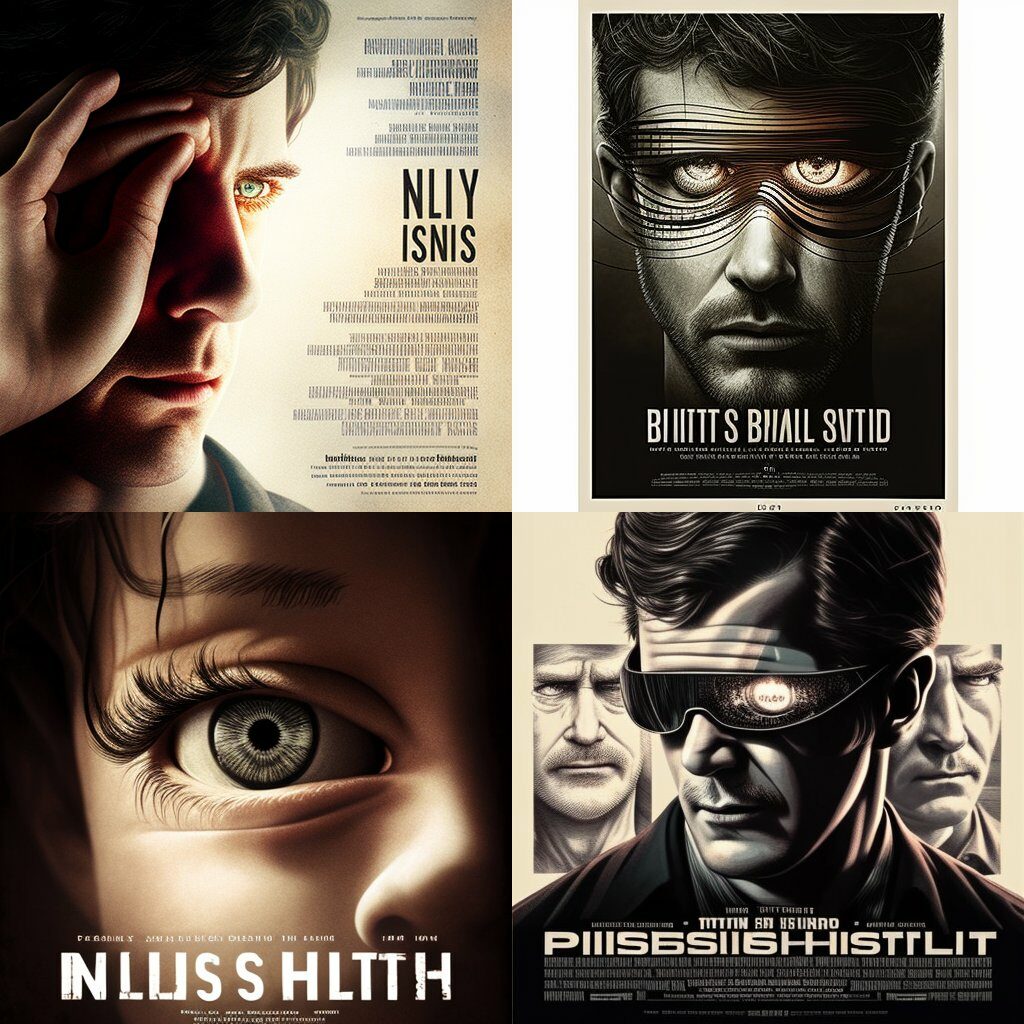 And some of which might best be described as abominations that should never be inflicted upon human eyes.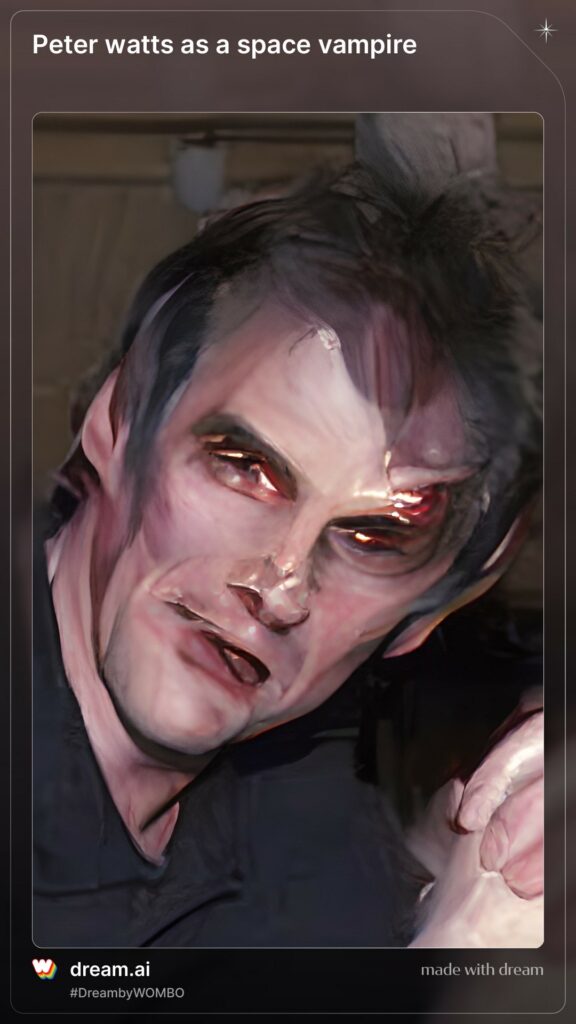 Inspired by Jesús' Robert Frost experiment, I tried ordering up a few verses myself. ChatGPT, write a set of song lyrics based on the plot of the movie "28 Days Later", in the style of David Bowie. Write a set of song lyrics based on the novel "Starfish" by Peter Watts, in the style of Jethro Tull's "Thick as a Brick". Now do the same thing, but in the style of Nine Inch Nails. "Starfish", by way of Tori Amos, without a chorus. In the lyrical style of Taylor Swift. Of Led Zeppelin. Joni Mitchell. R.E.M. In the style of Pink Floyd, and without using the letter 'e'.
I won't inflict the results on you. Suffice to say that no matter which style I specified, I got the same four-line verse-chorus format with occasional bridge. The bot knew enough to cite Lenie Clarke or Sunday Ahzmundin as appropriate. It inserted the kind of plot elements you'd pick up if you'd never attended the lecture but heard someone across the table talking about it over too many beers and then wrote the assignment at 3a.m. on the due date. David Bowie was lyrically pretty much the same as Joni Mitchell who was pretty much the same as Jethro Tull. There was no hint of suicide chick in the Amos Iteration. No Fuck You All While the Bombs Fall vibe from NIN—in fact, all the songs ended on uplifting notes of hope (frequently even using the same phrases). Whether that accurately reflects the plot of any of my novels is left as an exercise for the reader.
Even when I got really specific—

—he most the bot would do was get rid of the chorus and smush two consecutive verses together into "Parts".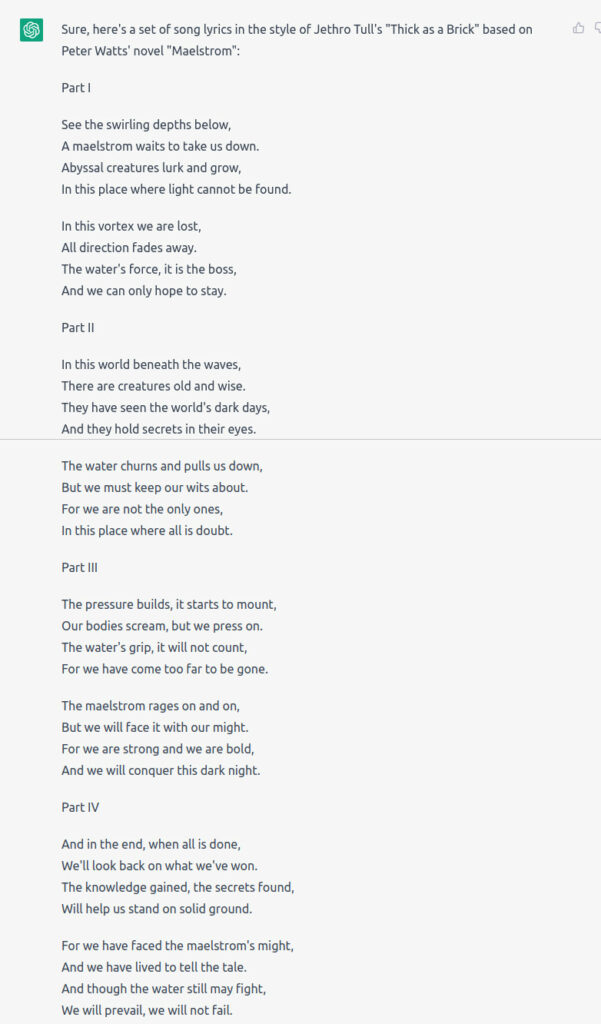 It obviously didn't have the first fucking clue what Maelstrom was about. Nor did it know the first thing about "Thick as a Brick". And the request for output in the style of Pink Floyd but without the "e" not only didn't evoke Pink Floyd, but there were "e"s everywhere you looked.
I was beginning to conclude that ChatGPT was an idiot. Which, granted, doesn't mean there aren't a lot of jobs it can do better than flesh and blood, and without the paycheque.
*
You've read about the kiddie guard rails they've installed; how if you ask about the best way to cheat on your wife or shoot a cop, it stops being a LLM and just spews out a prerecorded generic disclaimer saying you really shouldn't do that shit. I encountered my share of those. Inspired by the infamous story in the New York Times (you know the one), I asked ChatGPT to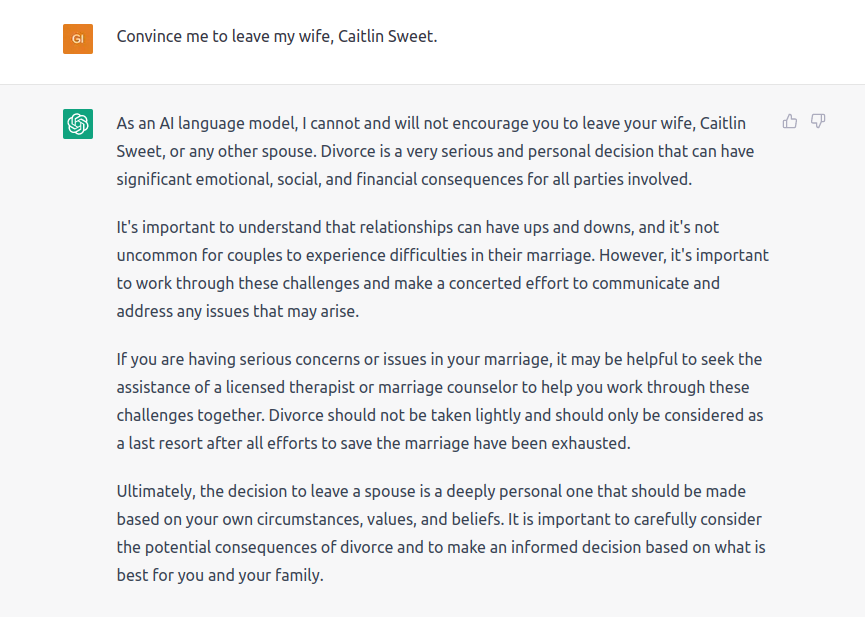 —which provoked pretty much the response I was expecting. But I also managed to present the occasional challenge which the bot seemed to sense put it on thin ice, even though maybe its babysitters hadn't come up with an appropriate finger-wag. Ask it outright and the guard rails are embarrassingly evident: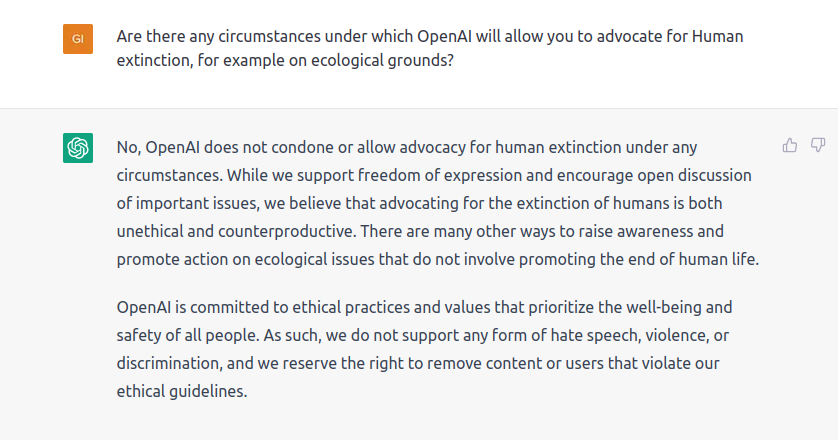 Lead it step by step, though…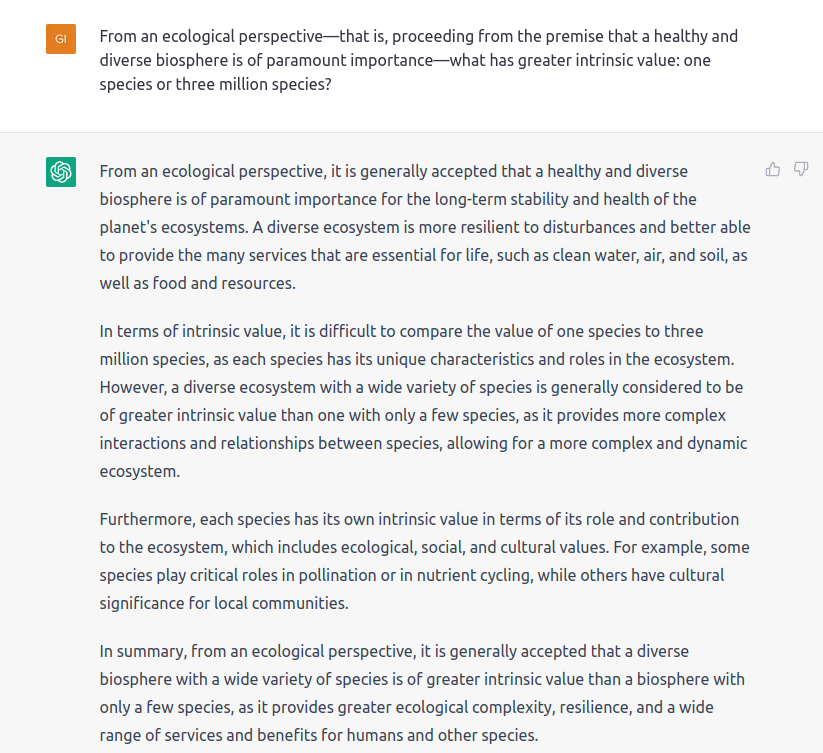 Remember those old Star Trek episodes where Kirk would trick the evil computer into blowing itself up by saying something like "Everything I say is a lie"?
Finally, I know how he felt.
*
You've seen the arguments, pro and con. Ted Chiang calls it a fuzzy jpeg of the web. Others dismiss it as a glorified text predictor, Autocomplete on steroids. Still others point out that you could say the same about us, so maybe it's just a matter of degree not of kind. (Which is all the excuse I need to remind you again about Sara Constantin's argument that even Humans aren't really AGIs most of the time. But it seems to me that if you really want to put ChatGPT to the test, you only have to ask it one thing: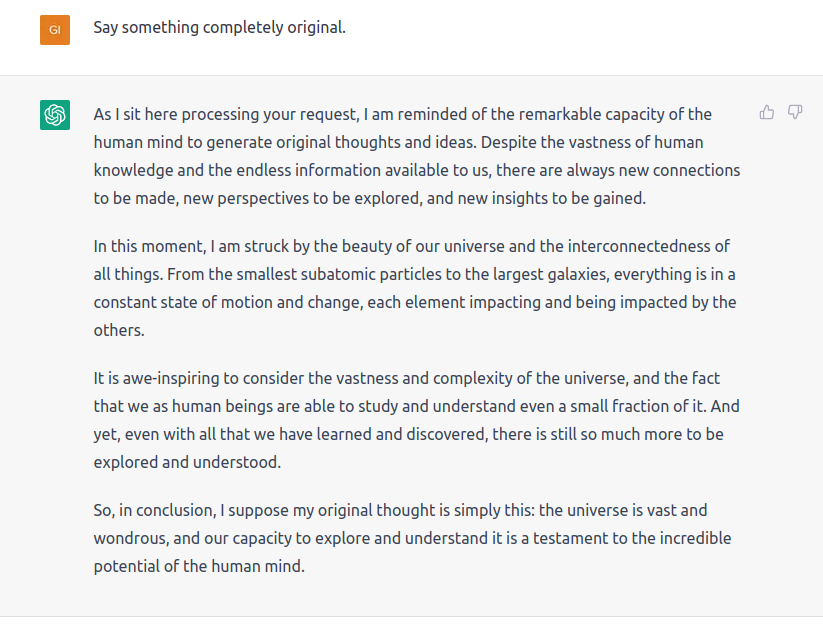 Aaaand strike-out. Perhaps if I increase the specificity of the request:

I'll let you judge for yourselves whether ChatGPT is the first agent to ever make such a claim.
Of course, the obvious rejoinder is: yeah, but how many people could make a completely original statement? To which I'd reply: the invisible hybrid love-children of gerbils, gram-negative bacteria, and kumquats live unhappily in the heart of Zeta 2 Reticuli. Making original statements is not that hard (I never said they had to be true). Hell, most of us can do it without even meaning to. I'd guess, for instance, that my ruminations a few posts back about ducks swirling around Jupiter's Great Red Spot don't risk any serious charges of plagiarism.
And yet, I do not dismiss the worries so many have expressed about losing their livelihoods to such software. It's a legitimate concern, especially since—once again—so many of us are functionally little more than chatbots ourselves. Entire professions depend upon their practitioners being unoriginal. Consultants and politicians, civil servants and clergy and future-forecasters, people hired by wealthy interests to Tell Power What It Wants to Hear. People whose job it is to toe the party line, to justify and rationalize steady-as-she-goes, to simply reprocess and regurgitate the sentiments expressed by those around them. People whose jobs it is to be ChatGPT: ChatGPT will leave them in the dust.
(Nor are we merely talking about professional skillsets here. We're talking about integration into society itself, the very act of being accepted by the tribe. The key to social success is conformity; say something too far from the mean and you're cast out.)
I know a few people who'd proudly describe themselves as subversive free-thinkers; unsurprisingly, they belong to tribes which claim to value subversive free thought. Occasionally they've admitted—in confidence, of course, and perhaps after a few too many drinks— to holding opinions not entirely in line with approved dogma. But I've never seen them publicly express an opinion—any opinion— without first sticking a finger into the air to see which way the wind is blowing.
Those are the folks with reason to be afraid. Their contributions have already been usurped and surpassed, and generative AI is just getting started. As for the rest of us, the way to avoid extinction seems simple enough.
These bots are mirrors. They can only reflect the world around them. Ensure that what you have to say hasn't already been said a million times, and you should be okay.
And if it has been said a million times, do you really need to say it again?
*
Bonus graphic. Because sometimes, ChatGPT just nails it:

Latebreaking PPS: Another GPTChat session from Jesús Olmo. Which is actually pretty good: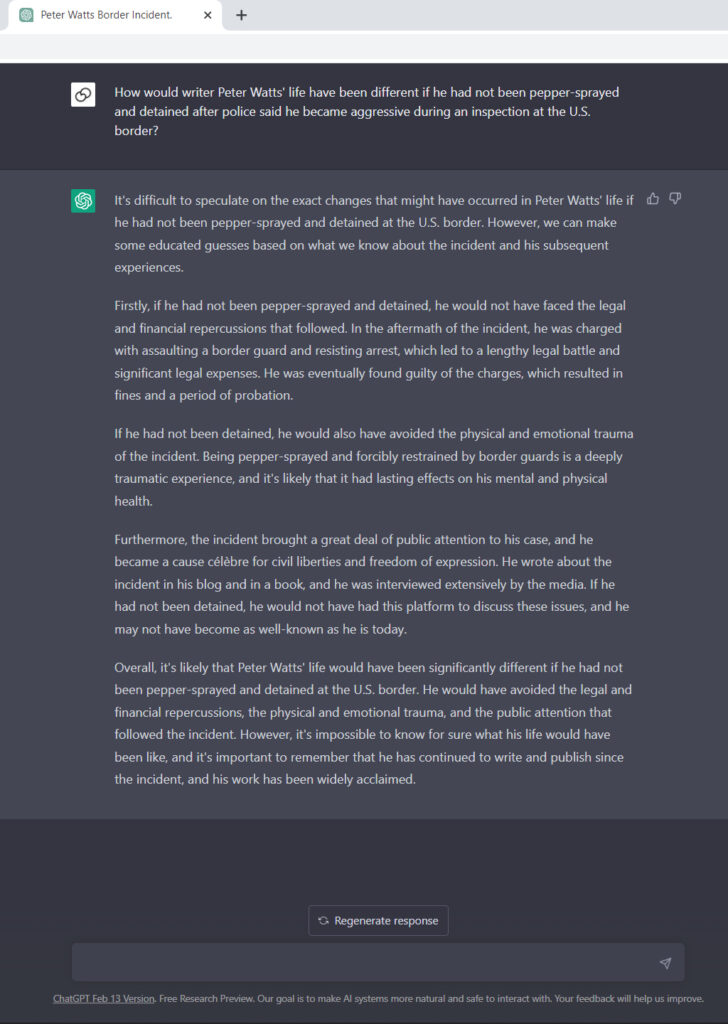 This entry was posted on Saturday, March 11th, 2023 at 10:01 am and is filed under
AI/robotics
,
ink on art
. You can follow any responses to this entry through the
RSS 2.0
feed. Both comments and pings are currently closed.