The Big Orange Guy.
Or "Beloved Old Goof". Or "Barrel O'Greatness". Or even "God" in Russian, at least so I've been told. His name was BOG, but it meant many things to many people.
Note the past tense. Fuck I hate writing these things.
I introduced you all to him back in 2012, when half his fur was clear-cut and he was covered in scabs. I think I may have described him as "one of the homeliest mammals in all of southern Ontario". He came by his scars honestly: first spotted as a full-grown adult, living rough in an abandoned car for eight years before he started doing so badly that some kindly do-gooders trapped him and started him on the road to retirement.
We still had a huge Banana-shaped hole in the Magic Bungalow but of course someone passed his stats on to the BUG, and the Meez laid out the most logical argument her 12-year-old brain could muster, and we drove across town "just for a look" but somehow a cat carrier ended up in the car with us and we would've looked really dumb if we'd driven it all that way and never even used it.
But God he was a mess.
Peppered with scabs, half his fur shaved off, several teeth rotted away and the rest in need of immediate extraction. He had congenital micropthalmia: his eyeballs were the right size, but the slits they looked out through were too small. Worse, his eyelids were kind of folded down and around, so fur scratched BOG's corneas every time he blinked. For over a decade he'd looked out upon the world through squinty, lacerated, running eyes. They had been hurting him his whole life.
We fixed that, along with everything else. There was nothing anyone could do about the width of the eyelids—BOG was going to be saddled with squinty mole-eyes for the rest of his life—but we could at least get their edges rolled back up so nothing touched those tortured orbs but tears and tissue. (It's not your average veterinary procedure; fortunately Julia Hammond, who was working at Kato Animal Hospital back then, knew those ropes. She was awesome.) It was a pretty invasive procedure, and BOG was even homelier than normal during his convalescence. But The BOG abides.
And judging by his behavior post-op, the drugs were great.
*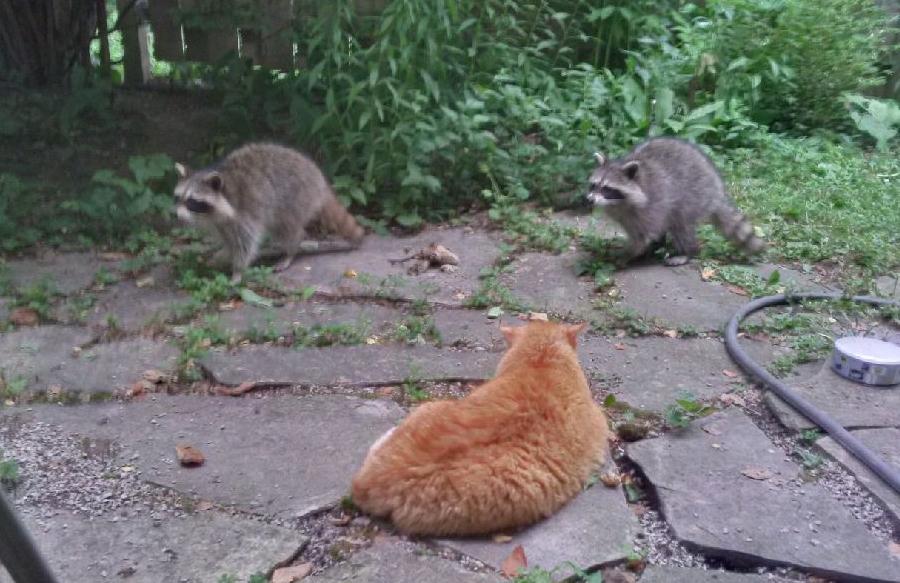 He never did grow into any kind of looker, but over the years he bulked out and developed into a being that exemplified both quiet dignity and unmitigated goofiness. In a bungalow where half the residents always seemed to be hissing and spitting at the other half (not to mention the cats themselves), he was a gentle orange paw of moderation. Taking his rightful place at our side while we worked, he would place a quelling paw on our mouse hands when he thought we were working too hard; if that wasn't sufficient, he would wrap his paws around our wrists and force us to type one-handed. The click click click of his claws on hardwood preceded his welcome entrance into any room. No great beauty, he nonetheless instantly won the hearts of all who met him. More than one visitor to the Magic Bungalow looked down at those squinty eyes and that increasingly-tottery frame and uttered the words—almost a mantra: "That cat has seen some things." His profile expanded into the public sphere when I incorporated him into my official author photo back in 2017; it peaked just last month, when he appeared in a glossy German culture/fashion magazine with two hot chicks making out on the cover.
When the work day was over he'd join the rest of us on the bed for salmon, sushi or feta (depending on the night's menu), and snooze while The BUG and I watched the latest episode of whatever had caught our eye on Netflix or Soap2Day. Should some disturbance awaken him—a tussle amongst the junior members of the Gang of Fur, unauthorized movement among the can openers— he would lift his head, survey the tableau, and heave a world-weary sigh before going back to sleep.
Those sighs were one of his trademarks. They conveyed a sense of wisdom that, honestly, BOG probably didn't have in great abundance. But perhaps he was thinking back to all those years spent in his junkyard, the freezing cold and the scorching heat, the frostbite and the pain in his mouth and the lacerated eyes that had just been The Way Things Are from the day he was born. The tum that went empty far too often. Perhaps he was comparing that to this new life, where there was no pain and scritches on demand, where all he had to do to get fed was to sit next to his bowl looking needy.
Maybe a world-weary sigh. Maybe just a sigh of contentment.
The staff down at Kato's would battle to the death for the privilege of tending BOG's needs when we brought him in; I heard at least one of them describe him as "a legend". He sailed through those checkups with flying colors. In recent years each veterinary transcript came with its own formulaic caveat tacked on to the end—given his current age and condition there is a 95% chance that BOG will develop kidney disease within the next year— but he never did.
There's an irony in this that stretches over a decade. Back in 2012 Toronto Cat Rescue initially refused our adoption request because we were already a multi-cat household, and they didn't think an FIV-positive cat would do well with us. (They changed their minds after I pointed them to my eulogy for Banana. Can I write, or what?) Since then, we've watched younger cats with healthier backstories succumb (another of ours is suffering from kidney disease right now) while BOG, with his micropthalmia and tooth rot and FIV, just kept on ticking. He beat every odd, surmounted every travail with supreme unbroken chill. He was the best kind of outlier: a statistical anomaly sheathed in orange fur.
Honestly, I was starting to think he'd live forever.
*
BOG spent his retirement soaking up the love of every adoring Human he ever met, of course; but it wasn't until quite late that he experienced the love of his own kind. We found Doofus abandoned under a bleacher in the winter of 2021. We took him in. We made a few token efforts to locate his Human, on the off chance that he'd somehow escaped from a loving home and not just been ditched by some heartless asshole. We adopted him.
BOG and Doofus bonded instantly. After almost two decades, BOG had a soulmate. Or a gay sex partner. Or a cuddle buddy. Something, anyway, that he'd never had before. We couldn't stop watching.
It wasn't a perfect relationship. It got rough sometimes. BOG was twenty years old, Doofus was barely over one, and all too often the mutual grooming sessions would get a little too vigorous and a little too violent and suddenly it would be wrestlemania all down the hall. Doofus would never heed BOG's safe word ("wrrrOWrrr"). Sometimes we had to step in, or lure Doofus away with the Red Dot.
BOG always came back, though. He'd click-click-click up to Doofus lying in a sunbeam, start licking his face no matter how rough the previous session had been. BOG was always asking for it.
*
He first died a few months ago. Think of it as a dress rehearsal.
The setting was the same: BOG asleep in the middle of the bed, me asleep on one side, the BUG on the other. "Squid" she said, "I think BOG's dead…" and of course I was instantly awake and there he was between us, limp as a rag, utterly unresponsive. This was no deep sleep; BOG always reacted when touched, squirmed or purred or at least flicked an ear in his sleep. This time there was—nothing. I lifted his head, let it go; it dropped back onto the mattress as if his neck had been broken. His paws drooped, utterly limp. I could see no chest movement.
We had just enough time to give some kind of thanks that this was the best death we could have ever hoped for—peaceful, oblivious, in his sleep— before we saw the slightest catch of breath. Okay, not dead yet, I realized, but dying. He's almost gone. He's almost gone.
But the next breath was stronger. The one after that was almost normal. And then he opened his eyes, and stretched, and purred. Five minutes later it was as if nothing had happened.
We never did get a clue as to what had happened, what had put him into that boneless coma, how he'd come out of it. The BUG joked that we'd watched him switching one life for another (cats have nine of them, right?). At the time, it made as much sense as anything else.
Really, all we felt was a relief so deep it bordered on sickness. Of course it would have been the best possible death. Of course he'd lived a long life against great odds, and the last half of it at least had been Cat Utopia. In the moment, though, that didn't matter much.
We just weren't ready to let him go.
This is a video, not a still. Just in case your mouse hasn't highlighted the Play controls.
*
He was a frail old thing by now: at least twenty-one years old, probably more depending on how much time he'd spent as an adult before someone noticed him and started keeping an eye out. In human terms that's 102. Older.
There was a time when he'd roam the back forty like a tiny lion, leap from patio stones to bedroom windowsill and back down with the best of them. This last year, though, he could barely climb onto the bed without help (we positioned an ottoman he could use as a step at at the foot of the bed). When we worked on the couch he wanted desperately to join us there, but the effort it cost him to get up on his own grew increasingly out of reach. Most of the time he would just stare woefully at us until we hoisted him up ourselves. He would sometimes grow concerned when we went downstairs to shower— we'd turn off the taps and draw back the curtain only to see him sitting in the door, mrowring piteously at his abandonment—but while he always managed to make it down the stairs we never had the heart to force him to follow us back up on his own steam. He could scale those heights if he had to, but he'd obviously been so traumatized by the ten minutes we'd been out of his sight that we didn't want to add to his burden.
We carried him around a lot, is what I'm saying. We didn't want to wear him out. So when he tried to climb down off the couch on Monday and his legs splayed every which way, we didn't think much of it. We comforted him and helped him up even as we laughed at the slapstick face-plant. He was just old. His appetite remained insatiable, he continued to shit things the size of redwoods that stank up the whole neighborhood. He was a healthy old guy.
But just a few hours later, curled up on the bed, he raised his head and started looking around as though seeing ghosts. He stood up, stumbled, cried out. Drooled a little. We gave him pats and reassurance; he calmed down, settled back to sleep. The BUG and I looked at each other, not as concerned as we should have been. A bad dream, maybe.
Then again in the middle of the night. More spastic activity, more cries. Strings of drool, this time. Again, it passed.
The next day we brought him in to the vet. They fawned as usual, took blood to test for everything from liver health to toxoplasmosis. Could be end-stage kidney disease, Dr. Kato suggested, but didn't think that was especially likely; BOG didn't have any of the other symptoms we'd seen in kidney cats (with whom we've had, I might have mentioned, far too much prior experience).
Maybe a brain tumor, Kato said. We talked about MRIs and brain surgery—we wanted to map out the territory ahead— but one step at a time. Blood work first. Eliminate the obvious stuff. There'd be time to contemplate more radical measures if we had to. After all, whatever this was, the symptoms were barely a day old.
Six hours later someone pumped fifty thousand volts through BOG's body.
That's the best way I can describe it. As always, on the bed between us as we watched TV. Paws of Need wrapped around my arm. Sudden wakefulness, sudden spastic motion. BOG hauls himself to his feet, drooling. Looks frantically around as though being accosted on all sides by hungry predators. His mouth starts to snap open closed open closed open closed. He topples and writhes. We try to hold him, calm him down (how fucking stupid that looks in hindsight); he pisses all over the bed. We set him thrashing on the floor. He's dying, of course he's dying, this is just like what happened to Banana, there's no way he's coming back from this…
And then he goes still, and we think That's it. He's gone.
And then he wakes up, and drools, and licks my hand. And for a moment or two I can think back to that time he swapped out lives, and think maybe this is like that. Maybe it's a one-off.
Bundle BOG into a carrier, commandeer a Zipcar, break the local speed limit traveling north into furthest Scarberia, out into the boons where an emergency veterinary hospital is open 24/7 for things like this. There are people ahead of us at the front desk; the receptionist takes one look at BOG and moves us to the front of the line. They take him backstage; we stay behind in the waiting room, where some shrunken yappy thing whose ancestors were once dogs snaps and yips incessantly. I resist the urge to punt it into the fucking wall, despite the fact that it's not even visibly sick; some narcissistic asshole from Rosedale probably just brought it here to harass the scared and the grief-stricken.
The vet invites us into a small examination room. It's been maybe five minutes. You know it's never good for the accused when the jury finishes deliberating that quickly.
It's not. These guys are talking brain tumor too. Apparently that's common when cats reach a certain age, and in cat terms BOG's a centenarian. I guess it makes sense. Every cell division is a dice roll, an event with some miniscule chance of a copy error. Those odds are so remote that even when you're seven or eight years old, the cumulative probability of coming up cancer is pretty low; but after a couple of decades it would be amazing if some bit of tissue hadn't rolled snake-eyes at least once. Part of me dwells on questions and ramifications; why the brain, preferentially? Is it just cats, or do human brains start sprouting tumors when they get too old? If not, why not? Everybody's cells divide, every metazoan should be vulnerable to the same relentless probabilities.
I think on these questions but I don't voice them because I don't really give a shit. This is just my own brain, clapping hands over years and humming really loud la la la I can't hear you.
Brain tumor. Common in older cats. Often completely asymptomatic until they pass some kind of tipping point and start pushing on the circuitry.
Can't be sure without an MRI. But an MRI could easily kill him, because BOG is very old and might not survive the general anesthesia. There's an MRI on site, but it's fully booked into the foreseeable future. They can refer us to another hospital with an MRI, but there are only a few of them and none are open at one in the morning and they all have their own waiting lists. It's gonna be days at best, maybe weeks.
Brain surgery an option in theory. But you'd need the MRI first, and if he survived that he'd be up against a double whammy of another general combined with people cutting into his brain, then a triple whammy given the question of whether an immunocompromised twenty-one-plus-year-old cat would be able to convalesce post-op.
What if we just took him home? BOG's only been having seizures for a couple of days; they have progressed, in a mere 55 hours, from barely noticeable to catastrophic. He's had at least three in the past 24 hours; the vet opines that going forward they will be "more frequent and more severe". It's hard to imagine a seizure more severe than the one BOG has just experienced: maybe around breakfast, maybe a few hours from now, maybe a few minutes. Maybe in the car as we drive him home.
In all this time, nobody has uttered the phrase "kill him". So I do: "that's basically what you're suggesting, isn't it? That's your advice." But of course it isn't. I'm pretty sure vets are trained to never advise a course of action, at least not that course of action[1]. They just lay out the scenarios. They just describe the possible consequences at the end of each road. All the horrible decisions you have to make yourself. Nobody with a stethoscope is likely to lighten that load for you.
The BUG and I converse in private. She doesn't want to use the K word either, but for all the warm fuzziness of her huge unicornian heart she thinks it's the most merciful option. On some level I probably do too but I can't admit it yet. I'm too worried that we say we should end his suffering when we really mean he's not worth the expense. I keep weighing Heroic measures that will likely kill him against a needle that definitely and deliberately will. I try—for oh fuck, so very not the first time—to figure out if a little more life spent in pain is still better than no life at all, and come up empty.
And finally I say Okay, we'll kill him, and I still don't know if the reasons are righteous. But they bring him in after a while, the needle already taped to his leg. He's swaddled in a blanket; he's awake; maybe he's purring (I can't remember; I think maybe). I'm pretty sure he knows us. We scritch him and talk to him. The Meez (who's been getting updates via text) videos in from Newfoundland and says goodbye between sobs. The vet injects a sedative into the tube. BOG lifts his head a little, and heaves one last world-weary sigh, and peacefully loses consciousness.
All the way back home I'm thinking about that sigh. It was so normal; it was so BOG. It was not the act of a dying creature wracked by seizures and tumors. It was a contented old cat lying in bed at home, maybe a bit tuckered out after a mutual grooming session with Doofus, his tum full of Lamborghini and ready for a good night's sleep.
And we killed him.
And I know I should be grateful for such a peaceful death. How many times have the BUG and I said we hoped he'd die like that, peacefully, in his sleep? Violent seizures and a sterile veterinary office were never part of that scenario, granted. We were hoping that when he died, he'd die in bed between us without even knowing it. The way we'd all rehearsed it. But this came close. That sigh; it's made us smile so many times over the years. It was BOG, The Cat Who's Seen Some Things, snoozing in contentment.
And maybe it was BOG feeling better after a very rough couple of days. Maybe it was BOG on the mend. Sure the vet said tumor, and more often, and progressively worse but we never even did an MRI. We don't know.
After I got home I went online and found out about radiation therapy and chemo for cats; nobody we'd spoken to had even mentioned those as options. And there are the headlines, there's the clickbait, there are the pull quotes—Surgery often best option, Cat Bounces Back After Brain Surgery, palliative measure can extend life by several months— and all I can think is we didn't even try.
His food bowl no longer sits in front of the cookware drawer; I don't have to wait until he's finished snarfing before I can put away the frying pan. There's not nearly as much pee to scoop out of the litter box; the shit in there is smaller and way less stinky. I don't need to wake up and spin uncomfortably in place when my body tires of sleeping on one side or the other; I can just roll over now, without worrying about crushing the scruffy orange bed-hog at my side. It takes 20% less time to feed everyone. Twenty percent fewer hairballs and regurgitated kibble to scrub off the carpet. We're gonna save a fortune on vet bills and specialty cat food.
And after all, twenty one. A hundred and two cat years old, probably more. We gave him a good life, he hit the jackpot when we took him in.
He had to go sometime. Only jellyfish live forever.
It still feels like such a raw fucking deal.
---
They used to. Back in the eighties I knew a couple of vets who'd advise euthanasia if someone's pet caught a fucking cold. Maybe they went into the field out of pure sociopathic sadism. ↑