John Carpenter's "Planaria": or, The New Individualism
Sometimes you run into a concept that completely rewires your outlook.
It happened for me back in the eighties, when I encountered the definition of "Life" in Dawkins' The Blind Watchmaker: "Information, shaped by natural selection". That concise distillation—an actual description of what life is, as opposed to all those tired and exception-prone checklists that only talk about what life does— told me that you didn't have to be squishy to be alive, you didn't even have to have physical substance. It told me that carbon and silicon were just platforms, that a piece of software could be not just metaphorically but literally alive under the right circumstances. That single insight informed half a trilogy.
It happened again back in 2008 when I encountered Pepper et al's paper on Somatic Evolution, a paper that posed a question mindbogglingly obvious in hindsight, but which had never occurred to me: how can multicellular life evolve in the presence of Darwinian processes that should, by rights, turn every individual cell against its neighbors in a competition for resources? Why isn't every somatic cell in it for themselves, why doesn't all multicellular life devolve into cancer? That particular question ultimately gave you "The Things". You're welcome.
And now, once again: a bolt from the blue that (for me at least) redefines the word "individual" in a way that could almost be a deliberate response to Pepper et al. An individual— an organism— is
"a living system maintaining both a higher level of internal cooperation and a lower level of internal conflict than either its components or any larger systems of which it is a component."
What we have here is a definition that not only acknowledges the issue of cellular competition within the individual, but which is actually based upon it.
Here's a corollary, which elevates us from the perspective of the individual to the shaping of entire populations:
"The major evolutionary transitions, including those from prokaryotes to eukaryotes and from free-living cells to multicellularity, all increase the scale over which cooperative interactions dominate competitive interactions."
Personally I think that's a bit clunky: I'd have just said symbiosis increases with complexity; antagonism diminishes[1]. However you put it, it provides an evolutionary rationale for the emergence of hive minds: competition waning between individuals the same way it did between cells, cooperation waxing, as individuals fuse to become a single superorganism. Put it that way and hive minds seem almost an inevitable next step, on the off chance that extinction doesn't happen first.
I found those little gems of insight quoted in a 2018 paper from Fields and Levin. They weren't talking about hive minds, of course. They were talking about something far more down to earth: those humble, endearingly cross-eyed little flatworms everybody learns about in first-year biology. You know: Planarians. Dugesia et al.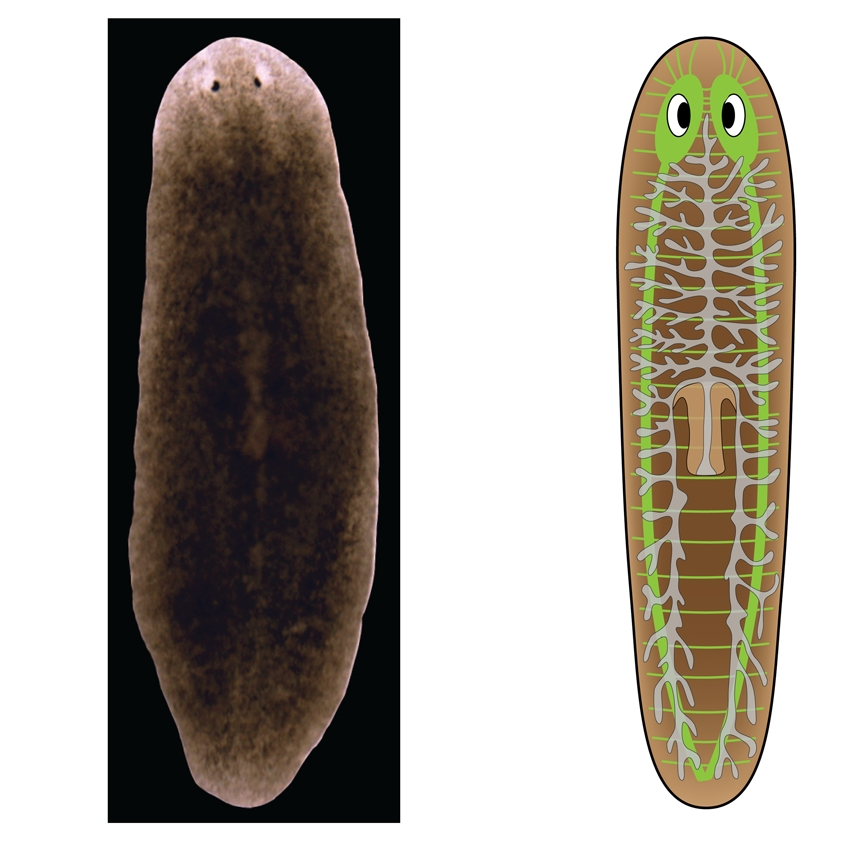 Except, if this paper is right, they're not exactly worms. They're not even individuals. What they are is habitats: cellular substrates containing individuals. Individuals who may not even like each other very much.
There are these things called neoblasts—stem cells, basically. They only comprise about 20% of any given planaria, but they're the ones that keep the whole worm running. A single neoblast can build an entire worm from scratch; they not only produce new neoblasts but they also give rise to the other cells that comprise the remaining eighty percent of the body. Those guys don't even divide; they're perennially post-mitotic, they just kind of sit there being muscle fibers or digestive cells or neuroconductors for a week or so before dying off. (Fields and Levin compare them to the sterile workers in insect hives; the queens in that scenario being, of course, the neoblasts themselves.)
Also—and this is especially wild—genetically-different neoblast lineages can be found in the same planarian body. Turns out the genes tend to mix it up at wound sites: neoblasts and non-neoblasts exchange genes during wound repair, which changes the gene frequencies (not to mention sharing any mutations which have turned up along the way), effectively forging new lineages. Further, asexual reproduction in planaria is a form of self-inflicted wounding: the worm literally rips itself in two, each piece subsequently regenerating into a whole worm. So neoblast lineages diverge, both during reproduction and repair. You end up with gangs of neoblasts—tribes, if you will—whose members are bound to each other by genetic similarity and put at competitive odds with less-similar neoblast populations living in the same body.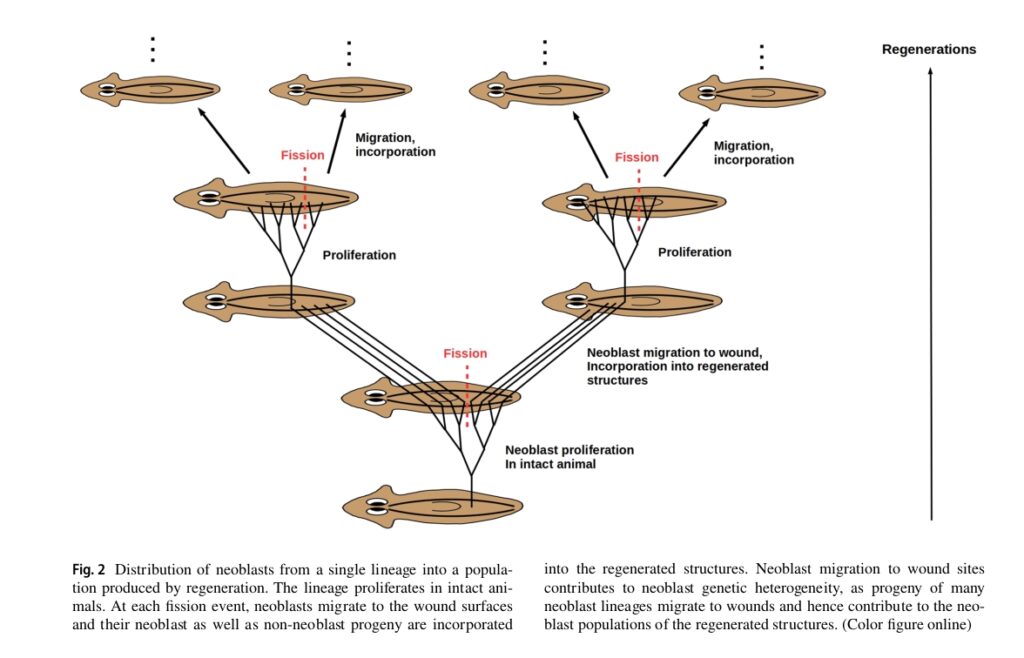 I've been focusing on asexual reproduction, but there are also planarian species that reproduce sexually. And here's an interesting factoid: you can sexualize an asexual planarian by feeding it a sexual one. Or cut out the cannibalistic middleman and just inject neoblasts from a sexual worm directly into an asexual one. They'll move right in, take over, sexualize the territory.
So. Neoblasts are Immortal. Autonomous. Mobile. Genetically distinct. Neoblasts are, in other words, a system which maintains a higher level of internal cooperation and a lower level of internal conflict than either its components or the larger system of which it is a component (i.e., the worm entire).
There are quantifiers, of course. It wouldn't be science if you couldn't hang numbers off it. The paper cites Hamilton's Rule, invokes "zygotic bottlenecks", describes a model which simulates a day in the life of Joe Neoblast. But the conclusion, the point, is that planarians are not the organism here. Neoblasts—in their competing tribes— are the organisms, the individuals. The worm is merely the niche they happen to be fighting over. The worm is not an individual but an environment, highly complex, constructed by neoblasts out of their own "reproductively incompetent progeny". Maybe it's just me (I am also, after all, reproductively incompetent), but I find this a profoundly exciting thought.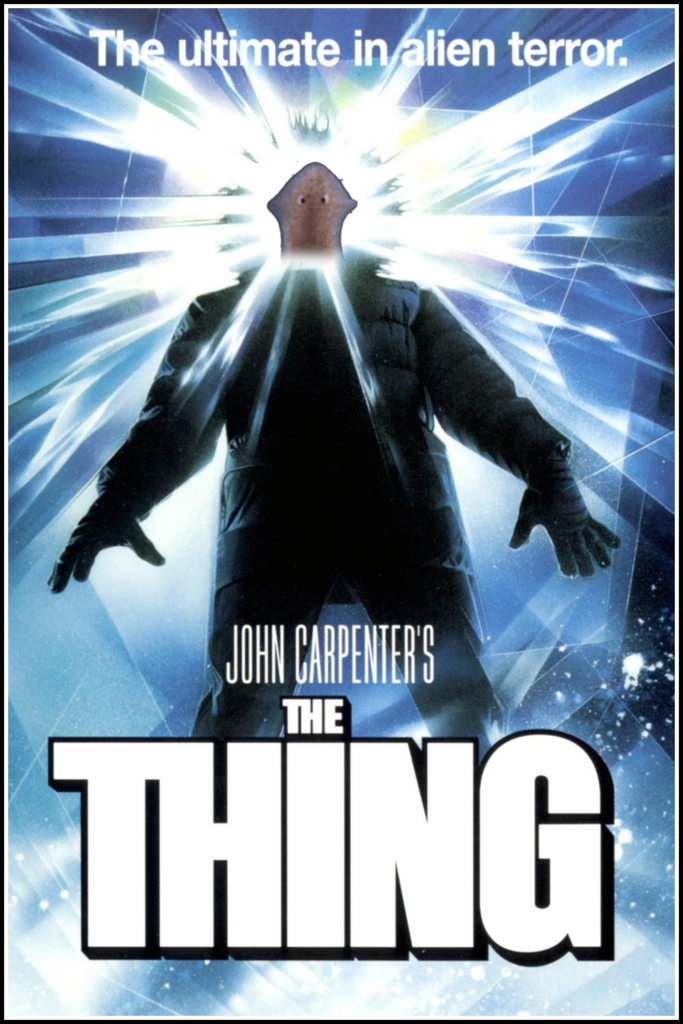 And I haven't even mentioned somatic mutations, bioelectrical fields that supersede genetic codes, two-headed and headless variants that persist from one generation to the next even though the genes themselves have not been edited. Fields and Levins invoke all that stuff. But for me, their radical conclusions regarding individuality are especially resonant in the context of John Carpenter's classic "The Thing". So much of planarian biology seems, paradoxically, both alien and familiar. The ability to grow new morphological features independent of genetic code. A single particle able to regenerate an entire organism ("We should each prepare our own food. And I suggest we only eat out of cans."). Even the alien's Achilles' heel, the competing agendas of different groups of neoblasts ("Blood from one of you Things won't obey when it's attacked. It'll try and survive—crawl away from a hot needle, say.")
It all fits.
Canonically, The Thing came from outer space. But maybe that's not where we should have been looking all this time.
Maybe we should have been looking at the puddles under our own feet.
---
Admittedly the last two words are redundant, but I don't want to lose sight of the idea that antagonist process do persist to some extent. ↑