Cancer, For the Greater Good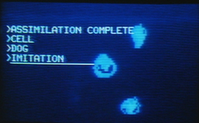 One of my favorite monster movies of all time has got to be John Carpenter's 1982 remake of "The Thing". It's not a perfect film by any means – there are some gaffes with the rubber fx, and if eighties-era PCs ever came preloaded with software to test whether your buddies had been taken over by shapeshifting aliens, I never saw it. (A shame. Back then I would've bought something like that in a second. These days, it's pretty much redundant.) Still, "The Thing" is one of the few movies of its type in which the Human cast isn't as dumb as a sack of Huckabees. Nobody wanders off after the ship's cat all by themselves. The moment they figure out what they're up against they burn everything that moves, start thinking about serological detection methods, and keep really close watch on each other. It's an effective study in paranoia, starring an alien that not only squirts slime and sprouts tentacles, but actually proves to be quite a bit more intelligent than the humans it preys upon. (As one might expect from a creature with interstellar technology. Am I the only one bothered by the fact that the monster in the Howard Hawkes original never did anything smarter than just kinda flailing around and roaring?) Even at the scorched-earth end of the story, you're never really sure who won.
Then there's the biology.
It's actually not as totally whacked-out as you may think. Granted, anything able to morph between body plans in the time it takes me to snarf an Egg McMuffin would have to have stores of cellular energy verging on the nuclear. (Jeff Goldblum's gradual, donut-powered transformation in "The Fly" was a lot more believable – although why those telepods got all confused at the presence of fly DNA, when they didn't seem to bat a diode at the bacteria seething on every square micron of both fly and human, remains an open question. But I digress.) Still, if you can forgive the ridiculously fast transformation, the idea of an infectious agent retooling infected cells for its own purposes is old news. Viruses have been doing it for billions on years.
Now we are too. Synthetic Life's current rock star, J. Craig Venter, is all over the lit with his artifical chromosomes and Swiss-Army cells: build a cellular chassis that carries the basic instruction set necessary for metabolism, and then top it off with genes to produce whatever you're after this week. Before long, Venter's Vats (and only Venter's vats, if the patents go through) will be churning out great masses of everything from Nutripon to Biogasoline.
But more interesting, to me, is this recent paper out of PloS Computational Biology on "Somatic Evolution"— i.e., the classic Darwinian struggle for existence among the cells of a single tissue in a single organism. And why shouldn't the rules of natural selection apply to cells as well as their owners? The cells in your liver exist in a habitat with limited food, just like populations of multicellular creatures. They jostle up against others like themselves who have their eye on the same nutrients. Given a mutation that allowed one such cell to outcompete its siblings — faster reproductive rate, lower mortality — wouldn't its offspring kick the asses of the competition? Wouldn't the whole tissue, the whole organ, evolve into something new, something where every cell was out for itself, something like —
—Well, cancer, obviously.
Don't bother pointing out the obvious. Yes, if our cells did follow the beat of their own drummer, multicellularity would never have evolved in the first place. But that's circular; there's nothing in the rules that says multicellularity had to evolve, and logically Darwin's hand should be felt down in the blood as well as out on the savannah. Something must have suppressed those processes at the cellular level before metazoans could arise; that's what this paper is about.
But now I'm thinking on a tangent. I remember our old friends the scramblers, and how it was possible for them to evolve without genes:
"I'd swear half the immune system is actively targetting the other half. It's not just the immune system, either. Parts of the nervous system seem to be trying to, well, hack each other. I think they evolve intraorganismally, as insane as that sounds. The whole organism's at war with itself on the tissue level, it's got some kind of cellular Red Queen thing happening. Like setting up a colony of interacting tumors, and counting on fierce competition to keep any one of them from getting out of hand. Seems to serve the same role as sex and mutation does for us."
And I remember MacReady in Carpenter's film, after Norris split into several different pieces to keep from burning alive, internalising the take-home lesson:
"Every part of him was a whole. Every little piece was an individual animal with a built-in desire to protect its own life. Y'see, when a man bleeds… it's just tissue. But blood from one of you things won't obey when it's attacked. It'll try and survive. Crawl away from a hot needle, say…"
Cancer, for the greater good.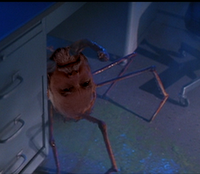 Maybe that's where people and scramblers and MacReady-battling Things went their separate ways. We tamed our inner battles using stem cells and transient cells and differentiated tissues, just like Pepper et al. hypothesise. But maybe other worlds spawned other answers. Maybe whatever alien slime mold gave rise to our Antarctic shapeshifter decided to go with the whole cell-competition thing, decided to make it a solution instead of a problem. Maybe that's how all those cells remain totipotent even in the adult animal; or maybe some tentacle-whipping alien J. Craig Venter just figured out how to go back and retrofit his species for optimal adaptability and maximum profit. Of course they could do it, even if they didn't evolve that way. They built flying saucers, for Chrissakes. They were crossing the interstellar gulf before we'd even made it out of Africa. What better failsafe for lost and stranded travellers than to be able to take your cue from the natives, slip into a new body precustomised for its environment?
I read "Who Goes There" back in the eighties, decades after John W. Campbell wrote it and about six months before Carpenter's unjustly-maligned remake hit the theatres. I thought it was tres cool from the outset. But it never occurred to me to write a sequel until I read this paper…