One Damn Thing After Another.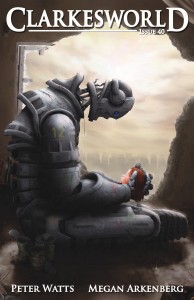 So, "The Things" — conceived here, given the ol' prenatal ultrasound here and here, fostered lovingly by Jonathan Strahan until reluctantly put back up for adoption — went live yesterday over at Clarkesworld, in their first edition of 2010. I'm chuffed to discover that they didn't just post the story; they podcast it as well, set it to the voice of one Kate Baker, who I actually got to meet at Worldcon last year. Kate struck me as intensely cool in the few minutes we got to chat before previous commitments dragged me away; and while I knew she was one of the folks behind Starship Sofa, I hadn't realized that she's also affiliated with Clarkesworld. She runs their podcasts — and damned if she didn't do a bang-up job on "The Things".
I consider myself a pretty good live narrator, but Kate imbues my words with an undercurrent of regret and desperation that I would never have even considered. I'd have settled for just making my alien protagonist understandable: anthropologically, biologically.  Kate makes it sympathetic, Kate makes it downright tragic. Kate takes those exact same words and inflects them somehow to make them hers. Really, the only nitpick I can find (and you know me — I love nitpicking) is that she could have paused a bit more between section breaks.
These Clarkesworld guys really know how to make you feel welcome.
This is the world premiere. I've only posted first-trimester snippets here on the 'crawl. Even those Worldcon attendees at the Grimwood/Scalzi/Watts DownerFest only got to hear about half the story. So, yeah: "The Things" is as newborn as the year itself, and the first actual fanfic I've written since 19761. Hope you like it.
Oh, and while we're on the subject of audio performances: that fourth Best-of-Year collection that "The Island" is headed for would be Allan Kaster's The Year's Top Ten Tales of Science Fiction 2, upcoming from AudioText. I just signed the contract today.
(Illo by Sergio Rebolledo.)
———————
1Don't ask.
This entry was posted on Saturday, January 2nd, 2010 at 1:59 pm and is filed under
writing news
. You can follow any responses to this entry through the
RSS 2.0
feed. Both comments and pings are currently closed.