Frozen 3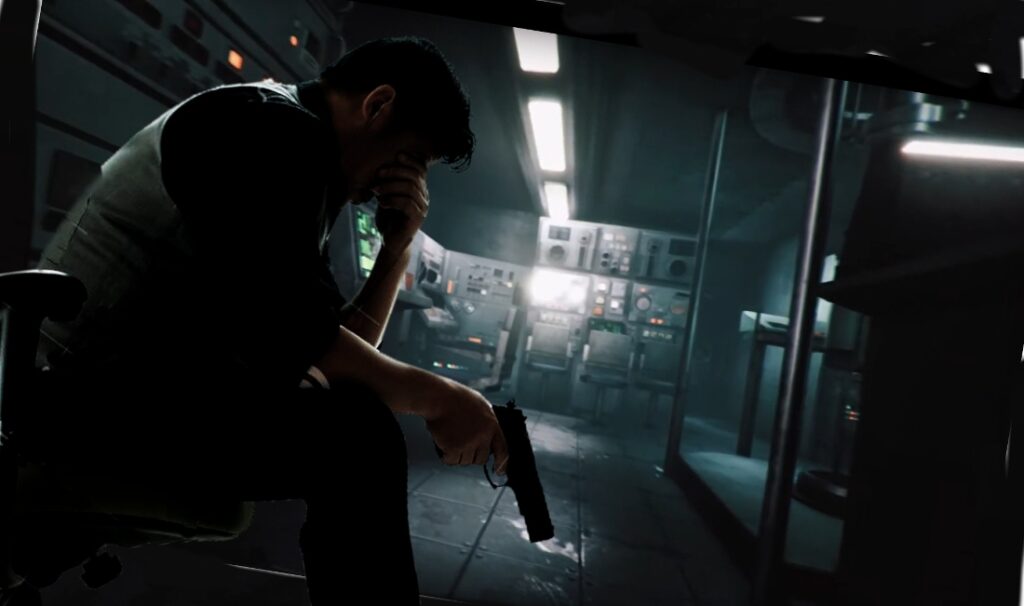 For three hours Moore had barely moved a muscle.
He'd sat petrified as they stepped over Sengupta's body and left him behind—the vampire in the lead, the biologist bumbling haplessly in her wake. He'd sat as the deck tilted a little, and a little more, some small abstract part of him marveling that his chair had not yet begun to slide toward the bulkhead. He gave mute thanks that Valerie's spell had spared his eyelids, the muscles in his throat; he could blink at least, with effort. Swallow enough to keep drooling to a minimum. He could breathe. All those tics and reflexes the body performed on its own, independent of conscious control; exempt from paralysis, all of it.
Everything else had turned to stone.
Out in the corridor, the ocean found the hatch. Spilled through it. A trickle of seawater ran down the deck and started pooling at the lower end of the compartment.
Moore willed his body to move. His body told him to fuck off.
He had to hand it to Valerie. A few whispered phonemes, a flurry of inhumanly-precise gestures with those inhumanly-long fingers, and he was out for the count. A goddamned miracle of modern incapacitation. Of course, it hadn't happened in a vacuum. There'd been all that prep work beforehand: the subaudible cues piped through the Crown's intercom system; those subtle hieroglyphs programmed into the smart paint, flickering just below the threshold of conscious recognition. Nothing you could really put your finger on: the whine of some imaginary insect, perhaps a vague sense of unease if you wandered along a certain corridor. That was the most any baseline would have felt during all those weeks falling to the Sun, climbing back up again, while Valerie just—reprogrammed them, like the dumb unaware meatbots they were.
Put all those minuscule stimuli together, though, and what a payload they made. Even Sengupta had been able to pull that trigger; not smart enough to put the pieces together for herself but she'd obviously reverse-engineered them somehow, half-understood how they fit together. Used them, in a half-assed sort of way, before Moore had shot her.
Moore had been—impressed, despite himself. He hadn't seen the attack—he'd been ten meters down the corridor when it happened—but he'd heard the impact, recognized the distinct and unmistakable application of blunt-force trauma. The sound of meat hitting the deck. There'd been some other voice, a woman he hadn't recognized, drowned out an instant later by the sound of Sengupta's rage as Moore had come around the corner to catch her in mid-incantation. Brüks had been on the deck, his face a bloody mask. He'd arched and spasmed as though electrocuted while Sengupta leaned over him, her fingers dipping and weaving, her voice murmuring something Moore couldn't make out.
He wasn't quite sure why he'd shot her. She was just a girl; no combat training, negligible threat potential. There must have been a dozen ways to disarm her without injury. But the gun was in his hand—an old Heckler-Koch, he couldn't even remember where he'd found it—and it was firing, as if of its own volition.
Limbs that moved with a will of their own. That was happening a lot these days. Moore rather wished they'd manifest a little of that right now; at the moment, his most furious concentration could barely set his fingers twitching.
The water reached Sengupta; the sticky pool of clotted blood gluing her to the deck thinned and diffused and bloomed fluorescene red. The corpse shifted a little, buoyed by the tide. It rolled over and looked at him. Strange, now, the way she stared; a whole lifetime avoiding eye contact and now her cloudy gaze seemed to drill right through him.
He closed his eyes and focused. Down at the end of his dead right leg, his toes wiggled.
Progress.
At least Valerie had left him with the gun. He'd been holding it when she'd frozen him solid; he held it now. She could have taken it, of course, if she'd wanted. Probably would have broken his fingers in the process.
He tried flexing them, felt the bones in his hand scrape against each other like the teeth of gears not quite interlocking. But his fingers clenched, and opened again. The gun dropped to the deck with a soft clank.
Fifteen minutes, maybe, before the water reached his toes. Maybe two or three hours before he drowned, assuming a constant rate of rise. That was no safe bet; the gyland was a kilometer across, a listing derelict subsiding beneath the waves. Some breach in this sinking hull might meet the waterline at any moment, give the ocean a whole new way in. The rising water might crest suddenly into one of the cavernous chambers deep in the structure— a sub bay, perhaps, or a ballast tank—and tip the whole thing an extra thirty degrees one way or the other. Could leave him high and dry with all the time in the world. Could put him underwater in the next five minutes.
He tried to move again. With every flex of muscle, every attempt to straighten a limb or bend it: a sense of encrustation, yielding in the most grudging increments. As if each joint were encased in limestone, as if he were some buried skeleton struggling to free itself from the wall of an ancient cave.
But it was working.
The water lapped at his toes. (Fifteen minutes already? Were his calculations that far off?) Moore's legs unbent just a little. With herculean effort he managed to raise his ass a few centimeters from the seat of the chair; rigor-mortis arms braced against its edges and kept him steady while he caught his breath and steeled himself for the next big push. He staggered erect in a series of lurches, swayed there like a man balanced on wooden legs. He almost fell.
He didn't.
Ankle-deep, now. He turned, stiff-legged, waving half-bent arms to keep his balance. One leg sloshed forward; the other followed; his torso rotated back and forth with each clumsy step. The lower lip of the hatch was only a few centimeters above the deck but it still took him three tries to get over it. His body was loosening, though, finally. His paralysis receded along a curve: painfully slow at first but faster, faster with each passing minute. By the time he reached the first companionway he could even climb the stairs.
He emerged into acrid eye-stinging brightness, oily smoke and guttering flames and the blazing sun of an early afternoon. The topside deck was just as he'd left it at dawn: a patchwork of radio shacks and hangar elevators and broken aircraft strewn across a sloping gunmetal substrate, apparently floating in midair, where the chromatophores had been burned away. An expanse of wave-tossed seascape, shimmering slightly as if through heat distortion, where the gyland's camouflage remained intact. Maybe the deck was tilted a few more degrees than it had been. Maybe these levitating patches of superstructure were a little closer to sea level.
Moore still didn't know what skirmish or battle had taken this cloaked behemoth so thoroughly out of commission. He didn't really care, even though the gyland belonged to what might still be loosely referred to as His Side: infrastructure had obviously been collapsing across the whole damn planet while they'd been away. This place, attacked and abandoned, had merely provided a convenient semi-functional access point to log in and take stock of the apocalypse that—
—You started—
—had begun during his absence.
It had served that purpose well enough. With a little luck it might serve another. The aircraft arrayed around him were unadulterated scrap, but this was a big gyland; the whole North Pacific had been its beat, back before whatever nameless enemy had taken it out. There were hangars belowdecks that went on forever. Sub bays for everything from two-man cubmarines all the way up to Megalodon-class, if they hadn't been flooded already. Chances were very good of finding a way off this barge before it sank. And Colonel Jim Moore—Colonel Moore had somewhere to be.
He opened his mouth, tried to speak. All he could manage was a hoarse croak; the thick simple motor nerves running his arms and legs were almost back up to speed, but Valerie's incantation still had a hold over the subtler machinations of tongue and larynx, the controlled movement of air across vocal cords. Moore tried again, carefully pronouncing each phoneme. He managed a word, more breathed than spoken: Siri.
Let Valerie and her walking dinner play their pointless games. Moore had no interest in getting in their way. Let the world burn; there was nothing he could do to save it, now. But there was a ship out there, somewhere. A coffin in a capsule, arcing back in through the cold vast darkness between the Oort and the Innersys. It had been out there for years, might be for years more. But the parabola it fell along had a terminus; its long lonely voyage was closing on its end. And Col. Jim Moore, WestHem Alliance, MIA; Jim Moore, slayer of Icarus; Jim Moore, who in the service of Lesser Evils had thrown the whole world on its side— intended to meet that lifeboat when it returned.
He said it again, his voice gaining strength against the crackling of the flames: "Siri."
His son was coming home.
This entry was posted on Wednesday, December 16th, 2020 at 9:40 am and is filed under
fiblet
,
Omniscience
. You can follow any responses to this entry through the
RSS 2.0
feed. Both comments and pings are currently closed.