"I say we take off and nuke the site from orbit. It's the only way to be sure."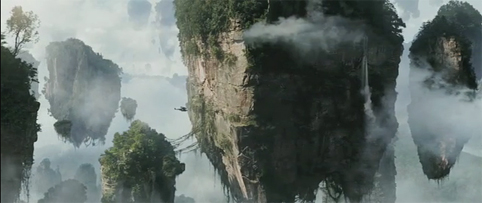 (Significant plot-related spoilers whited out in deference to spirgins; spoilers about ambience and background, not so much)
A little bit of classic Trek. A bit of Deathworld, a touch of Anne McAffrey's Dragonriders. At least 50% glorious Roger-Dean-album-cover porn. Strong echoes of The Emerald Forest, a lameass mystical eighties-era John Boorman film about the plight of the Amazon. South Park pretty much nailed the plot with that "Dances with Smurfs" episode they ran a few weeks back. And most tellingly, am I the only one out there to remember an obscure 1975 novel by Alan Dean Foster called Midworld? About a planet sheathed in deep forest, and the six-legged fauna that lived there, and the ruthless Human industrialists who come to exploit its riches only to be fought by the gone-native descendents of an earlier expedition that had learned to live in harmony with nature? A novel in which it was ultimately revealed that the fauna and the flora were essentially part of a single interconnected network? Yes? Anyone?
I am talking, of course, about James Cameron's Avatar, which I saw in glorious understated 3D last night, and which proved (for all the triteness of its plot) to be one of the more welcome diversions I've experienced over the past couple of weeks. It was frustrating. It was enjoyable. They got the some things right and some things wrong, and some things they got both ways at the same time.
The technology, for example. Anachronistic in that way it absolutely has to be, to convey a sense of verisimilitude to the modern gut. The critic in you insists that all these manual controls and B-52 cockpits— the very presence of on-site human pilots in a world of teleoperated meat puppets, generations beyond a time in which the skies already seethe with autonomous flying robots— make about as much sense as an F-16 with reins and a buggy-whip for a control interface. And yet the scratched paint and the scuffed windscreens feel so right, viscerally, that just this once I do not have the heart to complain.
Or the biology. Someone put a lot of thought into Pandora's wildlife; it was beautiful to behold, it was amazingly diverse, it even seemed (for the most part) phylogenetically consistent. Across a wide range of species, everything from nostril placement to jaw structure was nicely suggestive of common ancestry. Except for the Na'vi, which are ridiculously anthropomorphic: tetrapod bipeds where everything else on the planet seems to have six limbs; binocular vision on a world where four eyes is the vertebrate norm. Evidently Cameron felt that his hero could not plausibly fall in love with a four-eyed banana-slug, but that a blue-skinned cat-woman just might pass muster. (I agree that the former premise would result in a much more challenging film, conceptually— but then, I like conceptually challenging films.) And while I have no problem in principle with the concept of planetary-ecosystem-as-integrated-network, did anybody give any thought at all as to the ramifications of hanging extra USB-equipped spinal cords off the heads of every piece of megafauna on the planet? Pandora is rife with obvious predator-prey interactions; how would those even evolve in a world where prey could forge a direct neural interface with their predators, force them to feel the pain of being consumed? Wouldn't that pretty much have to result in completely different trophodynamic networks than the Wild-Kingdom stuff that we saw in the film?
Then there's the question of how the good guys can move their Avatar-interface pods into a "flux zone" which scrambles all EM signals, without compromising the Avatar link itself. And I'm sure someone worked out some kind of superconductor handwave for the levitating unobtanium; would a line or two of explanatory dialog really have killed the pacing that much?
Characters vs. caricatures. No corporate honcho is going to be caught dead talking about "savages" and "blue monkeys", even if that's the way they actually feel; these people are more than practiced in the smiling empty comment, the statement that encourages and reassures but commits to nothing. They would speak of relocating the "natives" for their own good, perhaps; who knows what damaging side-effects this unobtanium might have on the unprotected indigenous people? Burke, from Cameron's Aliens, was a much more plausible corporate slimeball.
And of course, as I'm sure I'm not the first to point out, there's the whole problem of the Helpless Natives Who Need To Be Rescued By The Noble White Guy. Given the story's premise, I certainly don't deny that ol' Jake would be an extremely valuable resource, with his inside knowledge of how the "sky people" operate. There's nothing patronizing or condescending about giving him a vital role in the insurgency, the most valuable source of tactical wisdom available. A consultant. An advisor.
But a messiah? This guy who has spent a grand total of three months living with the natives, leading an assault with local implements, across terrain on which every other member of the tribe has spent their entire lives? This guy, this innocent, figures out the trick to taming the planet's Top Predator all by himself, a trick that only five real Na'vi have figured out during their entire recorded history? (It's actually a not-bad trick, if you don't think about it too much. If you do, though, you start thinking about those spinal USB jacks again, and the vulnerability of even the most fearsome predator to sneak neural hacks…) The tale would have been better told if Jake had told them all he knew, and then been shunted off to the side and kept safe— an invaluable source of intel, too vital to risk in battle— while the native warriors took the lead.
Finally, I had seriously misgivings about the resolution at the end of the movie. It does not seem quite as definitive as Cameron would have us believe. The title of this posting, taken from another of his films, kinda sums up the problem as I see it.
But you know something? All that said, I'd see Avatar again. In a second.
It's been years now since special effects were enough to entice me into a theatre. Ever since the ascension of CGI, it's been possible to render pretty much anything a writer can imagine. The highest production values have been devalued by the relentless onslaught of Moore's Law. I didn't care how eye-popping something looked; there had to be more to lure me in. No modern movie can succeed solely on the strength of its special effects.
But then I saw Avatar, and in terms of sheer technical virtuosity it just blew me away. Every frame is gorgeous. Every two minutes of footage looks as though it must have cost as much as any other whole movie to make. Every perfectly-rendered dust mote and shaft of filtered sunlight forces me to smile and widen my eyes despite my most jaded intentions.
I have a lot of problems with Avatar as a story. As a movie, though — as an experience — it has made me change my own rules, at least for now.
Avatar is a movie that succeeds on the strength of its effects.
This entry was posted on Saturday, December 19th, 2009 at 10:40 am and is filed under
ink on art
. You can follow any responses to this entry through the
RSS 2.0
feed. Both comments and pings are currently closed.