The Freeze-Frame AMA.
Last-minute Editorial Update: It's actually happening at noon. Which is 44 minutes from when I'm typing this.
I suppose I should have mentioned that sooner…
*
I'm doing another one of these Reddit AMA thingies next Wednesday.  Prior to that event, I'm supposed to post some kind of evidence that I am not, for example, Hilary Clinton who has seized Peter Watts's online identity in an attempt to damage his credibility with false posts.
Hopefully this will suffice: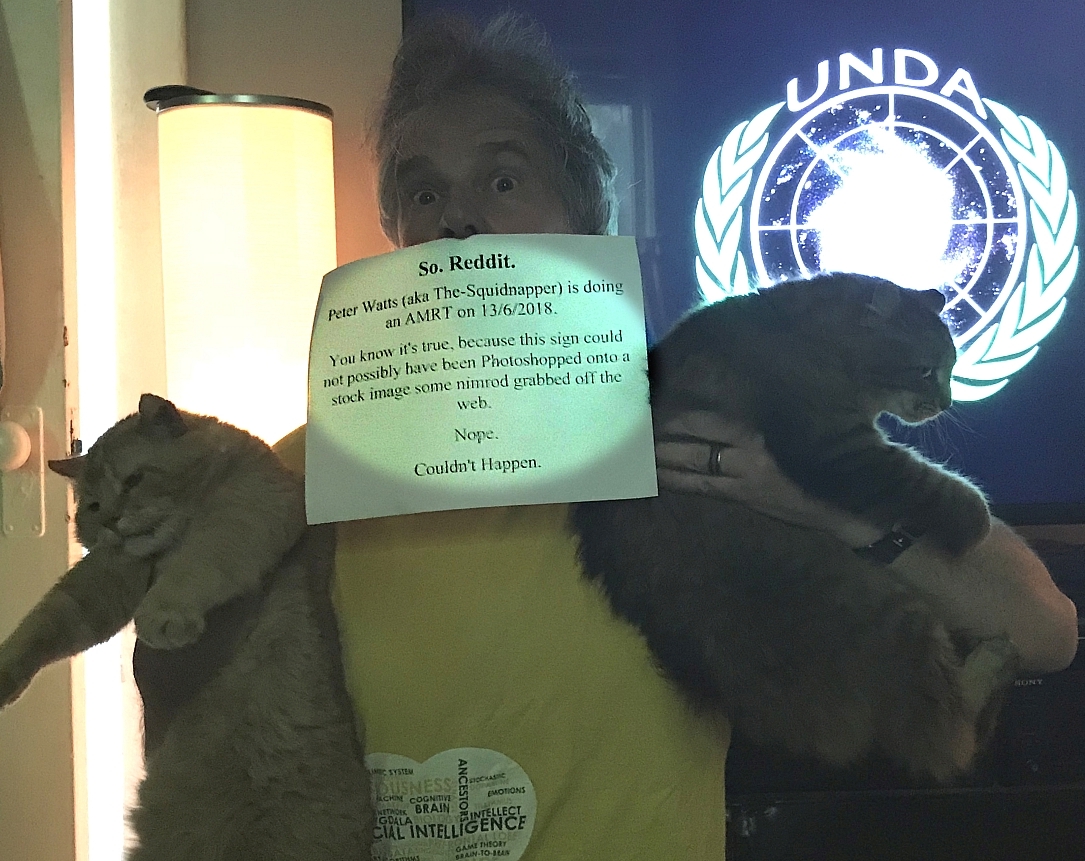 If not, here's the introductory passage I dashed off while dabbing Polysporin on my many cuts and bruises:
I'm Peter Watts. This is my second run at one of these AMA things (the first was back in 2014). Tachyon set this up to promote The Freeze-Frame Revolution, but that's only one novella set in a larger sequence so you might want to wander a bit further afield. For example, I have a complex relationship with raccoons. I am a convicted tewwowist in the State of Michigan. I have a big scar on my right leg. I am part of a team working on a Norwegian Metal Science Opera about sending marbled lungfish to Mars, and the co-discoverer of Dark energy keeps screwing up my autocannibalism scene by inventing radical new spaceflight technology.

Really, the field is wide open. So.

AMA.WR.
Now that it's all on the official record, I'll forward it to Reddit so they'll know I'm serious.  Or at least, who I say I am.  Then, I guess, we wait until Wednesday.
See you then.
This entry was posted on Saturday, June 9th, 2018 at 11:45 am and is filed under
interviews
,
public interface
. You can follow any responses to this entry through the
RSS 2.0
feed. Both comments and pings are currently closed.