Art, from Ice to Fire
Some new artwork for you, scavenged from my last bout of ego-surfing, because I'm holding off on fiblets until I have something to actually announce; and because any comments I'd make on the ongoing immolation of tar-sands boomtown Fort McMurray by (increasingly less-unseasonable) forest fire activity would be so laden with irony as to be insensitive to the 88,000 who've had to flee.
So let's stick with self-absorption for the mo.
First up, Dmitriy Vishnev's absolutely glorious rendering of "The Things", which is going onto the cover of Beyond the Rift's upcoming Russian edition: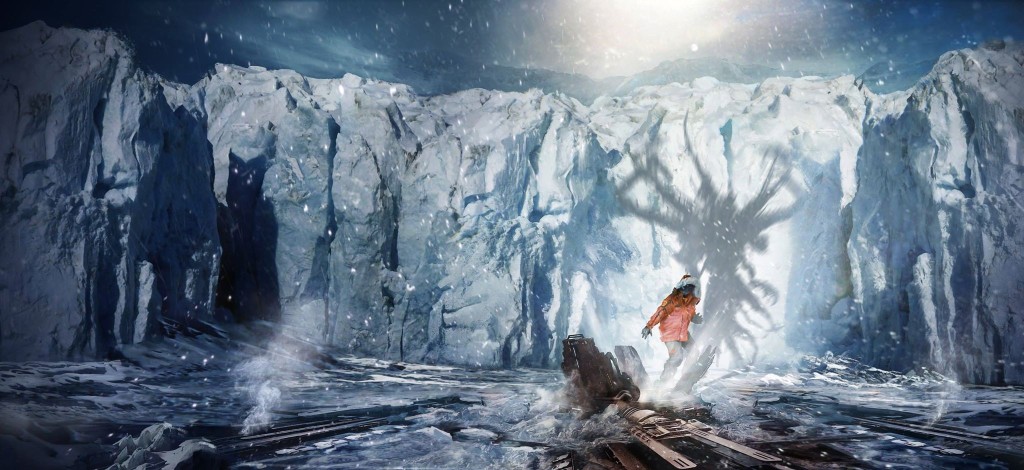 Followed by some Rifters fan art scraped from the web:
(And of course, if either of these folks would rather that their stuff not be conscripted into service of the 'crawl, I will take it down forthwith.)
Moving forward, through time: some Blindsight illos from a— shall we say a range of aesthetic perspectives.
I don't even know where this came from. I don't know who did it. Whoever it was, we're probably both in some kind of copyright violation
And finally. Finally:

Remember this guy? The guy who did all the awesome concept art for that ill-fated Sunflowers project?  Well, in between his recent travels around the world, Dan Ghiordanescu managed to squeeze out a couple new paintings— and I'm pretty much speechless at the preceding evocation of the following passage from "Giants":
We fall towards ice. Ice falls towards fire. Both spill through the link and spread across the back of my skull in glorious terrifying first-person. Orders of magnitude aren't empty abstractions in here: they're life-size, you feel them in your gut. Surtr may be small to a textbook — at seven million kilometers across, it's barely big enough to get into the giant's club — but that doesn't mean shit when you meet it face to face. That's not a star out there: that's the scorching edge of all creation, that's heat-death incarnate. Its breath stinks of left-over lithium from the worlds it's already devoured. And the dark blemish marching across its face isn't just a planet. It's a melting hellscape twice the size of Uranus, it's frozen methane and liquid hydrogen and a core hot and heavy enough to bake diamonds. Already it's coming apart before my eyes, any moons long since lost, the tattered remnants of a ring system shredding around it like a rotting halo. Storms boil across its face; aurorae flicker madly at both poles. A supercyclone pinwheels at the center of the dark side, fed by turbulent streamers fleeing from light into shadow. Its stares back at me like the eye of a blind god.
Holy fuck, did Dan ever nail it. Every time I look at these pictures the bitterness wells up anew, that Eriophora— for all its galaxy-spanning travels— never made it as far as a video game. What glorious mission levels these could be.
Dan did another one, too, but I think I want to hold onto it for the time being. It'll make a better fit with an upcoming fiblet.
Anyway.  All this stuff should be up in the gallery within the next day or so. I just wanted to post here fast, so I can get my exercises out of the way before the pones get home from school. They tend to mock me whenever they catch me trying to stay in shape.
Fuck.
Too late.
This entry was posted on Wednesday, May 4th, 2016 at 12:35 pm and is filed under
art on ink
. You can follow any responses to this entry through the
RSS 2.0
feed. Both comments and pings are currently closed.