Which is to say, like "Finks" with an extra S.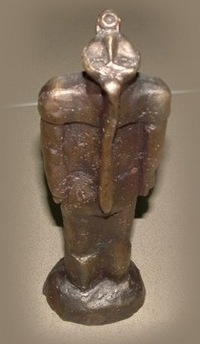 More news from Poland.   Evidently Ślepowidzenie has won the "Sfinks" award for "Best Foreign Novel".   I had a shot at "Best Novel", period, but Cormac McCarthy beat me out for it, perhaps to pay me back for the NAST Awards.  (I did, however, come a close second in that category by a mere 13 votes.)
As usual, the lack of any cash award keeps me humble.  But if someone over there is willing to foot the postage, I'll get this nifty little statuette of what appears to be a sarcophagus for a mosquito.  I'm hoping it's heavy enough to use as a weapon.
This entry was posted on Tuesday, June 16th, 2009 at 12:48 pm and is filed under
writing news
. You can follow any responses to this entry through the
RSS 2.0
feed. Both comments and pings are currently closed.