Pole Star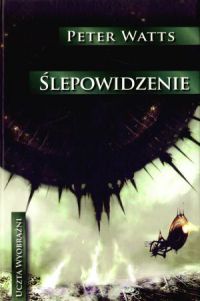 Well, the polling for the NAST Award has closed and it's official: Blindsight (or Ślepowidzenie, as it's known in translation) was voted the best foreign sf/fantasy/horror book to appear in Poland last year.  It even won by a fairly solid margin; the runner-up only got two-thirds the votes that Blindsight did.  And while beating the likes of Cormac McCarthy and Salman Rushdie might cast some doubt upon the legitimacy of the final verdict in the eyes of (as Ashcroft once called them)  the "reality-based community", I will cling to my victory regardless.
Ślepowidzenie does seem to have made a splash over there.  I've done a bunch of interviews (well, two; a third awaits the next block of duck-free spare time), and glowing reviews and offers of marriage abound.  I even stumbled across an erudite academic-sounding debate on the book somewhere (although I can't seem to find the damn thing since, and couldn't understand it even before).  I'm told there will be a parade in my honor down the streets of Warsaw, and that if I can attend I will have my choice of hookers.
I may actually have misunderstood some of that last bit.  There are ambiguities in translation.  But I'm pretty sure that I'm going to be getting a certificate with my name on it, at least…
[Later, That Same Evening: Malakh's kind comment below points us to that in-depth discussion I mentioned.  It's right here, courtesy of a magazine called Esensja: and while I cannot understand much of what is said throughout its seven scrolling pages (Google Translate is a fickle friend at best), it seems apparent that there was praise and criticism and lively debate; there were complaints that I disagreed with, and others that I shared utterly; but most of all, these people were engaged.  They may have thought I was the second coming or an overrated hack, but wherever they were coming from, the damn book definitely got them talking, about Blindsight and about the greater firmament of science fiction in general.  And that would have made my current LCD headache worthwhile even if the discussion hadn't introduced me to the phrase "Sheds on the fish completely".  Which has got to be the most endearing euphemism for jerking off to have ever spurted across the pond.]
This entry was posted on Wednesday, March 25th, 2009 at 8:37 am and is filed under
writing news
. You can follow any responses to this entry through the
RSS 2.0
feed. Both comments and pings are currently closed.