The Joy of Dumbness.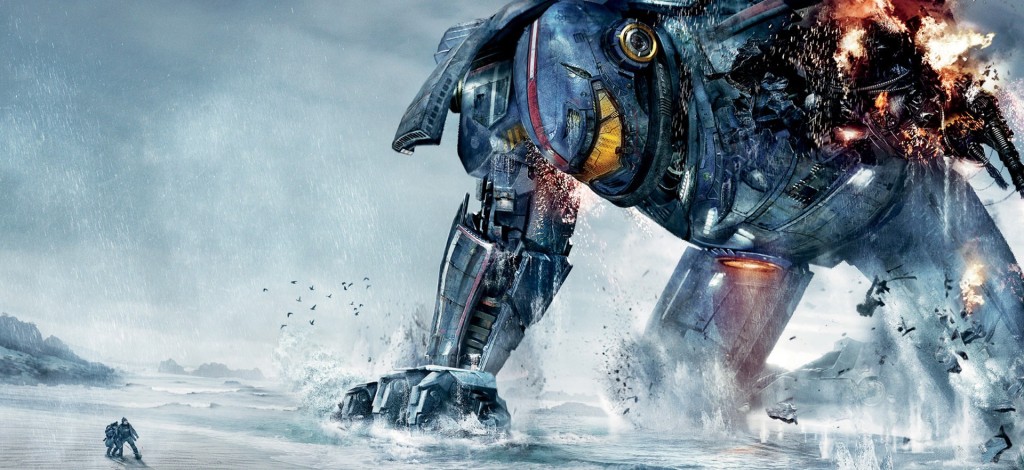 Let's get it out of the way right up front: this movie doesn't have a single original rivet in its huge, skyscraper-sized, monster-nose-punching body. It is in fact a classic sort of monster in its own right, a crazy Frankensteinian chimera stitched together from the rotting corpses of so many other creatures you'd be hard-pressed to count them all. Transformers, ID4, Blade Runner, Cloverfield, every Godzilla movie ever made, every Robotech/Macross/mecha mashup that ever made it across the Pacific. For starters.
But two things:
First, Shakespeare was hardly the first guy to write about star-crossed lovers or treacherous kings, either. He just did it way better than most.
Second, you're not gonna get literature for the ages when you let a kid loose in a sandbox full of plastic dinosaurs and toy robots. What you are going to get is a kid having an awful lot of fun.
Pacific Rim is Guillermo del Toro's sandbox, and — as had been said many times this past weekend, by people with much bigger megaphones than I — it is a lot of fun. If I had to hang a fifty-dollar word on the thing, I would use exuberant.
It is not perfect. The plot is neither airtight nor logical, and as far as I can see it doesn't try to be; that's not what you're going for when you play in a sandbox.  But I can embrace Pacific Rim's joyful dumbness in a way that I could not embrace, say, this year's Star Trek or last year's Prometheus (especially last year's Prometheus).
Prometheus wanted to be profound, and failed.  Star Trek wanted to be, well, Star Trek, and also failed (although not quite so badly as Prometheus). What neither of them even tried to be, as far as I can tell, was consistent.
You want to play with magical tech? Fine. Making a cell phone call from Klingon space to a San Francisco bar goes pretty far beyond the capabilities of classic Trek communicators, but then again, this timeline was forked into existence by the appearance of a mysterious time-travelling alien colossus that wiped out Starfleet's finest in the time it takes to snarf a muffin. I'm guessing that threat may have bootstrapped a whole lot of breakneck technological advancement. Likewise, classic transporters wouldn't be able to beam you directly from Earth to the Klingon homeworld — those things could reach from a planetary surface up to geosynch at best — but then again, Scotty-classic never developed a theory of transwarp beaming  while stuck on Delta-Vega, either (and for that matter, Delta-Vega-classic was way the hell out at the rim of the galaxy, not in a mutual orbit with Vulcan).
But.
If you want us to accept that Starfleet has matter transmitters with a range of five thousand parsecs, you don't send your posse after the bad guy in some clunky old Edsel starship that's just been rendered obsolete by the very technology your villain used to escape: you send them using the same instantaneous miracle-transporter that Khan used, or you damn well explain why you can't. (While you're at it, you can also explain why you need conventional spaceships at all anymore, for anything.) Likewise, if you want to make your villain some kind of dark-mirror Christ metaphor whose magical blood can raise the dead— welllllllll, okay, I guess. But given that you've already got seventy of his buddies in cold storage, all with the same blood chemistry, there's no real need to risk the lives of senior officers in a running game of knock-down-drag-out-leapfrog played on the backs of flying garbage scows swooping and clanking through the air a thousand meters up. (And don't get me started on the logic of that whole opening volcano sequence.)
See, I'm not completely anal-retentive about plausible science. You can declare any bullshit you like through authorial fiat, and I'm there; but once you've made that declaration, you fucking well abide by it. You don't forget your own rules the moment it costs you a few seconds of cheap pyrotechnics.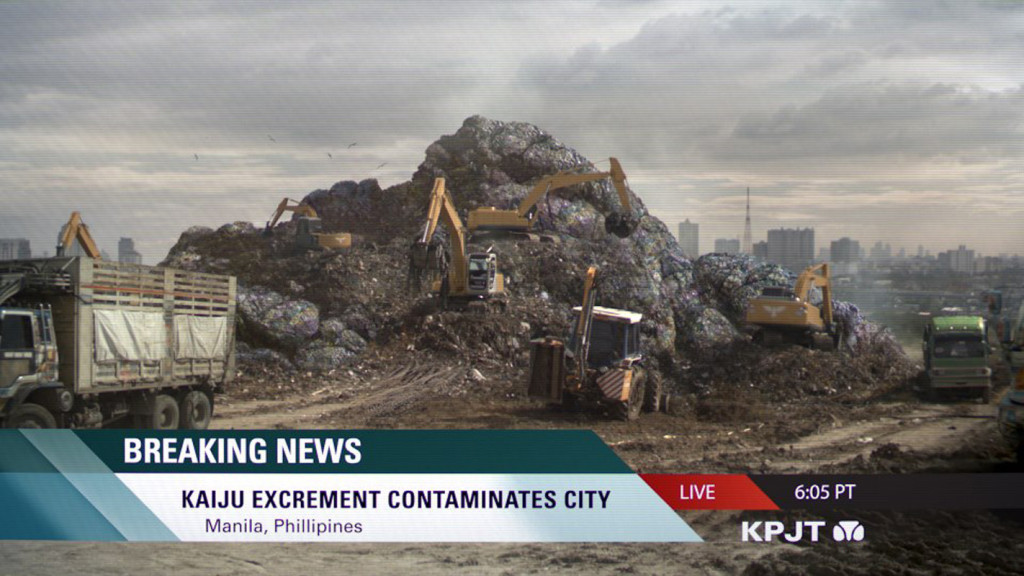 And this is why I can revel in the dumbness of Pacific Rim where I could only snarl at those other pretenders; because having established his absurd premise, del Toro stays reasonably faithful to it. He runs with it, even interrogates it a little. How do you get rid of a monster the size of the TD Center, rotting in the heart of the business district? PR lets us glimpse a sight right out of Perdido Street Station, a metropolitan streetscape where vast bleached ribs arc up between reconstructed apartment buildings and office towers (Ah, sometimes it's just cheaper to leave them where they are). Kinks and fetishistic subcultures  spring up around a black-market trade in monster body-parts: blue blood and faux aphrodisiacs,  exoparasites like chitinous isopods the size of poodles (whether they're used as pets or for food is never established— but judging by the fervor of the teams that pick them off fresh carcasses, there's obviously a thriving trade in Kaiju lice). Ron Perlman has an awesome cameo as a dealer.
(On the minus side, for all the joy inherent in monster-punching, you gotta wonder why the Jaeger-pilots didn't just cut to the chase and use those chest-fired missiles right off the top.  Those seemed to work pretty well.)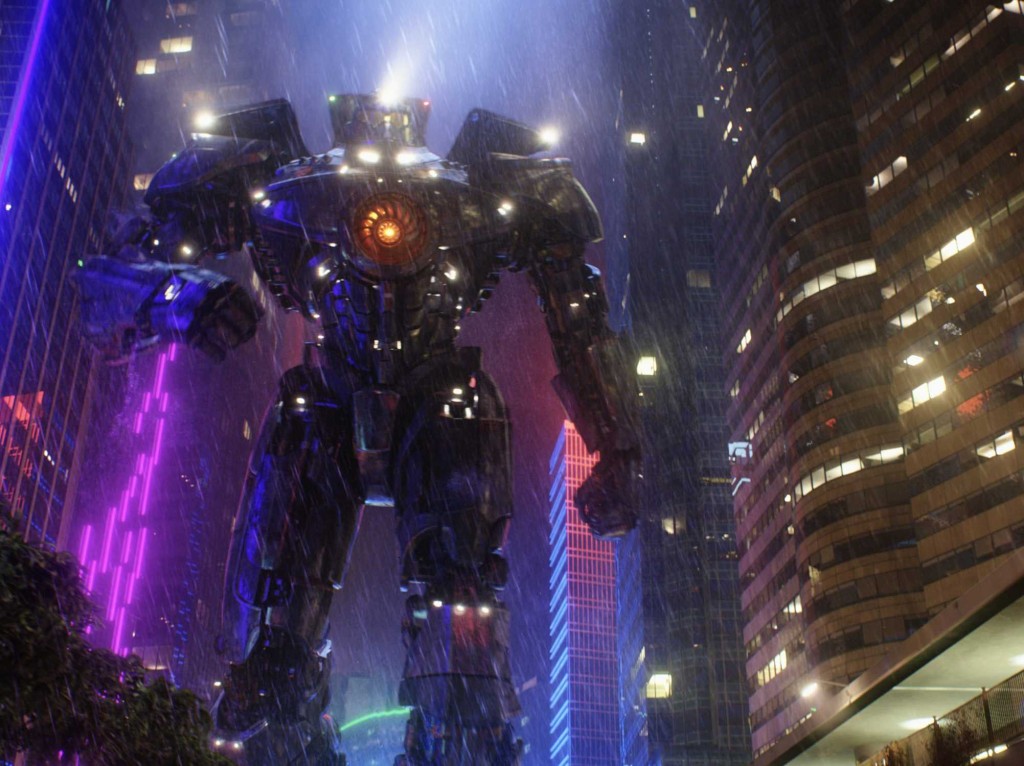 And yet, even hamstrung by relative fidelity to its premise, Pacific Rim does not skimp on the pyrotechnics. These have got to be the coolest, shiniest, most eye-catchingly crisp visuals I've seen in years, maybe ever. The battle scenes aren't just frenetic and eyeball-filling, they're coherent. And all this glorious love and attentive perfectionism has been bestowed, let's not forget, on a movie that exists for no other purpose than to show us giant robots punching monsters in the nose!!!!
I attended Friday's showing in a group of three. Caitlin Sweet, to my left — literary fantasist, fiction instructor, abiding fan of deep characterization — who rolled her eyes at Iron Man and Man of Steel and Steel Irons and all those gritty Batman reboots —  leaned over at the halfway mark and whispered, "Just so you know, I'm absolutely loving this movie." Leona Lutterodt, to my right, didn't say much— but five minutes in she'd completely forgotten about surfing for Sharknado updates on her cell phone, which in its own way was even more telling.
As for me, no surprise, I loved it. Iron Man 3 was deeper, insofar as you can apply the term to a comic-book movie — thicker characters, more visual symbolism of the armored against the ones you love variety — but it got awfully cluttered and incoherent there at the end. (Although if Tony Stark ever loses his fortune and has to start over, he could always patent whatever went into Pepper Potts's sports bra; that fabric was indestructible.) But in terms of sheer dumb popcorn-munching fun, no other movie I've seen in the past year comes close to Pacific Rim.
This entry was posted on Wednesday, July 17th, 2013 at 2:06 pm and is filed under
ink on art
. You can follow any responses to this entry through the
RSS 2.0
feed. Both comments and pings are currently closed.