Helsinki: Day One
The rear hatch of our Finnair Boeing 757 wouldn't close. Turned out there was a bottle of gin wedged into the mechanism. Our flight was delayed for an hour as they taxied us across Pearson to a special chop shop for airplanes and brought in the Jaws of Life (they could have just smashed the bottle and swept up the bits, but that would have been a waste of good gin). Nobody explained to us how a bottle of gin could have gotten wedged in there in the first place, but the thunderstorms and resulting turbulence over Quebec drove that issue from our minds anyway. Then the overwhelming smell of turpentine that flooded the cabin just prior to descent. No explanation for that either, although Caitlin speculated that the copilot might be finishing an end-table up in the cockpit.
Anyhow, after making it to Helsinki in one piece, we felt strangely compelled to visit the local graveyard. Doctor-Who-reboot fans would love the place; it's full of stone angels. A disproportionate number of them have affected a curious pose: hands down, palms facing the graves as if the bodies interred within were subject to some kind of ongoing obedience training: Down, corpse. Stay down. Don't rise, that's a good body.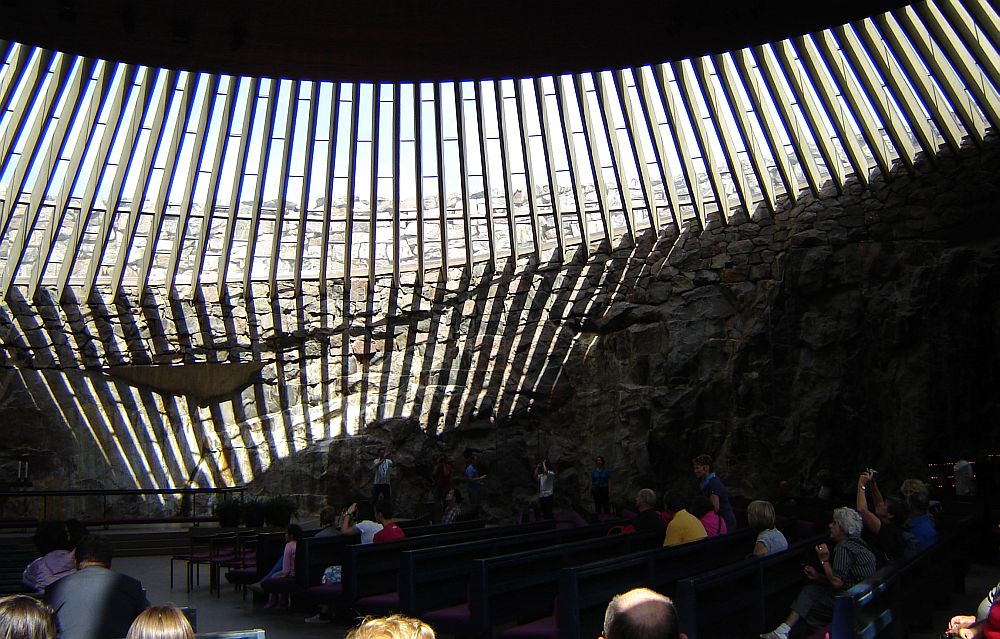 Afterwards we made our way to the Temppeliaukio Church, which appeared to have been literally blasted from bedrock: an underground amphitheatre with a copper-domed ceiling, walls of raw bleeding rock, and awesome acoustics. I have raved in the past about religious edifices elsewhere in Europe, at the obsessive-compulsive detail that went into each life-sized lizard and cherub carved across centuries. Next to the fractal geologic simplicity of this place, though, those things are as overwrought (and about as bomb-proof) as Vegas wedding cakes. At some point Caitlin will be serving up, on her own blog, a variety of views and commentary regarding both the church and the (unrelated) cemetery, including a piece of rather odd headstone statuary featuring Jesus sitting on a toilet. So keep your eye on her for more detail; here, I merely serve up a taste.
Lest you get the idea that the Finns are an especially religious lot in the traditional Christian sense, though, let me put your mind at ease with this monstrous ebony idol centrally located in Helsinki's main town square. I don't really know what it is, but given its pride of place I can only assume that it is the god of these proud and fierce northern peeps:
Note the mortal human, lower left in the right-hand picture, for scale.  Also the gull was incinerated by a bolt from the blue a few moments after these pictures were taken.
I think I'm going to like it here.
This entry was posted on Wednesday, July 3rd, 2013 at 7:21 am and is filed under
On the Road
,
public interface
. You can follow any responses to this entry through the
RSS 2.0
feed. Both comments and pings are currently closed.