You're All Just Lucky I Don't Have a Kodak Carousel
Man, what a trip.
You know any table where China Mieville sits at one elbow and Scott Westerfeld at  the other is gonna give rise to some interesting dinnertime conversation. That kind of mix-and-match happened pretty much every night in Nantes: We bonded with China over a mutual love of cephalopods; with Brandon and Emily over the flaws in Batman Begins and the herding of writing workshops; with Scott and Justine over the pleasures of crossing between the USA and the civilised world. (Caitlin and Justine also bonded along a number of other facets that I don't think the rest of us were privy to.)  Heard some pleasant and unpleasant stuff about various musical and literary icons. Hung out with the spectacular Bénédicte Lombardo (whom I have mentioned before); with the black-belt translator Gilles Goullet (who won this year's Grand Prix de L'Imaginaire for his heroic translation of Blindsight); and was booked solid with interviews set up by one Estelle Revelant, Fleuve Noir's publicist, who got me more exposure in three days than Tor did over a decade. One morning I left Caitlin alone for two minutes to go back and retrieve my jacket from the restaurant; and by the time I got back upstairs she was making a museum date with Larry Niven (whom she had never even met before).
It was that kind of a week. Never have I been so profoundly overshadowed by so many Big Names, so profoundly ill-equipped to speak the local language, and yet made to feel so completely at home. The panels were admittedly a bit odd (what do I have to say about "Communitisation"? I don't even know what that is), but there was instantaneous translation for all parties. I didn't even feel any jetlag.
But the climax event? The very heart and steampunky soul of Nantes?
We are talking a mahogany squid with articulated tentacles and rippling Venetian-blind fins. We are talking sea monsters that seat six, a caged biplane that rises into gusts of snow and cloud; a pedal-powered deep-sea anglerfish, studded with photophores and flapping fins, piloted from the mouth (and if I can work out the bugs, I might upload my very first video of said contraption further down in this entry). We are talking an Oliphaunt twelve meters high that can carry fifty passengers around town. It was a miserable blustery day when we visited the Isle (actually, it was miserable and blustery every day we were there, except for the morning we left), so the elephant wasn't taking riders. Everything else was, though; each of these artefacts — and more besides — move along lengths of track. They are the ultimate toy train set, and are to be integrated into a massive carousel that's scheduled to go live sometime in 2016.
I'm gonna try and get back there by then.
And here is a clickable link to an Mpeg of the Anglerfish in action, which you all damn well better appreciate because it took way too fucking long to coax the server into accepting it: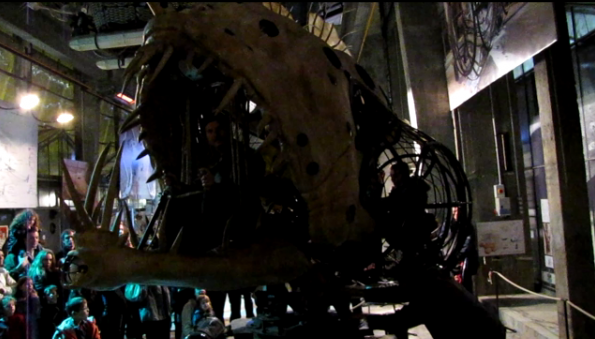 Penultimately, a smattering of some other local color, which — even though constructed in obeisance to an imaginary friend, still impresses the hell out of me.  Nantes Cathedral: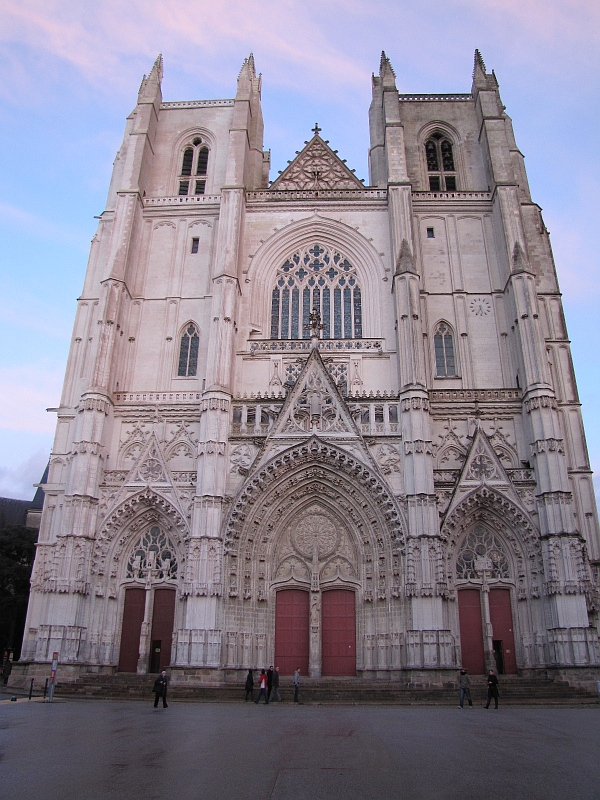 This edifice was built over four and a half centuries, starting in the fourteen hundreds.  It wasn't completed until 1891.  Kinda puts a new light on the whole short-sighted-species line, don't it?
I find this both amazing and disheartening.  How can we be capable of such feats even with medieval technology, and yet so utterly unable to grasp consequences that await us in mere decades?  How can the same mindset that built this also be responsible for the wholesale rejection of facts ranging from evolution to climate change?  Why can't we harness this kind of strength for good instead of evil?
It's too damn depressing.  I need a cookie.  Fortunately, Nantes makes those too — in this very building, among others: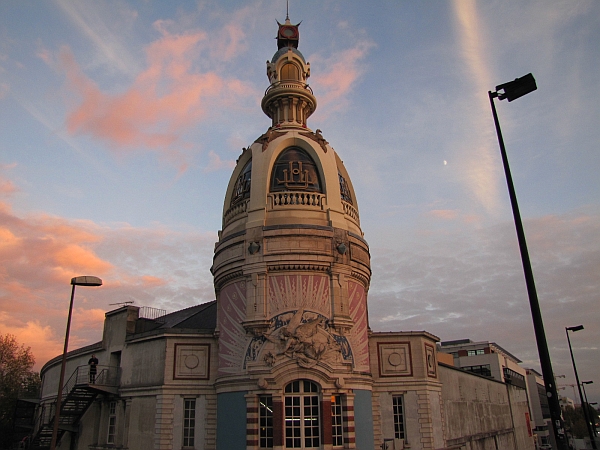 Now that's architecture harnessed for the sake of  Good.
Took me all damn morning to post this.  You can see why I had to go on hiatus.
SFContario tonight.  I guess I'll be seeing some of you there.
This entry was posted on Friday, November 19th, 2010 at 9:40 am and is filed under
ink on art
,
On the Road
,
public interface
. You can follow any responses to this entry through the
RSS 2.0
feed. Both comments and pings are currently closed.