Locomotive Breathless
Things are happening in France.
I have been told that SNCF, that country's national train service, wants to webcast an excerpt of Vision Aveugle from the culture wing of their (vast) web site.  They do this on a regular basis, evidently:  conscript some French actor or writer type to read a twenty-minute book excerpt.  I get the sense that they don't do science fiction as a rule, though (which surprises me, France being the homeland of Jules Verne and all), so Blindsight's appearance is something of a coup for the genre overall.
Cause for wootage, I guess.  (Although in my case it was a bit muted because I've been filling out my tax return recently and the only news that could really cause me to whoop with joy would be the tidings that an asteroid had just flattened the taxation center at Sudbury, Ontario, where Canada's dreams go to die.)  But there was more.  Within  thirty minutes of receiving the SNCF news, Canada Post knocked at my door  to deliver an author's comp copy of the French sf magazine Bifrost, in which was printed a French translation of my first-ever published story, "A Niche" (which many of you will know as the first couple of chapters of Starfish, with edits).  Not just translated, either.  Illustrated, too: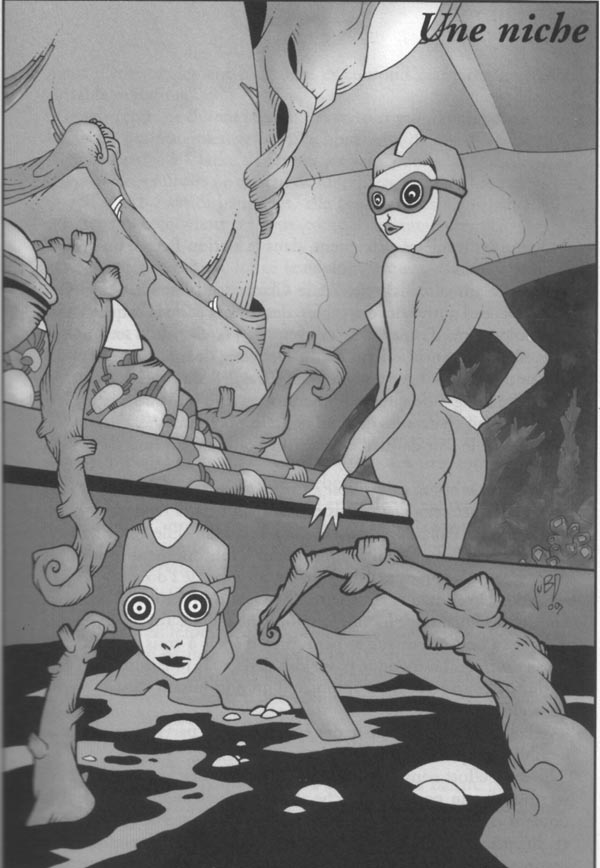 France, meet Lenie Clarke and Jeanette Ballard.  Lenie & Jenny, meet France.  I'm not sure who the artist is (the sig reads JuBD.  Anyone?), although their vision of my apocalyptic world-destroying antihero is a bit more whimsical than my own.  You may be surprised to learn that I'm not going to complain about the inaccuracies.  The divergence from canon is so radical that it's obviously a deliberate artistic choice— these are the guys, after all, who regard Jerry Lewis as a genius— and in fact I kinda like it.  It speaks to me in its own way, and what I hear it saying is, "Hey, you self-important humorless lemon-sucking purveyor of unrelenting grimness and despair:  lighten up a bit, why don't you?"
And I gotta say, point taken.
This entry was posted on Tuesday, April 28th, 2009 at 11:56 am and is filed under
public interface
,
writing news
. You can follow any responses to this entry through the
RSS 2.0
feed. Both comments and pings are currently closed.