In Defense of Religious Belief.
So this paper sprouts online a couple of weeks back: "My Brother's Keeper? Compassion Predicts Generosity More Among Less Religious Individuals". It appears in the July issue of Social Psychology and Personality Science (which yes, is in the future but don't worry you can get a preprint here); the list of authors is about as long as the phone directory for Fester, Saskatchewan; and it's raised a bit of a splash. "Highly religious people are less motivated by compassion than are non-believers", headlined Medical Xpress; "Highly Religious People Are Less Motivated by Compassion Than Are Non-Believers", ScienceDaily announced. "Atheists More Motivated by Compassion than the Faithful" LiveScience chimed in, while The Christian Diarist groused that "Study Claims People of Faith Are Stingy", and of course went on to call bullshit on that conclusion. Judging by these and a myriad other headlines (all the way over to Soviet-Empire.com), science has once again shown that we godless atheists are more moral and compassionate — in a word, better — than the Sky-Fairy brigade.
You're not going to believe this. I'm siding with The Christian Diarist on this one.
Not because its critique is especially profound, mind you — in terms of analytic rigor the TCD post is just another whingefest that misses the point — but because, well, that's not really what the paper shows. All these headlines, and a myriad others, don't actually report the paper's findings in their proper context. Even the title of the paper itself, while not technically inaccurate, is ambiguous at best: downright misleading at worst.
Disclaimers first. This was by no means an airtight paper. The stats were a bit weak; a lot of their significant results only passed muster at the 0.05 level (which, yes, is good enough for publication, but there's still a 1-in-20 chance of coincidence — 0.01 is always better). Two of the three studies involved self-reporting ("How compassionate are you feeling today on a scale of 1 to 5?"; "Would you be more or less likely to give money to a stranger under X circumstances?"). And while the first two studies sampled a pretty representative sample of the overall population (they piggybacked on the General Social Survey), the third study — and the only one to actually involve real stakes as opposed to imaginary ones — used college students (yes, that highly-educated demographic so perfectly representative of a population so stupid that >40% believe in creationism). And maybe it's just me, but I found some of the experimental protocols almost incomprehensible:
"Upon arriving in the laboratory, participants were seated at a cubicle and asked to rate their current feelings of compassion by answering how much they felt ''compassion/ sympathy'' at the present time from 1 (do not feel at all) to 7 (feel very strongly)."
What does that even mean? Compassion for anything in particular? Just a general state of emotional wobbliness?
On the other hand, two of the three studies did involve representative population samples; the researchers corrected for the effects of "gender, political orientation, and subjective socioeconomic status"; and hell, even that lame-ass question about compassion is apparently consistent with some kind of scale verified by Frederickson et al which I couldn't be bothered to follow up, so who am I to complain?
So enough about that. Enough about study methodology, too, even though I haven't even mentioned it yet; if you're interested in those details, read the paper. What I found interesting were the results (Late edit for clarity: more precisely, the way those results have been presented publicly.) And the results, contrary to every second headline on the internet, did not show that nonbelievers were more generous, or even more innately compassionate, than believers were. In fact, one of the very first results Saslow et al. reported was that "those who reported a greater tendency to feel compassion were more religious individuals…"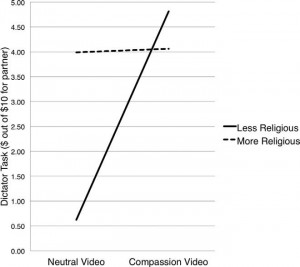 What this study actually found was not that religious people are less compassionate, but that the religious are less governed by compassion in their behavior — that a nonbeliever such as myself is more likely to be hacked by emotional stimuli. Check out the figure to the left, for example: the y-axis scales roughly to "total compassion" (or perhaps "total suckerness"), insofar as it's the amount of money that someone is willing to hand over to a stranger in need, while the X-axis compares said contributions between those recently exposed to a "neutral" video vs. a "compassion-inducing" one. These results do not show that religious folks are less compassionate — they're actually more compassionate than non-believers when not subjected to heart-tugging propaganda. It's just that when you haul out videos of bedraggled kittens and starving Ethiopians, nonbelievers suddenly go all awww and melt inside, while the behavior of believers remains more or less stable.
Saslow et al. don't experimentally investigate exactly why this might be; they just present the patterns. They speculate, though, as to possible underlying causes:
"Overall, we might conclude that the less religious may be bound to others by emotional connection. These findings are similar to Batson's empathy–altruism hypothesis, in which empathy rather than egocentric motivations determine altruistic behaviors (Batson & Shaw, 1991). The more religious, on the other hand, may ground their generosity less in emotion and more in other factors such as doctrine, a communal identity, or reputational concerns."
In one sense this is a big yawn: what, the religious are more likely to deny their inner urges, live by strictures and rules imposed by some top-down hierarchy that hijacks victims for its own benefit? Big hairy deal. You might as well evince surprise that those poor crabs infected by Sacculina have grown so strangely preoccupied with serving the interests of the parasitic barnacle that has infested them. Still. There's no denying that the bottom line presented by this study is, quite simply:
Religious people are less governed by their emotions.
It doesn't really matter that the emotion here is compassion, which most would regard as a positive trait. I've long lamented the fact that after all this time we humans are still basically Ids With Excuses, that we use our neocortices not to control our brain stems but to justify them. Here, though, we see evidence that one of our most basic emotional responses can be brought to heel, and it's entirely plausible that the whip hand is an algorithm consciously imposed: a case where rules override instincts. In that sense it doesn't matter so much that said algorithm may have its roots in childish superstitions about undisprovable ass-hamsters and invisible sky fairies. It's a detail all too easily lost in all those disparaging headlines, but — if Saslow et al.'s findings hold up — those who adhere to those superstitions exert at least some control over their brain stems in a way that we rationalists, as a group, do not.
Ceiling Cat forgive me, I can't help but see the glimmer of a Good Thing in that.
This entry was posted on Wednesday, June 13th, 2012 at 6:41 pm and is filed under
ass-hamsters
. You can follow any responses to this entry through the
RSS 2.0
feed. Both comments and pings are currently closed.