The Inspirational Undead.
Apparently this is the day when the blogosphere and the twitterverse and everybody who thinks the world is holding its breath to hear their latest breadfruit recipe weighs in on What Happened This Year and What This Portends for Next Year and how everyone should Dream Big And Hug Someone.  If that's what you're looking for, you're in the wrong place.  All I offer this year's end is a handful of horrifying images and a heart-warming tale to go with them.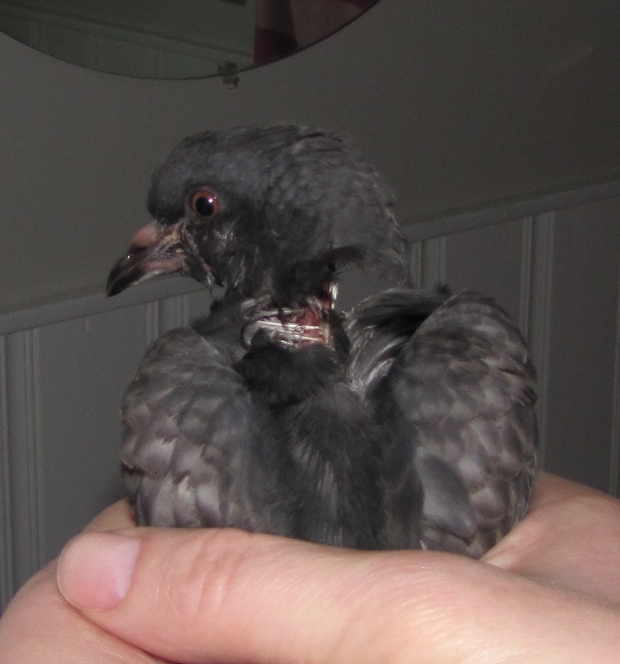 This is Zombie Pidge.  I encountered him in the wake of a recent night of drinks and snuffles with a few friends down at the Court Jester.  One of those friends had suggested something called "saline nasal irrigation" as an alternative to the dilute hydrochloric acid I'd been snorting to keep my cold at bay.  It was in the course of seeking out that ancient Indian treatment that I first encountered this little guy huddling inside the outer door of Shopper's Drug Mart, sheltering from the filthy freezing slush of the Danforth.  He could not fly, but other than that his demeanor was pretty much indistinguishable from that of any pigeon: not afraid of humans, but certainly not all that keen on being approached or picked up.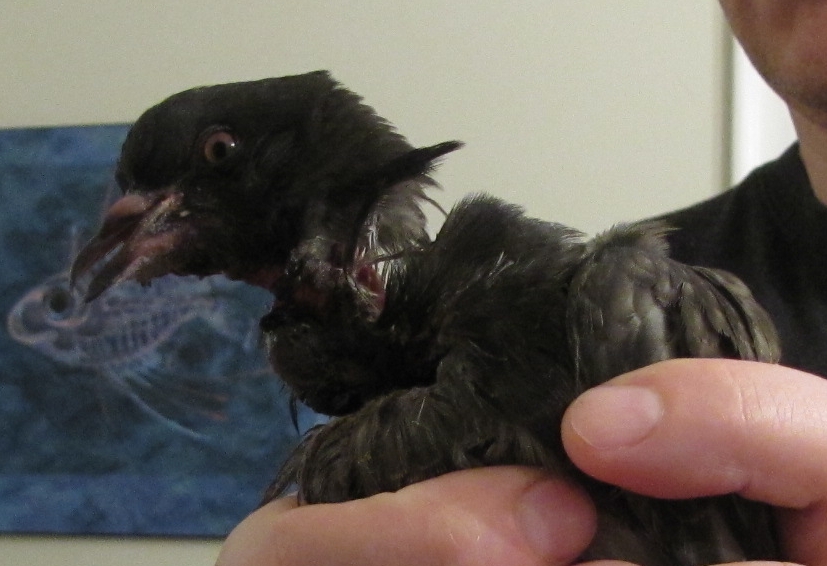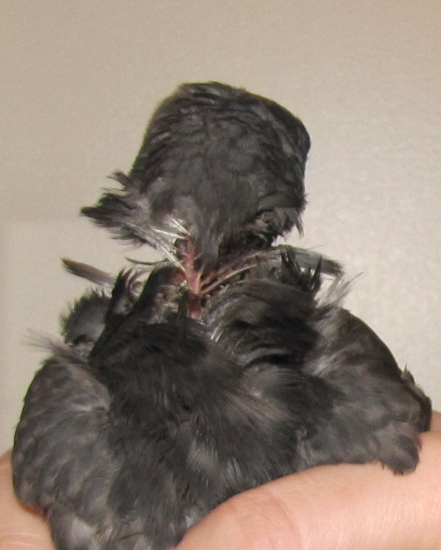 What was remarkable about this bird was not his demeanor per sé, but the fact that he had any demeanor at all.  It may not be entirely clear from these pictures — the little guy was too traumatised to stick his neck out for a better view, given that he'd just endured capture and transport that  must have hit him pretty much the way Dave Bowman experienced the light trip at the end of 2001 — but this bird had no real neck to speak of. Those white bits are vertebrae. We're not talking about a deep flesh wound with bone visible at the bottom: we're talking about the cervical flesh and skin stripped away completely, leaving a denuded spine and trachea and esophagus exposed to the winter night. We're talking about what amounted to a pigeon head and a pigeon body, connected by a length of pigeon skeleton that might as well have been animated by Ray Harryhausen for all the muscles or tendons that I could see.  The carotid and jugular vessels (or whatever birds have in their stead) must have been intact — but I couldn't make out anything but a bloody windpipe and a few feather-spines and those flensed, impossible vertebrae, bobbing back and forth in typical pigeon fashion as he walked.  Bone naked.
You want a Christmas miracle, kids, here it is: this mutilated bipartite creature connected by sticks and string, waddling furiously into the Cosmetics department in a desperate attempt to keep out from underfoot.
I've been known to kill the mortally wounded before, to save them suffering.  I've hammered the skulls of unfortunate mice brought in by the Gang of Fur, used a convenient rock to crush the head of the occasional seagull with a broken spine. (The eyes are what bother me most.  They're indestructible. You can hammer a rodent skull to bloody paste and tooth shards, and those beady little eyes bounce back into shape and stare up at you like tiny reproachful superballs.  Eyeballs are tough.)  Usually, though, I don't have the heart. Unless the wound is obviously mortal I tell myself that maybe they'll pull through, you never know.  I tell myself that at least I can make them comfortable, that at the worst they'll die warm and safe from predators who'd tear them limb from limb as they thrashed in the mud.  I live in a major city: I've long since lost count of the urban wildlife to whom I've given palliative care and faint hope.
Zombie Pidge was different.  This wasn't just a mortal wound: this was a wound that should have killed the little featherduster in seconds flat.  I couldn't for the life of me see how anything so ravaged could still be alive.  And if this little fucker had made the leap to undead status, who know how long he might last?  We were already way off the chart: maybe he might even recover.
They didn't really want him in Cosmetics.  I managed to corner him between the lip gloss and a special promotional display for Nip'n'Tuck Home Cosmetic Surgery Accessories. I scooped him up and covered his head to calm him down.  The lady behind the counter gave me a little box to put him in (Dove, the label read.  I shit you not).  I took him home on the subway and marvelled at the scrabbling sounds rising from the box, at the subtle inertia of that small mass moving back and forth on my leg.  I got him home, set him up in the walk-in closet we generally use for such things.  (The last pigeon we had in there had some kind of neurological disorder; lasted a couple of weeks and died in mid-spasm, spraying an arc of birdseed across Caitlin's shoes). I set ZP up with food and water, turned out the light, fell asleep astonished at his continued survival; woke up the next morning to the sound of that undead thing still scrabbling energetically behind the door.
He died around ten that morning.  He died warm and safe from predators that would have skewered and stomped him into the pavement with their five-inch stiletto heels.
That's it.  That's my inspirational Holiday Tale.  If it doesn't do it for you, there's plenty of other blogs and twits out there guaranteed to induce diabetes and swamp you in saccharine, full to the gorge with wishes of peace and love and good fuzzy-wuzzy feelings. But I used to be a biologist before I became a professional liar, and I'm telling you: this was a fucking miracle.  Or maybe it's just life.
Either way, it's good enough for me.