Evidently Starfish has sold in Russia.  I know this because I've just received a bunch of questions from a Russian translator.  You might think that I might have heard earlier — at the offer stage, perhaps, or during contract negotiations — but Tor retains the overseas rights to that title, and they tend to leave their mid-listers out of the loop on such matters.  (Starfish was my first book, a deal offered to me when I was literally sitting on the toilet with my pants around my ankles. I have since learned that this is perhaps not the best position from which to negotiate.)
The first time something like this happened — an Italian editor approaching me out of the blue, asking me to write a special introduction — I actually thought it might be some kind of pirate trying to print an unauthorised edition, and dutifully e-mailed Tor with my suspicions. These days I just roll my eyes. Oh, Tor. Is there anything more charming than your whimsical economy of effort when it comes to us mid-listers?  Will there ever come a day when it's not too much trouble to drop us a line concerning the fate of some novel we poured heart and soul into?
Oh, how I hope not.  I want to remember you just the way you are.
Still, let us not dwell on such minor irritants. At some point I'll get a small unexpected chunk of change from Russia, which is one good thing.  Here's another:  a fan by the name of Ellen Herzfeld took on the gruelling and unenviable task of converting Blindsight into e-pub format, entirely on her own initiative.  I've posted it over on the Blindsight backlist page (or just save yourself a couple of clicks and get it direct), with awestruck thanks.  I still don't even have an e-reader, much less the skills to convert such files, and Ellen did more than a simple conversion.  She checked my references, updated a couple of obsolete ones, and fixed broken links.  If I ever meet the woman face to face, I owe her dinner. A nice one.
Finally, in keeping with the traditional optimism of the season (Happy faux-birthday, baby Jesus! Only thirty-three years until the religious establishment nails you to a cross!), you're probably all familiar with my incessant refrain about how we won't have earned our own sense of self-importance until we use our big brains to control our instincts, instead of just making excuses for them.  Well, here's something that might give us hope: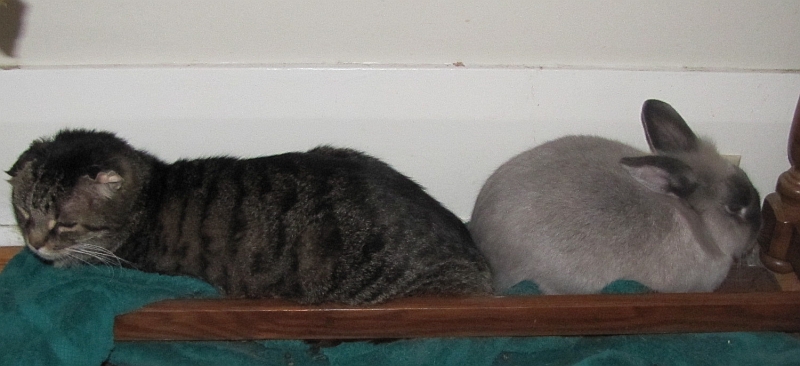 I mean, if these guys can put their hardwired instincts aside so easily, we should be able to, right?
Right?
20 Responses to "Fans, Favors, Finance & Fur."