Ghosts with Shit Jobs.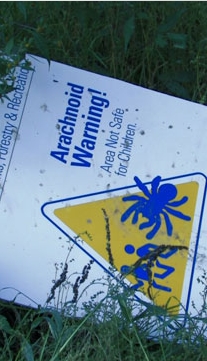 Jim Munroe could squeeze lymph out of granite.
You may remember me going on a few years ago about "Infest Wisely", a "low-fi sci-fi" movie made on a budget of about $700.  It was uneven, it was coarse, it had production values two steps up from those of a backyard puppet show.  But it rocked on the strength of its chewable nanosprites and its sentient cats and its urinal-haunting semen-jacking identity thieves — in short, on the strength of its ideas. That emaciated little stickman of a movie had more brains than any half-dozen summer blockbusters put together.
I was tempted to top today's post with a headline along the lines of "Jim Munroe Hits the Big Time", or "Jim Munroe Sells Out" because this time around his budget has increased by, literally, an order of magnitude— which sounds amazing until you realize that this implies a budget that's moved all the way up to four digits from three.  His latest opus, "Ghosts with Shit Jobs", is still a shoestring affair. But it's a much shinier shoestring; the FX have improved commensurate with the budget ("Infest Wisely" had one, count 'em, one FX shot; "Ghosts" has more, by an order of magnitude). There is CGI, here and there.  And where there isn't — where the grungy no-tech location shots seem intuitively out-of-step with the traditional shiny view of Futureville 2040 — well, what would you expect from the third-world continental ghetto that North America collapsed into after the US declared bankruptcy in 2016?
For this is "Ghosts"'s plausible, almost mundane conceit: that current trends continue, that China rules the world, that we here in the ruins of the west make a marginal living doing the shit jobs of the title.  It is a classic tale of outsourcing come home to roost. The beauty of this premise doesn't lie in its originality; anyone who hasn't been living in a closet or watching Fox News could make the same basic prognostication. But the premise of an economically devastated backwater is a very friendly one to any film-maker on a limited budget, and Munroe makes the most of it.
"Ghosts with Shit Jobs" plays out in the form of a documentary — one of those socially-aware pieces that we see every now and then on "60 Minutes", those guilt laxatives that treat us to bite-sized glimpses of Asian sweat shops, make us sadly shake our heads over those poor children and human rights abuses before we go out and buy a new pair of Nikes for little Davey's birthday.  Of course this particular documentary is in Chinese, for Chinese; we wouldn't even be able to understand it if some invisible user didn't invoke a pop-up menu to select the English soundtrack thirty seconds in.  Fortunately, they do; and what follows is a series of vignettes — complete with the clichéd noodlings of some melancholy pianist to set the mood —showing days-in-the-lives of those poor white trash retained to do the jobs that "no one in China would do".
At least one of those jobs ("Human Spam") already exist.  Another ("Baby maker") awaits another decade or two's advancement in robotics.  "Digital Janitors" — people who go online and scrub copyrighted material out of virtual worlds — hover somewhere in the middle, and "Silk-gatherers" are just fucking off-the-wall: how did giant baby-eating spiders end up living along my running route anyway, and how to they get around that whole inverse-square-law thing and avoid collapsing under their own weight?
I don't know if the movie ever answers that — Jim et al are posting these vignettes online at regular intervals, and as of this writing the "Silk-gatherers" clip has yet to appear.  Doesn't really matter, though.  This is social satire, not science, and if you've got a few minutes to kill, you should really check it out.  In terms of squeezing maximum bang out of every buck I don't know of anyone who can lay a glove on Jim Munroe; the man could make a stick of chewing gum last for a month.  I'm tempted to call him Canada's Twenty-first-century answer to Roger Corman, but that would be an unfair comparison. Even Corman's budgets were always way bigger.
And frankly, I like Jim's stuff a lot more.
This entry was posted on Saturday, December 10th, 2011 at 12:33 pm and is filed under
ink on art
. You can follow any responses to this entry through the
RSS 2.0
feed. Both comments and pings are currently closed.