Chip and Chipper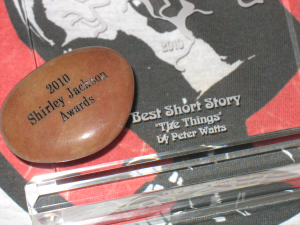 For those of you not on facebook (and I salute you), I might as well mention here that "The Things" took the Shirley Jackson Award for Best Short Story over at Readercon last Sunday. I post this now because the only other thing I'd have time to post before the perogies are done would involve my beloved cat Chip who, after going completely anorexic, losing 15% of his body mass and testing positive for Feline Leukemia and FIV — and after causing three other cats (two also gone ominously anorexic) to get hauled in for extensive (and need we say, expensive) testing — promptly proceeded to turn into a snarf machine and regain half of what he'd lost in a couple of days, and who is now acting like King Shit after successfully getting us to blow three grand on an abdominal "tumor" that, following a (did I mention expensive?)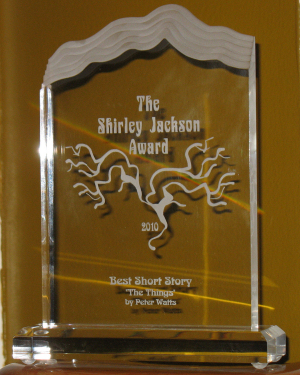 ultrasound, turned out to be gas. I'd be really pissed off if I wasn't so relieved.
But anyway, back to the Jacksons. Neil Clarke, who graciously accepted on my behalf (probably more graciously than I would have, actually), sent me the attached pictures of the "nomination stone" and the award itself — which was very convenient since I'd spent half a day scouring the internet for a picture of the damn thing and coming up blank. I think this may be one of only two actual pictures of the Shirley Jackson Award currently available online (the other also having been taken by Neil, and available on the Clarkesworld blog). I think this is an absolutely great design for any award bestowed unto me, and especially unto a story like "The Things"; was it not an inspired choice to adorn the Lucite with a giant neuron?
Next up: why Digital Physics implies that God is a porn addict.
This entry was posted on Tuesday, July 19th, 2011 at 6:34 pm and is filed under
misc
,
writing news
. You can follow any responses to this entry through the
RSS 2.0
feed. Both comments and pings are currently closed.