Vagina Boy.
It was three months ago to the day that they first opened my leg to scrape out the rot within. Just this week I received the jpeg of that initial exploratory incision:
As it turned out, it wasn't big enough. This is what my leg looked like a few hours later (and, for that matter, more or less what it looked like for the following month):
Those of you squicked out by previous installments of this thread probably shouldn't be reading this. (Maybe I should have started with that, actually.)
Anyway, that was then. This is what my leg looked like on Tuesday, back at East General to get the staples removed (those of you who've just joined us, feel free to browse back through prior entries on this topic to see all the things it looked like in between). This is also what my thumb looked like; that's me, yanking out the leftover staples from last month's skin graft.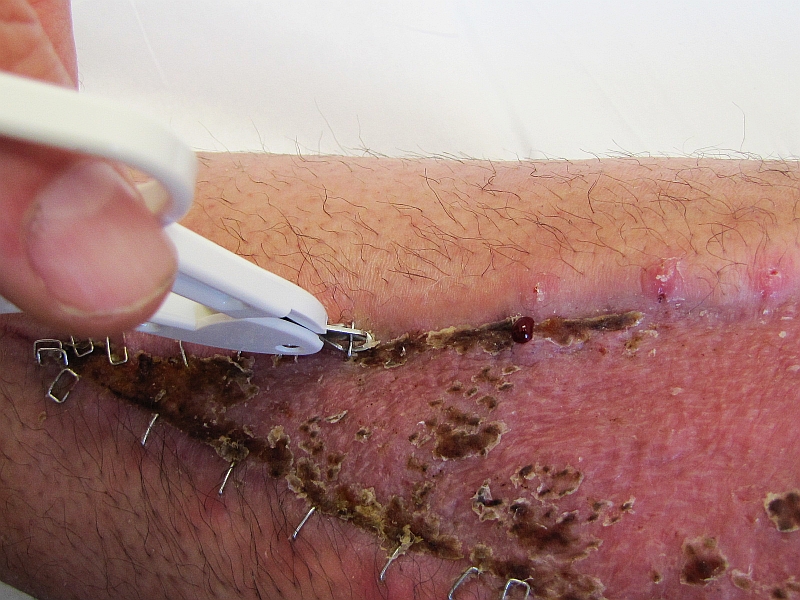 And this is what my leg looks like now: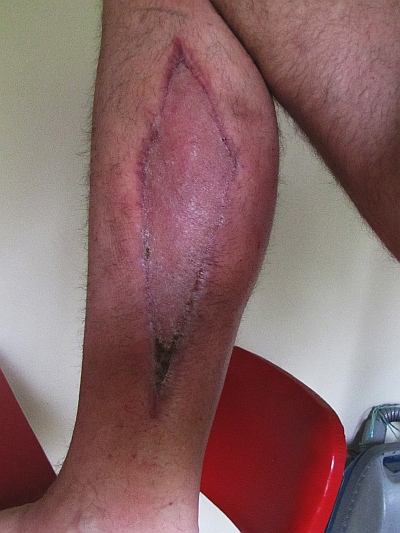 Not exactly good as new. I'll be wearing a therapeutic knee-high pressure sock for a year or so, to keep the scar from getting too gnarly. And after all this invalidity, my fitness and stamina have gone to shit; I ran a measly two miles the day the staples popped, managed three the day after that, and would have gone for four today if my calves hadn't wussed out and got all stiff and sore overnight. I've obviously got a ways to come back.
But.
No mandatory immobility. No crutches. No nasty physio, no thirty-thousand-dollar Shop-Vac hanging around my neck slurping gore through three meters of clear plastic tubing while the maître d' discreetly slides a standing screen between our table and the other guests. No sadistic nurses shouting How's it going, Hop-along? as I make my way to outpatient admitting. Not even any bandages. Just a pressure sock, and a few litres of moisturizer, and a whole damn summer to get my groove back.
Barring some catastrophic and ironic relapse, this will be the last entry under the Flesh-Fest heading. But before I bring this latest chapter to a close, I'd like to thank all of you — or rather, I'd like to thank some of you. I'd like to thank all of those who sent me swag such as this: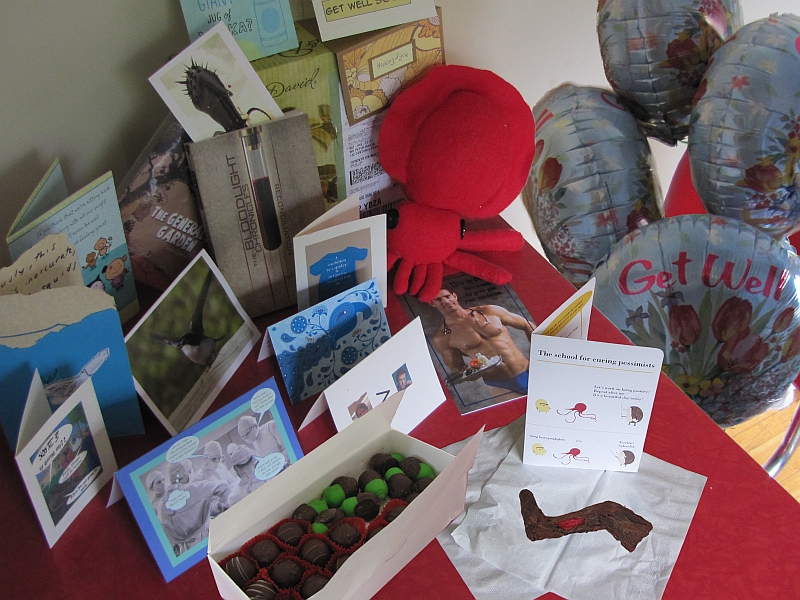 The books, the cards, the graphic novel. The home-brewed liqueur and the plushy cuttlefish. The pears from California and the marzipan from New York and the marzipan from Boston and the marzipan (and beers!) at Ad Astra and the marzipan from somewhere local but I'm not sure where because someone just left it on the doorstep. The chocolates from Vancouver. The balloons from Scotland.
This picture doesn't actually do you justice by a long shot. I'd snarfed most of the treats and candies before it ever occurred to me to document them for posterity. There are at least three or four other books that I didn't want to risk shooting, because that would mean extracting them from under a mountain of backed-up paperwork and probably killing myself in the resulting avalanche just as I was getting back on my feet. You get the idea, though. My fan base may be small, but it is fierce, and I am intensely grateful to all of you.
I would like to draw special attention to one delivery, though, a collection of home-made sympathy cards that appeared in the mail back when I was comatose and bedridden and drug-addled and sentient for maybe half the day, tops. For all these reasons I'm not entirely sure who put them together; I recognize some of the signatures, not others, and I have vague memories of an e-mail from someone telling me that something like this was on the way. But I can't find that particular bit of correspondence right now, so I don't know who masterminded them.
Whoever you are, thank you (and speak up; I'd like to relearn where these came from). I hope you don't mind me sharing these.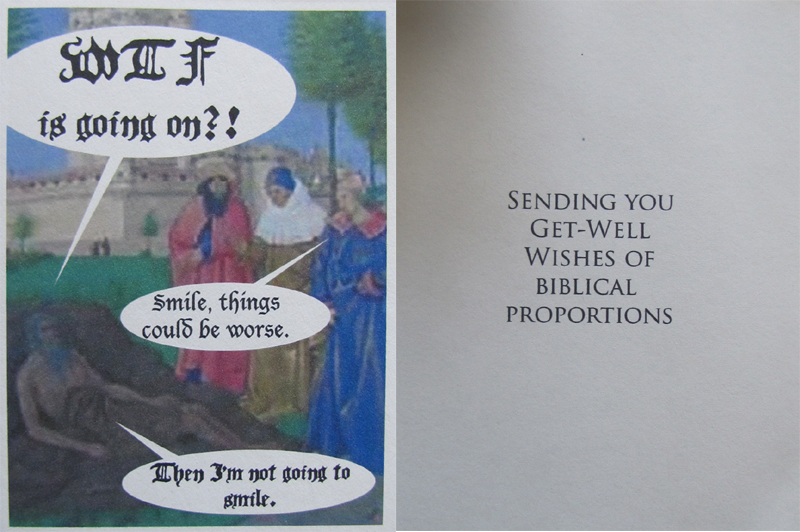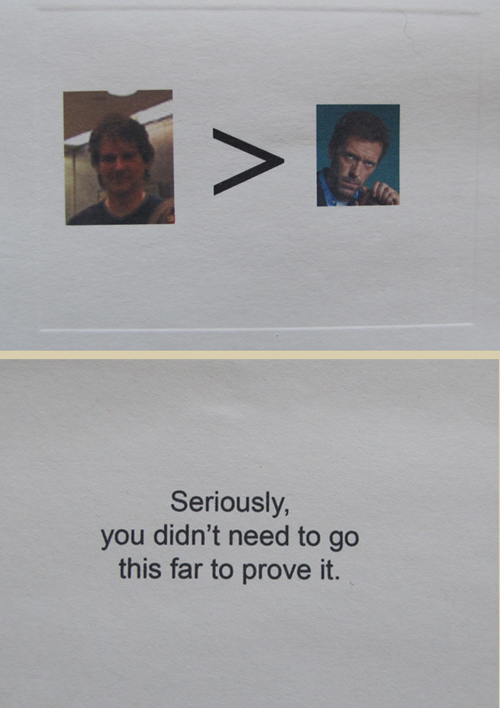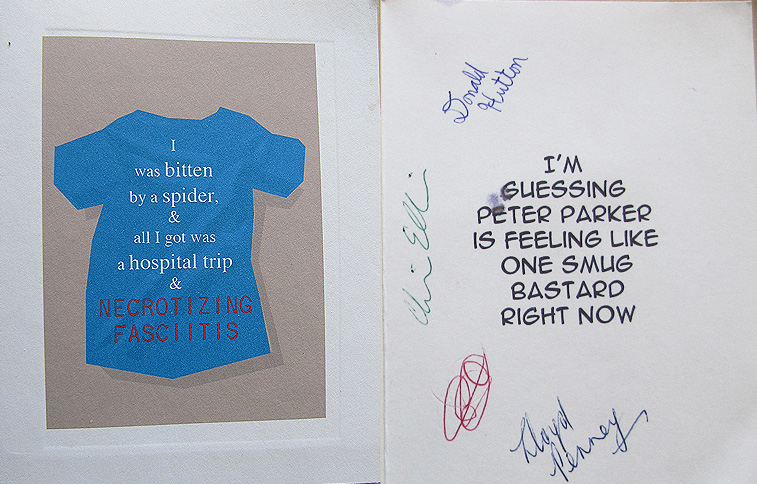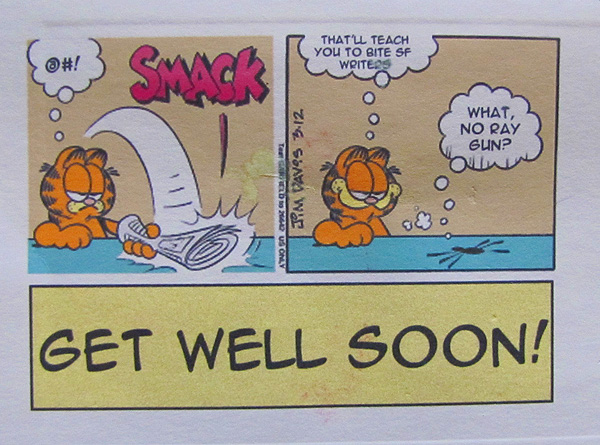 They're great, really. And good luck when Universal Press comes after you for copyright infringement.
So that about wraps it up for this year's disaster. Still taking bets on what next year's will be. In the meantime, I have a new semisecret identity. Yes, I am still the Giant Squid, and always will be. But henceforth, when the pressure sock comes down, I shall be known by a different moniker.
I am … Vagina Boy1.
———————
1Still trying to work out what the superpower might be. Hopefully it doesn't involve bleeding.
This entry was posted on Thursday, May 12th, 2011 at 12:15 pm and is filed under
Flesh-Eating Fest '11
. You can follow any responses to this entry through the
RSS 2.0
feed. Both comments and pings are currently closed.