F.E.Q.
Several Aggregators picked up "Moving Pictures", a couple of posts back.   (If I'd known that mutilation porn would get me so many hits I'd have got necrotizing fasciitis years ago.)   There've been a lot of comments, here and elsewhere, and a lot of people asking the same kind of questions. So to try and answer the most common, I present for your edification:
Flesh-Eating Questions
1. What drugs are you on?
Basically, none. I was on morphine for the first few days in the hospital. I was on antibiotics until a couple of weeks ago. Right now I'm not on anything, really: I pop a couple of Tylenol 3's a half-hour before the nurses show up to reflay my leg, although it kinda hurts anyway (not as much as you might think, although just pulling sticky gauze off an exposed muscle aches in a diffuse, never-thought-we'd-need-a-lot-of-sensory-nerves-that far-down kinda way). I'm half-convinced those pills are placebos but I'm too chickenshit to put that hypothesis to the test by not taking them, just in case they aren't.
So, yeah. All those pictures of people stripping gunk off my muscle or jamming sporks into the hole — two Tylenols. Back at the hospital they described my pain threshold as somewhat higher than the norm, and this may have been why it took them so long to diagnose the problem; apparently the primary diagnostic difference between NF and plain old cellulitis is that NF is agonizing, and I wasn't showing any of the screamy-waily reactions. All I did was go into shock and quietly pass out from the pain, which at least made a few medtechs and one of those oxygen machines sit up and take notice for a few minutes until my skin de-grayed.
I am, evidently, a tough motherfucker. Which I try my best to remember every time I do these goddamn tendon-stretching exercises, which always make me want to scream and cry like a little girl.
2. Why are you wallowing in filth?
I've seen a number of comments along the lines of holy shit that guy's insides are all out and they're swapping the dressings on his coffee table? and That wound nurse is breathing right into the hole without a mask! All of which basically boils down to incredulity that we're swapping out body parts in a back alley and I haven't turned into a massive hopping pustule of infection. Especially since I'm not even on antibiotics, and haven't been for a couple of weeks now.
This actually surprised me as well. Apparently, if the wound had been stitched up and sealed, then ongoing antibiotics would have been called for because bacteria could be festering in the dark wet spaces beneath my skin (in much the same way that Citizens United allows the Koch brothers to provide unlimited funding to their Republican lapdogs while remaining out of public view). As it is, though, the bugs colonizing my exposed musculature are the same ones that thrive in their trillions all over our skin; they're everywhere, but they're pretty harmless. That's the official story anyway, and I've seen no evidence to contrary, with the possible exception of the fact that much of the flesh around the edge of the wound has recently become numb, and assumed the appearance and consistency of an overcooked turkey drumstick. (Oh, and with the possible additional exception of Streptococcus pyogenes, which is also a pretty harmless denizen of the skin except on those rare occasions when it decides to level up and become, well, necrotizing fasciitis.)

3. What have you done to Banana's ears?
The claim that Banana the Cat is not a Scottish Fold has provoked some cruel and unwarranted rumors to the effect that I am somehow responsible for the (admittedly adorable) mutilation of his ears. This is not true. He was that way when I found him. Banana lived a hard life on the streets of Toronto for a good ten years before I got ahold of him. His left ear — the one that's folded back and fused to itself — is a victim of frostbite. The shredded cartilage in the right was self-inflicted, since the poor guy was driven to compulsive scratching by the world's worst ear-mite infection. (Also most of his teeth have been extracted, as they were all rotten and abscessy.)
4. Do you maintain any kind of sterile field while swapping out the packing?
Pretty much. The nurses wear latex gloves, and we boil all necessary surgical instruments on the stove between visits (the fact that I have a decent dissecting kit has definitely come in handy). The foam and the tape that gets stuffed into the wound comes pre-sterilised, and we have a set of tweezers handy to pick off any stray cat hairs that might settle on the muscle.
Also I have a squirt gun. If any cats climb up onto the coffee table while my leg is open, I squirt them.
5. What's that yellow stuff on the muscle?
It is not, as many have assumed, fat. It's what's left of that lubricating gel that Felicia was squeezing into the wound a couple of posts back. The gel is meant to keep the dressing from sticking to the exposed meat, and it works, sort of. Unfortunately there appears to be a civil war going on within the local nursing community. One faction believes in the use of this gel with all their heart, and they dispense it as liberally as pepper spray and rubber bullets at a peaceful G20 protest. The other faction, sadly, believes that this product just messes up the wound, and they come in the next day and scrape the stuff off my exposed muscle with little garden rakes. Just the other day one of them — a very nice lady by the name of Annemarie (or maybe Susan; it's hard to remember through the haze of trauma) — dug around in the undercut beneath the skin, then triumphantly held up a Q-tip blobbed with a greasy yellow substance. "See what that is? That's that gel! Just rotting in there!"
I am doing my best not to take sides.
6. So, what about the lesion that started it all?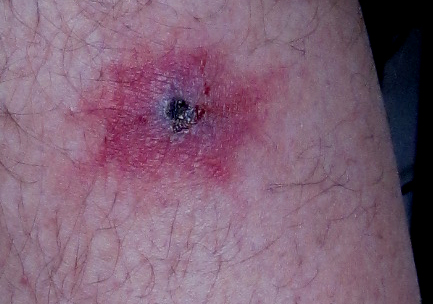 By which you mean, the lesion that provoked the biopsy that infected me with necrotising fasciitis in the first place. We're not quite sure. The biopsy report came back as "necrotizing vasculitis" (no relation), which is a technical way of saying Your blood vessels are inflamed and we don't really know why. Underlying causes range from drug allergy to cancer. The first batch of blood tests were either lost or inconclusive. Just yesterday a specialist siphoned about half my blood volume into a dozen little tubes and told me to pee in a cup. We're pretty sure the underlying cause isn't an allergy, or rheumatoid arthritis, or Crohn's disease. The specialist says she is "reassured" by the fact that the lesions have not resurfaced, but I'm still waiting for a definitive diagnosis. The investigation, as they say, is ongoing.
But I'd like to take this opportunity to clarify something that seems to be a source of widespread confusion.  Whatever those lesion were — and despite the fact that the label hanging off of them contains the word "necrotizing" — they were not the source of the necrotising fasciitis. NF kills fast, spreading at up to 5cm/hour and frequently killing within a day. I was complaining to you guys about these lesions back in January. If I'd had NF that far back, the cats would have eaten my carcass down to the bones months ago.
This entry was posted on Wednesday, March 9th, 2011 at 5:35 pm and is filed under
Flesh-Eating Fest '11
. You can follow any responses to this entry through the
RSS 2.0
feed. Both comments and pings are currently closed.